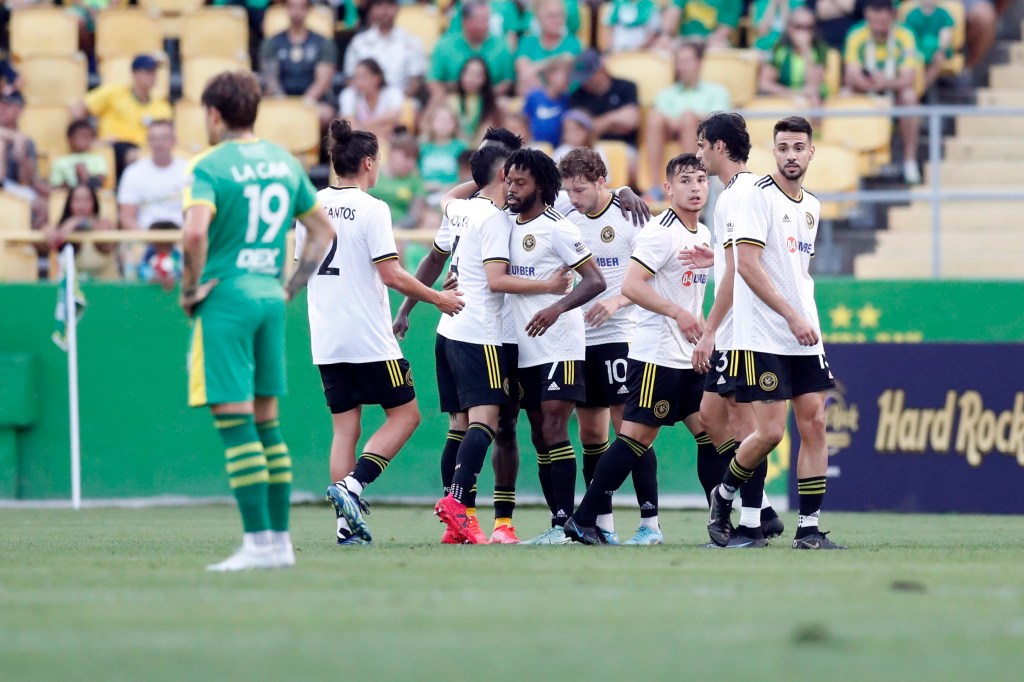 Match info
Riverhounds (7-4-3) at Rio Grande Valley FC Toros (6-8-1)
Date: Saturday, June 18
Time: 8:30 p.m.
Location: H-E-B Field, Edinburg, Texas
Odds: Hounds +128 / Draw +235 / Rio Grande Valley +170 (Bet Rivers)
TV: 22 The Point
Streaming: ESPN+
Live statistics: USL Championship Match Center
Live updates: @RiverhoundsSC on Twitter
Match hashtag: #RGVvPIT
(June 18, 2022) — Winless in their past four matches, the Hounds will try to get things moving in the right direction again tonight in their first-ever meeting with Rio Grande Valley FC. The match is a 7:30 p.m. start locally in the southern tip of Texas, and an 8:30 p.m. start Eastern time.
Notable in the Hounds' recent matches has been the decline offensively over the past six weeks. After scoring 16 goals in their first seven USL Championship matches to rank among the league's leaders through March and April, the Hounds have scored just six goals in the past seven matches, going 2-3-2 in that stretch, which includes last Saturday's disappointing 3-0 loss at Charleston.
Where the spark will come from is anyone's guess. Dane Kelly (six goals) and Albert Dikwa (five goals) still lead the team in scoring and have shared the central striker position, but since the start of May, the duo has just one goal between them. Russell Cicerone and Alex Dixon each scored twice in May, but no one has hit a run of goals that makes them stand out as the "in-form" man.
On the positive side for the Hounds, Bob Lilley again has his whole roster after Thursday's practice included full participation. Mekeil Williams was back from two weeks on international duty with Trinidad, new father Dixon also was on the field, and goalkeeper Jahmali Waite was back in Pittsburgh barely 24 hours after being on the bench for Jamaica in their 1-1 Nations League draw with Mexico.
RGV also boasts a clean injury report, and their scoring has been balanced with Frank Lopez, Emilio Ycaza and Robert Coronado each scoring four goals to share the Toros' top spot. Coronado, a defender now mixing in among the midfielders, and Wahab Ackwei, a defender the Hounds have tangled with during his time playing for Loudoun, accounted for RGV's goals last week before Oakland rallied to end the match as a 2-2 draw.
While much of Pittsburgh was complaining about this week's heat, when highs peaked at 97 on Wednesday, the team's late-morning practices might have served to get the Hounds acclimated to what they will face tonight. A high temperature of 92 is predicted in Edinburg, Texas, and by match time, things should have cooled into the mid-80s.
The match will be the Hounds' ninth USL road game of the year, compared to just six home games thus far, but fans will be able to follow along as usual with the local live broadcast on 22 The Point and streaming anywhere in North America on ESPN+.