Pittsburgh Riverhounds SC was founded on March 11, 1998, by Belle Vernon, Pennsylvania native Paul Heasley. The team's emergence ended the sport's 12-year hiatus in the city at the professional level after the Pittsburgh Spirit of the Major Indoor Soccer League folded in 1986.
Heasley's inspiration for the team formed when his son, Lucas, began seriously playing soccer in the late 1990s. As there were no local role models for Lucas to look up to, Heasley's aim was to create a club embodying the character of Pittsburgh and western Pennsylvania that could fuel the ambitions of youngsters in the region and give them a pathway to become professional soccer players.
This vision was realized during the 1999 USL draft when Peters Township native Justin Evans was selected as the Riverhounds' first player. The team compiled a 16-12 record in its inaugural regular season, playing its home matches at Bethel Park High School.
In 2004, Heasley sold the Riverhounds. The team subsequently underwent a number of venue and ownership changes before landing at Highmark Stadium for the 2013 season.
Current owner Tuffy Shallenberger took control of the Riverhounds and Highmark Stadium in 2013.
The Riverhounds also operate a thriving youth academy with locations in Pittsburgh and Connellsville.
OUR PRESENT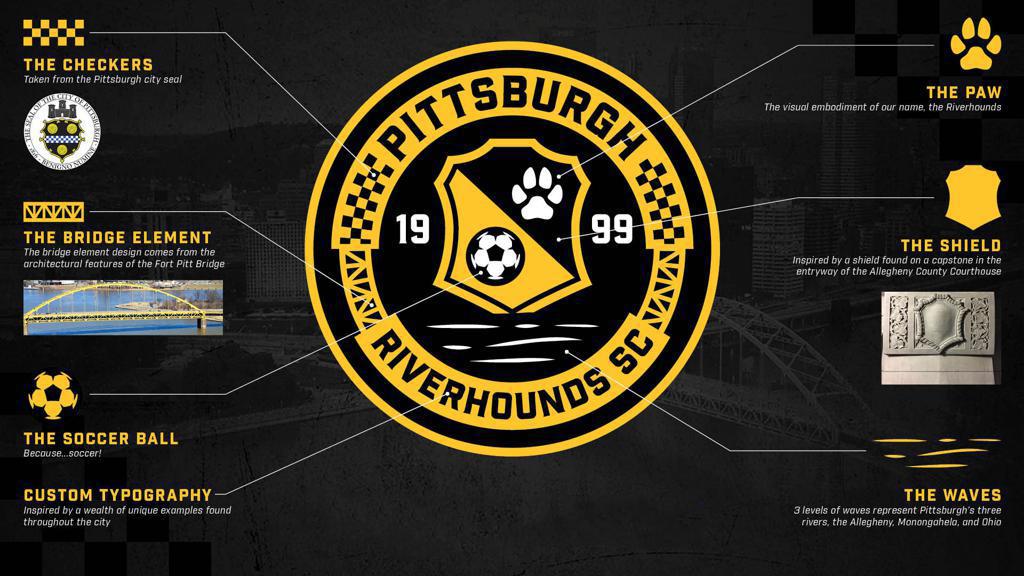 BREAKING DOWN THE CREST
Checkers: Black and gold, the colors molded into our city's crest and shared by the three other professional sports teams that we stand with in downtown Pittsburgh. This color scheme further moves away from the original "brick and mud" palette and previous "dog head" logos that the team had displayed at one time in its history.
Bridge: Located in the City of Bridges, these structures mark the strength and perseverance of our club. One resembling the Fort Pitt Bridge, which overlooks our stadium, links together "Pittsburgh" and "Riverhounds SC."
Crest, Paw Print, 1999 and Soccer Ball: Inspired by the capstone elements within the Allegheny County Courthouse entryway, our crest contains symbols that define our club's history. A paw print symbolizes our Hounds heritage, which we have carried with us for nearly two decades. The shield also features "1999," a reminder of our inaugural season, and a soccer ball to represent the beautiful game we play.
Water: The three layers at the bottom of the crest mirror the Allegheny, Monongahela and Ohio rivers. As these rivers run throughout western Pennsylvania, we spread our sport throughout our region.
Typography: A custom font graces our logo. Its inspiration stems from unique text found throughout our city, which has been predominately defined by a flare serif quality.
OUR PAST
OUR FUTURE
AHN MONTOUR HEALTH & SPORTS MEDICINE CENTER
Scheduled to be fully completed in 2021, the AHN Montour Health & Sports Medicine Center will be the practice site of the Pittsburgh Riverhounds SC professional team and the home base of the Riverhounds Development Academy.