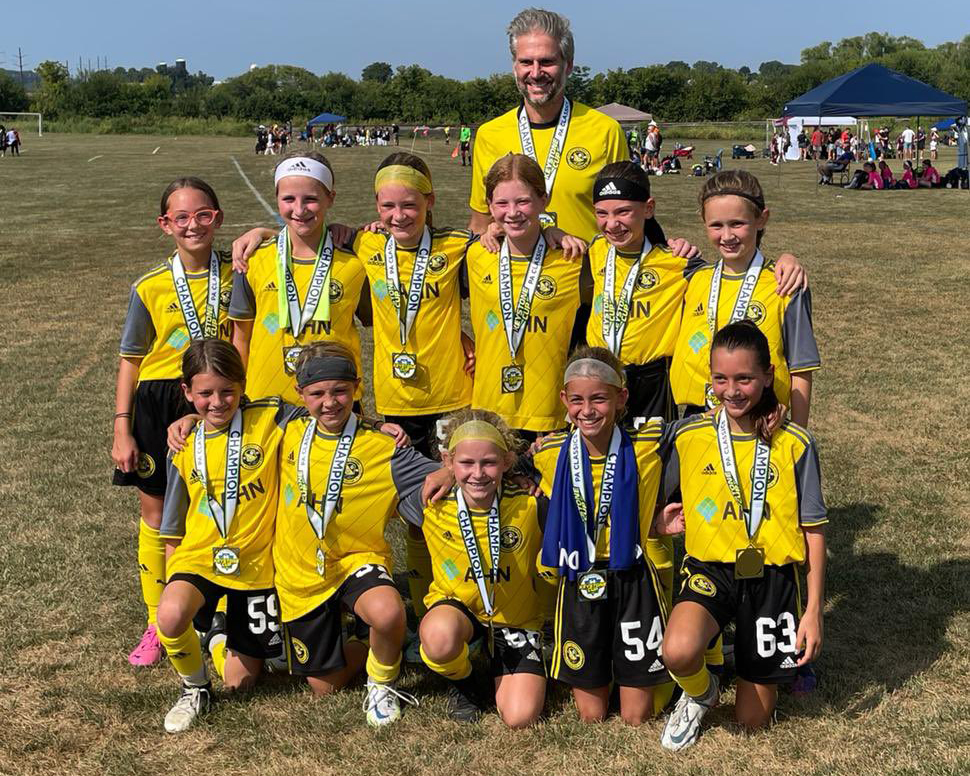 Labor Day weekend marks the unofficial start of a new competitive year in youth soccer, and the Riverhounds Development Academy's youngest teams made their first road trip of 2022-23 to compete at the PA Classics Keystone Cup in Manheim, Pa.
The 2012 Girls came away as champions of their age group's top flight, playing through tired legs in a complete team performance to win the final, 3-2, over the Western New York Flash.
Addison Carpenter opened the scoring, but a long Flash free kick tied the title game at halftime. After controlling first-half possession, play opened up more after the break, and the Hounds were successful in attacking down the wing and surging ahead with goals by Carpenter and Makenzie Lindner. The Flash again scored late in the half, but the Hounds finished out a good 60-minute effort against a strong opponent.
The '12 Girls reached the final with two good Saturday wins, first rallying from a goal down for a 3-1 win over the host team with goals by Danika Brummett, Carpenter and Devyn Greggs. Game two saw the Hounds defeat FC Revolution, 3-0, as Brielle Wilson scored twice, and Emma Kulasa also had a goal with the team looking very effective when they were calm and moved the ball in possession.
Three other RDA sides out of the 11 that made the trip were finalists in their respective brackets — the 2011 Girls, 2013 Girls and 2014 Boys.
The '11 Girls put together a strong 1-0 win in the heat against PA Classics, as Leesia Phetsomphou netted the only goal to qualify the team for the championship game, but a rematch in the final went the hosts' way by a 3-1 count. The '13 Girls were also tripped up by PA Classics in the final, falling 6-1 with the hosts deserving the win paced by a standout individual performance.
On the boys' side, the youngest Hounds won three consecutive games before PA Classics stopped them in the '14 Boys title game, 4-2, and the '14 RDA II Boys side also reached the semifinals in their division before falling to FC Delco.
After excellent effort across the board, many of those same teams will be in action with friendly matches back home this weekend. Meanwhile, the 2009 and 2010 Boys will be the first in the club to start the new season of Elite Clubs National League and ECNL Regional League play this Saturday.