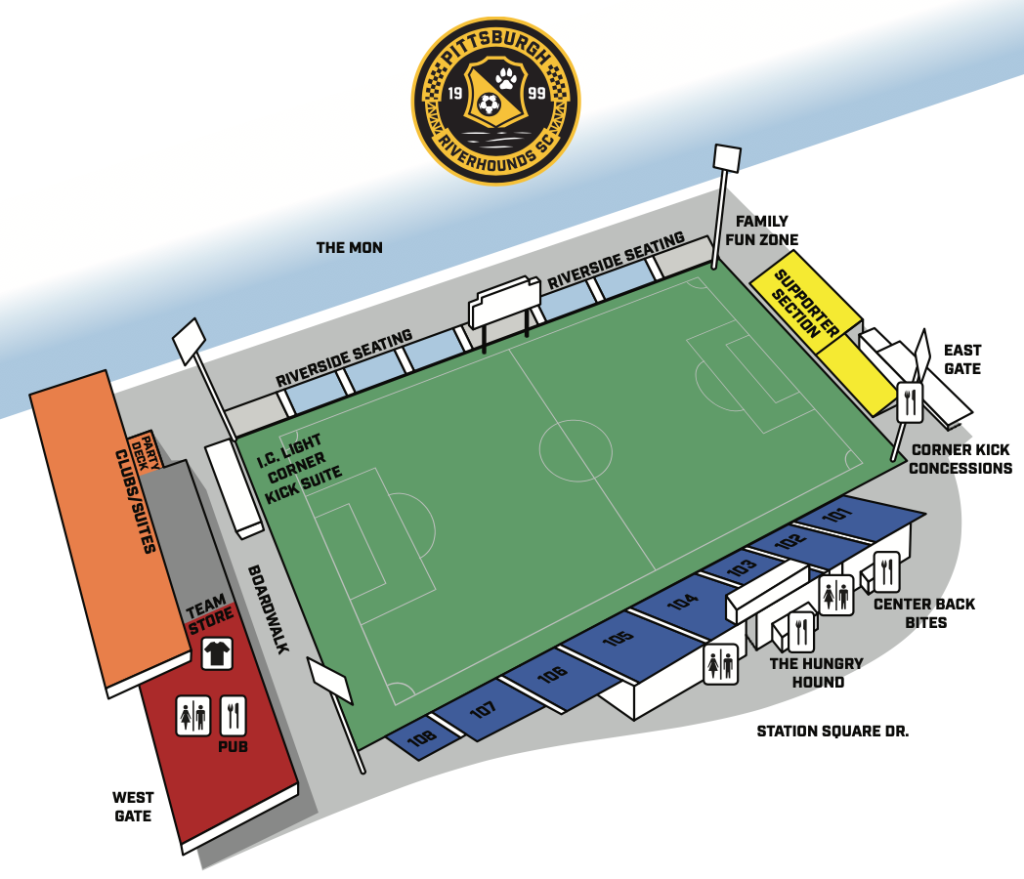 ACCESSIBILITY
Highmark Stadium provides a full range of accommodations for guests with disabilities. For more information, please visit our accessibility guide.
Highmark Stadium has one elevator located inside the main building.
AISLES, RAILS, RAMPS, & STAIRWAYS
To help ensure guest safety and ensure a fan-friendly experience at games and events, sitting or standing in aisles, at rails, on ramps or in stairways is prohibited. Guests will be asked to return to their seats. Standing on seats is also prohibited.
ALCOHOL-BEVERAGE POLICY
Alcohol sales begin from the time gates open until the 80th minute. No outside alcohol is allowed to be brought into Highmark Stadium. Alcohol is not permitted to be taken out of the stadium. Individuals must be at least 21 years of age and provide proof of age to purchase alcohol. Regardless of age, all patrons must provide a valid I.D. in order to purchase any alcohol. There is a limit of two (2) alcoholic beverages per purchase. Management reserves the right to refuse service to anyone. Public intoxication or belligerent behavior may result in your removal from Highmark Stadium.
BOX OFFICE
The main Highmark Stadium box office is located on the west side of Highmark Stadium, closest to the Fort Pitt Bridge. It is open Monday-Friday 9am-5pm. On game days, it is open seven hours before kickoff (12pm for a 7pm game) through the 70th minute. Contact the box office at 412-325-7241 for more information.
BABY CHANGING STATIONS
All Highmark Stadium family restrooms have baby changing stations. Family restrooms can be found under grandstand sections 104 and 105, on the ground floor of the main building, and the Club section.
BANNERS, SIGNS, AND FLAGS
Banners, signs, and flags are permitted inside of Highmark Stadium. However, certain banners, signs, and flags may be restricted to the designated supporters section of the stadium. Any banner or sign can be removed at the discretion of Highmark Stadium management.
Guidelines for Banners, Signs, and Flags:
Must not obstruct the view of any other fans
May not contain any obscene or offensive language, pictures, or symbols
Must be relevant to the event
Must not create a safety hazard for other fans as determined by Highmark Stadium management
BANQUET & CONFERENCE RENTALS
The expanded upstairs banquet space contains approximately 3,966 square feet and has a maximum occupancy of 200-225 people. In addition to the indoor area, the expanded upstairs banquet space includes the use of the upstairs outdoor terrace containing approximately 750 square feet and the balcony fronting the athletic field.
The upstairs conference space offers seating for up to 15 people, as well as a television for the use of presentations. There is a kitchenette with sink and refrigerator for use (Minimum of 4 hours).
CLEAR BAG POLICY
As part of an ongoing commitment to safety and security, Highmark Stadium will implement a policy that limits the size and type of bags that may be brought into Highmark Stadium.
Guests are discouraged from bringing any bags into Highmark Stadium, but outlined below is permissible. We appreciate everyone's cooperation and patience as we strive to ensure minimal disruption or delays.
Bags that are clear plastic, vinyl or PVC and do not exceed 12" x 6" x 12." Official Riverhounds SC team logo clear plastic tote bags are available through the club store.
One-gallon clear plastic freezer bag (Ziploc bag or similar).
Small clutch bags or small purse, approximately the size of a hand 4.5" x 6.5", with or without a handle or strap can be taken into the stadium with one of the clear plastic bag options.
Seat cushions and seat cushions with backs will be permitted. No larger than 16" wide with no arms or pockets allowed.
An exception will be made for medically necessary items after proper inspection at a gate designated for this purpose.
Diaper bags are allowed but will be inspected and tagged.
Prohibited items include but are not limited to: purses larger than a clutch bag, coolers, briefcases, backpacks, fanny packs, cinch bags, luggage of any kind, computer bags and camera bags, or any bag larger than the permissible size.
Please visit our clear bag policy guide for more information.
CODE OF CONDUCT
Pittsburgh Riverhounds SC is committed to creating a safe, family-friendly soccer experience for all guests at Highmark Stadium.
Riverhounds SC fans have a right to expect Highmark Stadium's environment to be:
Fans are encouraged to cheer/chant, sing, and support Riverhounds SC while maintaining a courteous and respectful manner to their fellow patrons, referees, all players, and opposing fans.
Fans enjoy the family soccer experience while refraining from fighting, throwing objects, attempting to enter the field of play, and acting in a disorderly behavior, inclusive of foul, racial, sexist, obscene or abusive language or gestures.
Fans comply with all requests from Highmark Stadium staff regarding all stadium policies and emergency response protocols.
Fans return any game ball that leaves the playing field promptly and carefully to a Highmark Stadium staff member or a ball kid.
Fans consume any and all alcoholic beverages in a responsible manner and must produce identification to prove they are of legal age to purchase an alcoholic beverage.
Fans conduct themselves in a civil and lawful manner to avoid confrontations and incidents in the stadium and parking lots.
Failure to abide by this Code of Conduct is subject to sanctions, including ejection, banishment and arrest.
Pittsburgh Riverhounds SC and its ownership thank you for adhering to this Code of Conduct and for making this family-friendly event special and memorable to all who were in attendance.
CONCESSION
Highmark Stadium offers a variety of concessions options through Sodexo Live! Aside from the Pub, located in the main building, concession stands are behind sections 101, 103, and behind the Paul Child Supporters Section, near the East Gate. Additionally, there will be varying carts and portable stands located throughout the stadium. *CARD ONLY*
Nacho Stand
Specialty Tacos
Loaded Nachos
Walking Taco
Domestic Beer
Premium Beer
Water
Soda
Corner Kick Concession
Pretzel Dog
Classic Pretzel
Dips
Center Back Bites
Nachos
Hot Dog
Soft Pretzel
Popcorn
Candy
Extra cheese cup
Bottled Water
Bottled Soda
Powerade
Domestic Beer
Premium Beer
Craft Beer/Cocktail
CREDIT CARDS
*CONCESSIONS AT HIGHMARK STADIUM ARE NOW CASHLESS* Credit cards may be used at the box office, our team store, and concessions. Accepted cards include VISA, MasterCard, American Express, and Discover.
DIRECTIONS
Highmark Stadium
510 W. Station Square Drive, Pittsburgh, PA 15219
Tel: (412) 224-4900 | highmarkstadium.com
Please visit our directions guide for further information.
EMERGENCY/EVACUATION PROCEDURE
Should dangerous lightning or other conditions requiring the evacuation of the stadium staff, remain calm, and follow the instructions of the Stadium Security and Personnel. Fans should also listen to the public address system for further instructions. As well as follow @riverhoundssc on Twitter for further updates.
EXCHANGES/REFUNDS
Exchanges are available to season ticket holders through our exchange program.
If you are unable to attend a game or event through no fault of the venue, no refunds or exchanges will be permitted. If a game or event is canceled, ticket holders will be contacted with their options. If you have any questions contact our ticketing office at 412-325-7241.
FIRST AID AND MEDICAL SERVICES
Trained emergency medical personnel are present at every event held at Highmark Stadium. Please notify a stadium employee or member of security if you require medical attention or assistance.
FOOD AND BEVERAGE POLICY
Highmark Stadium has implemented several health protocols to ensure the safe operations of concessions and other food and beverage locations. These precautions include the installation of protective barriers at food service locations, sanitizing all service areas, and ensuring employees are wearing face coverings, and handing products in a safe manner. All cups will be served with lids and without straws, and all condiments will be packaged with orders instead of self-service.
GATES OPEN
Gates will open 60 minutes prior to kickoff (e.g., gates will open at 6:00 p.m. for a 7:00 p.m. scheduled start time). Gates are located next to the East End and West End box offices. Once you exit Highmark Stadium re-entry is not permitted start time). The Tailgate Zone opens 120 minutes prior to kickoff.
LOST AND FOUND
The club's lost and found is located at the main box office on the west end of Highmark Stadium.
MASK POLICY
All protocols will be posted in the stadium, and policies are subject to change based on guidelines issued by state and local government, public health officials and the United Soccer League.
MERCHANDISE
Official Pittsburgh Riverhounds SC Merchandise can be purchased in our Team Store located at the west end of the stadium below club-level seating. Merchandise can also be purchased online at our team store.
MOBILE TICKETING
For match day entry, a mobile ticket must be displayed on a smartphone. Fans who have yet to receive their tickets can stop by the box office on game day to have their tickets re-sent. Ticket buyers and fans that bought tickets from a Riverhounds SC account executive or at the box office should reference our Digital Ticketing Guide. If tickets were purchased through ticketmaster.com, we encourage you to download the Ticketmaster App and consult Ticketmaster's "Help" Portal.
NEWS AND ANNOUNCEMENTS
Stay connected! For up-to-the-minute updates while at Highmark Stadium, follow Pittsburgh Riverhounds SC on Twitter at @RiverhoundsSC. Fans can also go to https://www.riverhounds.com/news to keep up with the latest Riverhounds news.
PARKING
*PARKING IS CASH ONLY* Parking is located in the West Lot of Station Square, lying adjacent to the Highmark Stadium office building and underneath the Fort Pitt Bridge. A flat rate of $15 applies for events but is subject to change.
Additional parking is available at the following locations in Station Square for standard hourly rates:
Station Square Parking Garage (across from Sheraton Hotel)
East Lot (adjacent to the Smithfield Street Bridge)
West Carson/River Lot (adjacent to the Gateway Clipper Fleet Dock Ramp)
Please contact ABM Parking at 412-261-1993 for information on event bus/van parking.
PRESS/MEDIA ENTRANCE
Press and media should report to the main box office on the west end of the stadium to get their media passes/credentials. Media will then proceed to the main, west end gate for entrance into the stadium.
Any other media related inquiries can be emailed to media@riverhounds.com
PROHIBITED ITEMS
No re-entry
No outside food and/or beverages
No containers and/or coolers
No pets (other than service animals)
No bicycles
No weapons (regardless of permit, including but not limited to firearms or knives)
No umbrellas or helmets
No fireworks
No contraband
Smoking is prohibited on Highmark Stadium property.
Any other items deemed unlawful or dangerous may be prohibited at the discretion of Highmark Stadium staff and security personnel.
Parents with small children are permitted to bring strollers and diaper bags. These items are subject to reasonable inspection before entering and/or at any time during the event.
RESTROOMS
Restrooms can be found in the Club Section of Highmark Stadium, underneath grandstand sections 102, 104, and 105, and the ground floor of the main building
SANITIZING STATIONS
Highmark Stadium has installed 12 hand sanitizing stations located throughout the concourse area. We encourage fans to utilize these stations, particularly after eating/drinking or using the restroom facilities.
SECURITY
Security guards and Pittsburgh Police Officers will be positioned throughout Highmark Stadium for all fans' protection. All guests will be subject to a bag check upon entrance into the stadium. Fans will also be screened with metal detection upon entrance. Security personnel will conduct their inspections with respect towards the guests' dignity and legal rights.
SERVICE ANIMALS
All animals that are specifically trained to provide assistance to an individual with a disability are welcomed. Service animals must remain on a leash or in a harness and be under control of the guest with a disability or designee. The service animal must rest in the seating area with the individual and not in the aisle. Emotional support animals are not permitted.
SMOKING POLICY
Smoking is prohibited on Highmark Stadium Property. This includes any e-cigarette or vaping device.
PARTNERSHIP OPPORTUNITIES
For partnership opportunities, please call Greg Pai at 914-320-9248 or email gpai@highmarkstadium.com
TEAM STORE
Official Riverhounds SC merchandise is sold at our team store, located at the west end of the stadium below club-level seating. The team store will be open during all home games. Merchandise can also be purchased at our online team shop.
TICKETS- HOW TO BUY
Advance tickets for Pittsburgh Riverhounds SC matches can be purchased at https://www.riverhounds.com/tickets. The Box Office is open four hours before kickoff until the start of the second half of play. For Riverhounds SC Season or Group tickets, contact our Ticketing Department at 412-865-GOAL.
UMBRELLAS
Umbrellas are not permitted inside of Highmark Stadium during Riverhounds SC games.
WEBSITE/SOCIAL MEDIA
For more information on Highmark Stadium, please visit http://highmarkstadium.com/
Download the Pittsburgh Riverhounds SC mobile app – https://www.fanthreesixty.com/riverhounds
Follow our socials for event information and fun content
Facebook: @RiverhoundsSC, @HighmarkStadium
Twitter: @RiverhoundsSC, @highmarkstadium
Instagram: @riverhoundssc, @highmarkstadium