CONTACT THE RIVERHOUNDS ACADEMY: (412) 870-4008
THE RIVERHOUNDS ACADEMY MODEL
The Riverhounds Academy was launched in 2007 to provide young soccer players with a thorough understanding of the game and the skills necessary to perform on the field.
We deliver a skill-driven system of development, focusing on individual player improvement rather than winning team competitions. Our curriculum was initially designed in association with Everton F.C. of the English Premier League.
The Riverhounds Academy currently develops about 1,300 players between the ages of 3 and 18 years old and provides identification opportunities to participate in the Riverhounds Development Academy (RDA), the highest tier within our youth system.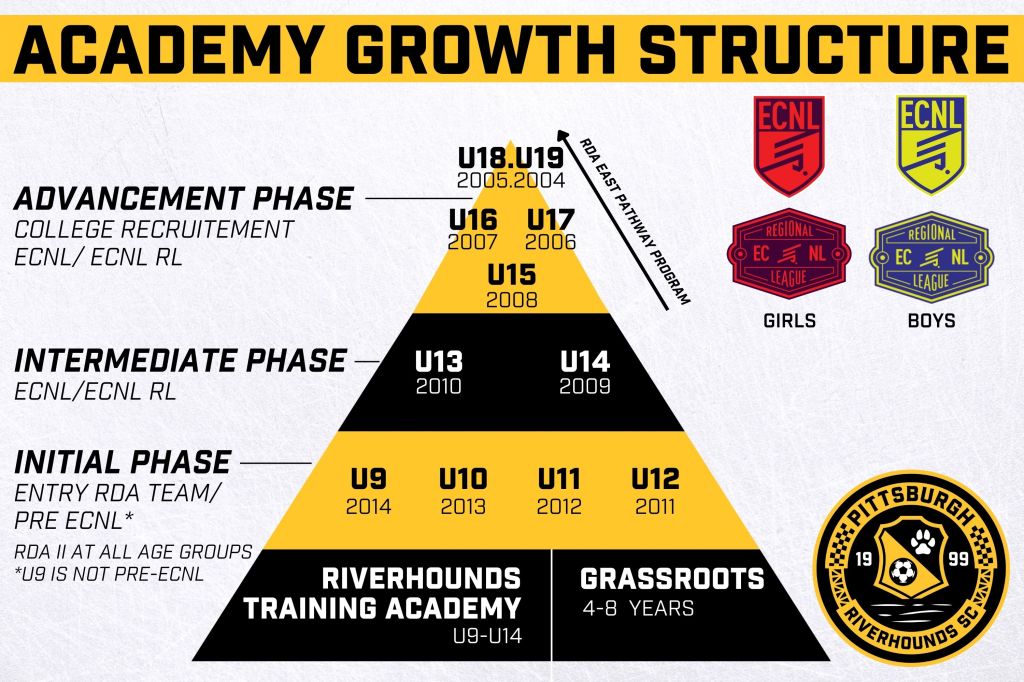 CLUB'S CORE VALUES
Such is the nature of the people of Pittsburgh, the Club embodies the ideals of hard work and resilience. A blue-collar group, the name "Riverhounds" comes historically from the barge workers who would spend long hours along the rivers of Pittsburgh during the height of steel manufacturing and transport. Our Youth Programming aims to deliver a developmental product shaped by sophisticated investment in state-of-the-art facilities, expertise from a blended mix of cultural experiences in staffing, and an unwavering commitment to excellence, all built upon a foundation of hard work.
RDA 2007 BOYS VISIT RANGERS FC
In November 2019, the RDA 2007 Boys team went on a trip of a lifetime, visiting Rangers FC of the Scottish Premiership. During its trip to Scotland, the squad competed against and trained with elite-level talent. Take a look back at the 2007 Boys team's journey across the pond.