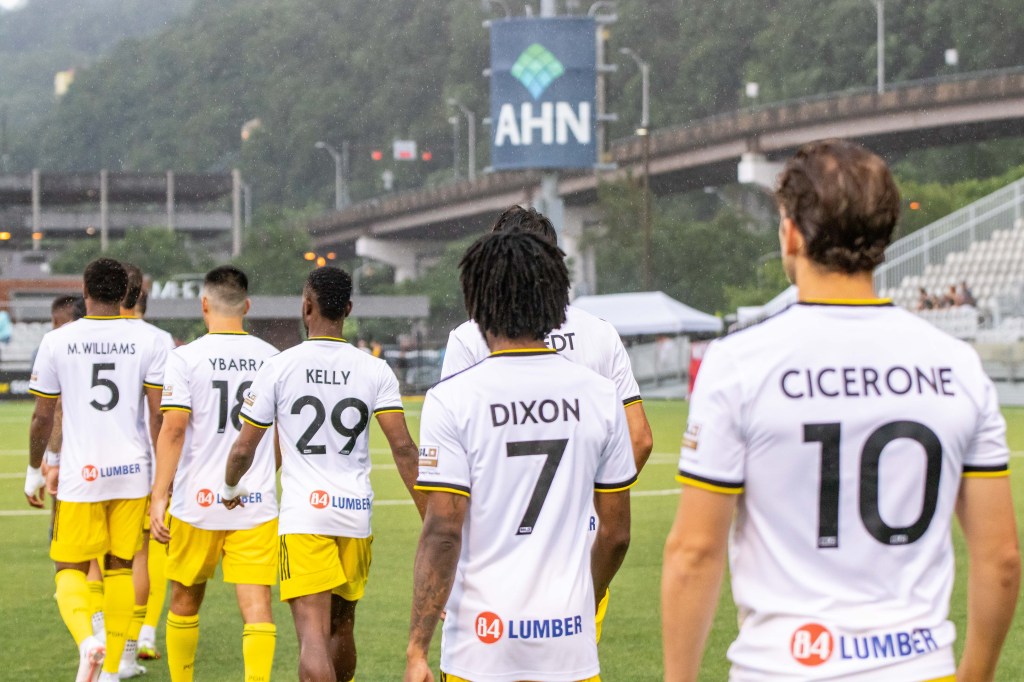 Match info
Riverhounds (9-6-3) vs. Miami FC (6-6-6)
Date: Saturday, July 9
Time: 7 p.m.
Location: Highmark Stadium
Odds: Hounds -125 / Draw +260 / Miami +290 (FanDuel)
Tickets: Ticketmaster
TV: 22 The Point
Streaming: ESPN+
Live statistics: USL Championship Match Center
Live updates: @RiverhoundsSC on Twitter
Match hashtags: #PITvMIA and #HOUNDTAHN
PITTSBURGH (July 9, 2022) — The Hounds are aiming to stay in the Eastern Conference's top four and win three consecutive league matches for the first time in this USL Championship season, but doing so will require getting past an always-tricky Miami FC side tonight at Highmark Stadium.
It will be the second meeting of the year between the two teams, whose first meeting was a disjointed 2-2 draw in Miami. A lightning delay of more than two hours, a second delay when stadium lights went out, 35 fouls (including an Alex Dixon penalty kick saved by Miami's Connor Sparrow) and slippery field conditions all factored into a clunky game that lasted past midnight.
Miami led twice on goals by Junior Palacios and Adonijah Reid, but goals by Russell Cicerone and Dixon got the Hounds level each time. The goal by Cicerone is part of a nine-game stretch in which he has five goals and two assists, moving him into the scoring lead for the Hounds, a goal ahead of Albert Dikwa and Dane Kelly.
Dixon's goal extended something of a statistical oddity for the Hounds, as well. The last three times a Hounds player has missed on a penalty kick (Cicerone and Dixon twice), the same player has gone on to score later that game in the run of play.
Quirks such as that aside, Miami has proven to be a tough customer for the Hounds, both home and away. All five games have been settled by a goal or fewer, and the Floridians hold a 2-1-2 lead in the series.
Miami has been defensively stout at just 18 goals allowed in 18 matches, and Sparrow has been one of the league's best goalkeepers this season. The team is speedy and dynamic, and though they don't have a single big-time scorer — five players share the lead with three goals each — they have been effective enough to put themselves in the final playoff spot in the East as the second half of the season gets rolling.
One of those five scorers for Miami is former Hounds striker Romeo Parkes. The Jamaican, who joined Miami in the offseason, would be in line for his first match at Highmark Stadium since leaving the club after 2018, but he is listed as questionable (neck) on the injury report.
The Hounds have a clean bill of health, on the other hand, but with this being the third match in nine days, expect to see a handful of lineup changes from coach Bob Lilley. Regulars such as Dikwa, Kenardo Forbes and Nate Dossantos only played a half-hour coming off the bench in Wednesday's 1-0 win over Indy, placing them among the surest bets to be back in the 11 today.
On what is expected to be a warm, summer night, be sure to check out the Tailgate Zone opening at 5 p.m. DJ TJ Harris is back in charge of the music, while food from Haskel's Deli and BRGR will be on sale alongside the Riverhounds Lager by Straub. Gates will open at 6 p.m., and tickets are available via Ticketmaster and at the Highmark Stadium Box Office.
Tonight's game will be shown live on 22 The Point, and as always, streamed via ESPN+.