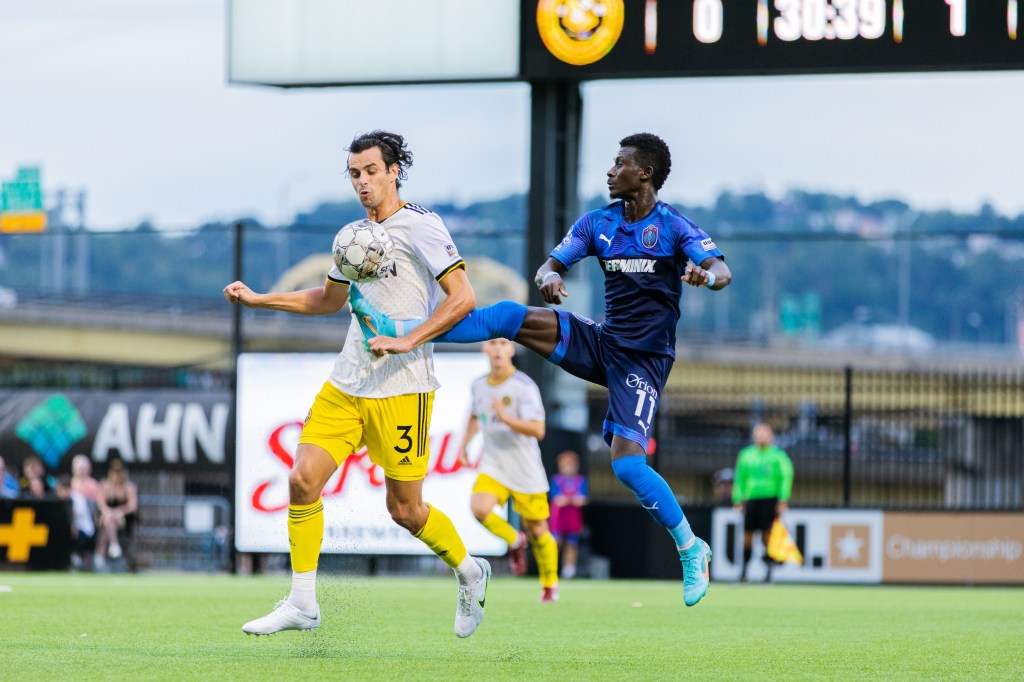 PITTSBURGH (Aug. 13, 2022) — Pittsburgh Riverhounds SC had its seven-game unbeaten run brought to an end after visiting Memphis 901 FC got a goal in each half to take a 2-0 win Saturday night at Highmark Stadium.
Luiz Fernando and Aaron Molloy scored for Memphis (15-5-3), which moved into second place in the Eastern Conference by scoring their first win and first goals against Pittsburgh (13-7-4) in four total meetings.
The Hounds outshot the guests 15-5 and had 61 percent of possession, but they were shut out for the first time since June 18, a span of nine games.
---
First half
The visitors got on the board in the eighth minute by capitalizing on a Hounds turnover inside their own half.
The ball came to the feet of Fernando, who dribbled at the defense to near the top of the box. Though he appeared to be losing his balance, he managed to drive his right foot through a hard shot that found the right side of the net.
The Hounds stayed aggressive, however, and Albert Dikwa nearly tied the game in the 25th minute by forcing a turnover of his own, only to push his shot just wide of the goal. Dikwa later forced one of two saves by Memphis goalie Trey Muse, as the Hounds did not allow a shot in the final 25 minutes of the half.
Second half
Still seeking a tying goal, the Hounds went to their bench early. Edward Kizza set Dikwa up with a well-placed pass just moments after entering the game, and fellow substitute Dane Kelly came closest after halftime with a curling shot that hit the crossbar in the 63rd minute.
Memphis got their second on the counter attack in the 73rd minute. Phillip Goodrum hit a cross-field pass nearly 60 yard to hit Jeremy Kelly in stride on the left side. Kelly laid a pass back to the top of the box for Molloy to strike in stride, doubling the visitors' lead.
From there, Memphis moved into a very defensive shape and were effective, as the Hounds couldn't connect on a final pass into the box and missed the target with their only two shots after the second goal.
---
Hounds Man of the Match
Arturo Ordóñez was effective and covered plenty of ground in the middle of the Hounds' three center backs. The first-year pro led the team with six clearances, won 10 of 11 duels (including 6 of 6 in the air) and was credited with a pair of chances created.
What's next?
The Hounds remain home for their next game, their final scheduled USL Championship meeting with longtime foe New York Red Bulls II at 7 p.m. Saturday, Aug. 20. New York (3-18-3) comes in at the bottom of the Eastern Conference, but they will have an extra day of rest after losing 3-1 last night against Charleston.
---
Riverhounds SC lineup (5-2-1-2) — Jahmali Waite; Nate Dossantos (Edward Kizza 57'), Mekeil Williams (Jelani Peters 75'), Arturo Ordóñez, Shane Wiedt, Alex Dixon; Robbie Mertz (Luke Biasi 75'), Danny Griffin; Kenardo Forbes; Russell Cicerone (Dane Kelly 56'), Albert Dikwa
Memphis 901 FC lineup (4-3-3) — Trey Muse; Patrick Seagrist, Zach Carroll, Graham Smith, Rece Buckmaster; Leston Paul, Chris Allan (Jeremy Kelly 59'), Aaron Molloy; Phillip Goodrum (David Egbo 82'), Laurent Kissiedou (Lucas Turci 67'), Luiz Fernando (Jackson Brady 82')
Scoring summary
MEM — Luiz Fernando 8'
MEM — Aaron Molloy 73' (Jeremy Kelly)
Discipline summary
MEM — Zach Carroll 23' (caution – unsporting behavior)
PIT — Shane Wiedt 32' (caution – unsporting behavior)
PIT — Nate Dossantos 54' (caution – unsporting behavior)
PIT — Edward Kizza 78' (caution – unsporting behavior)
MEM — David Egbo 90+3' (caution – unsporting behavior)
PIT — Arturo Ordóñez 90+4' (caution – unsporting behavior)