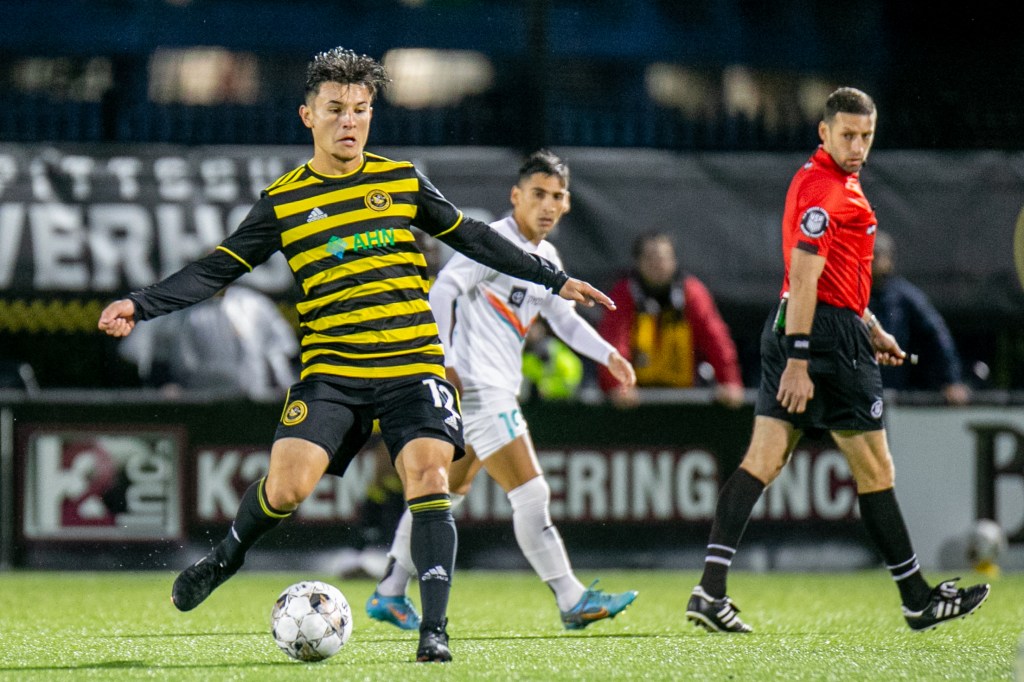 PITTSBURGH (Oct. 1, 2022) — A late goal by Carter Manley was the difference, and USL Championship leaders San Antonio FC handed Pittsburgh Riverhounds SC a 1-0 loss tonight at rainy Highmark Stadium.
Manley scored in the 86th minute to give the win to San Antonio (23-5-4), which clinched the overall No. 1 seed for the playoffs as a result.
The Hounds (15-9-8) remain locked into a battle in the Eastern Conference standings, with a finish anywhere from third to seventh possible with two games remaining.
---
First half
The game saw both teams committed to being responsible defensively, as it took until the 15th minute for the game's first shot, a long-range attempt by Danny Griffin.
Alex Dixon forced the first save by San Antonio goalkeeper Jordan Farr — who leads the Championship with 15 shutouts — on a long-range shot in the 28th minute, which was the only shot on goal by either team in the first half.
The biggest moment came with a minute remaining before halftime, when Dixon flicked a pass toward Albert Dikwa in the box. Replays showed the ball struck the extended arm of San Antonio defender Jordy Delem, but referee Thomas Snyder denied the Hounds' protests for a penalty kick.
Second half
As the game wore on, the direct play of San Antonio began to yield more chances, despite the Hounds having almost exactly two-thirds of possession (66.5 percent).
Dixon tested Farr early in the half with a shot that skipped on the wet turf and nearly caught the goalkeeper off guard. San Antonio also force some good saves from Hounds goalkeeper Jahmali Waite, none better than his leaping tip over the crossbar of a long-range shot by David Lorea.
The decisive goal came in the 86th minute when Nicky Hernandez sent a cross into the box from along the left sideline. Manley was first to the ball at the near post, and he got a foot to the ball to redirect it behind Waite.
---
Hounds Man of the Match 
Danny Griffin played an active game in the midfield, even by his standards, with 49 of 60 passes completed (82 percent) and 77 touches on the ball, second on the team. Defensively, he had four interceptions, won all three of his tackles and won possession a team-leading 10 times.
What's next?
The Hounds go on the road for the final time in the regular season when they visit Sacramento Republic FC at 5 p.m. on Sunday, Oct. 9. The Republic (14-10-7), led by former Hounds goalkeeper Danny Vitiello, are playoff-bound in the West. Sacramento won the only prior meeting between the teams, which was way back in 2014 in California.
---
Riverhounds SC lineup (4-2-3-1) — Jahmali Waite; Jelani Peters, Mekeil Williams, Arturo Ordóñez, Shane Wiedt (Dani Rovira 88'); Danny Griffin, Kenardo Forbes; Russell Cicerone (Edward Kizza 79'), Robbie Mertz (Angelo Kelly 79'), Alex Dixon (Luis Argudo 88'); Albert Dikwa
San Antonio FC lineup (5-3-2) — Jordan Farr; Connor Maloney, Jordy Delem, Fabien Garcia, Carter Manly, Saad Abdul-Salaam; PC, Mohammed Abu (Nicky Hernandez 46'), Jack Lynn (Ignacio Bailone 64'); Samuel Adeniran (Elliot Collier 90'), Cristian Parano (David Lorea 64')
Scoring summary
SA — Carter Manley 86' (Nicky Hernandez)
Discipline summary
SA — Jordy Delem 18' (caution – unsporting behavior)
PIT — Arturo Ordóñez 90+3' (caution – unsporting behavior)