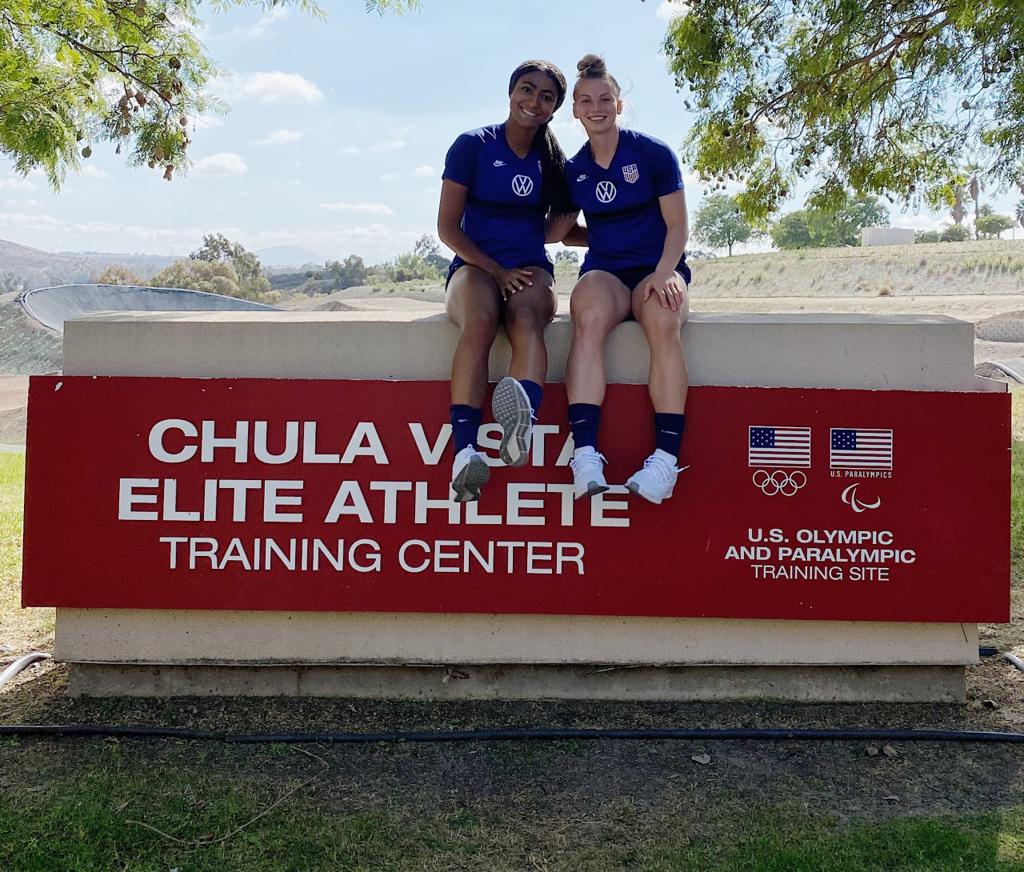 Tessa Dellarose got to spend a week of her fall in California, but the reason for her trip wasn't seeing the Golden State. It was wearing the Red, White and Blue.
Dellarose, a member of the Riverhounds Development Academy's 2003/04 Girls team, took part in the U.S. Under-20 Women's National Team Training Camp in Chula Vista, Calif. from Oct. 17-24, an opportunity to impress in front of national team coaches and vie for a spot at major tournaments in the coming years.
It wasn't the first time getting a U.S. call-up for Dellarose, who comes from Brownsville, Pa. and is a University of North Carolina recruit. She previously represented the U.S. at the Under-16 level, but after so much of the national team program had been shut down as a result of the pandemic, Dellarose was excited to be chosen to take part in one of the first big, in-person events while moving into a higher age group.
"My last camp was in February 2020 with the U-16s, and then everything shut down. Being back with them again in person brought back some normalcy, but they still had all the (Covid) protocols in place," Dellarose said.
"There were a lot of familiar faces going back into this camp, and especially because the college girls were away, there were more girls my age (2004 birth year) and some 2003s. It was nice seeing some of the same girls now that we're older. I've gotten close with some, some have been my roommates; it's almost like a clique thing."
The target for Dellarose is making the U.S. U-20 team that will be assembled for next year to compete first at the CONCACAF U-20 Women's Championship, which is the qualifying tournament for the FIFA U-20 Women's World Cup being held next year in Costa Rica.
That is a lofty goal for Dellarose, who will still be 17 when 2022 begins, but it's one she thinks is attainable while still keeping things in perspective.
"My goal is definitely to make the qualifiers and the World Cup, but in the chance it doesn't happen, I want to continue to get better and grow as a player and a person," she said. "If I don't make it this cycle, there's still the 2024 (U-20) World Cup when I'll be 19."
Going into such a high-intensity environment could be overwhelming, but Dellarose seems to take it all in stride.
Her ability on the field certainly stacks up with the girls — and at the U-20 level, young women — she is competing against, and she is used to the high level of competition playing in the ECNL and at large showcases with the RDA. That she is being recognized for her play comes as no surprise to her coaches back in Pittsburgh.
"Tessa's a fearless player. All she wants is to get to the top," RDA Director Scott Gibson said. "She's worked extremely hard to get to this point, so for her to go into that camp was an opportunity for her to excel. She's got the personality to excel, and she's got that mindset that, whenever she plays the game, she wants to be the best."
But while this wasn't the first camp for Dellarose, she did notice that things are a little different at the U-20 level than in the girls age groups.
"This is different than the last camps I've been to. Everyone is so excited to be here, but everyone knows what's on the line with the World Cup next year. There's a lot of intensity, but not a lot of pressure, because it's so much fun that gets overshadowed," Dellarose said.
Now back in Pittsburgh, Dellarose will have to wait to see if she will be brought back in for the next camp after the conclusion of the college season.
Until then, she will have a chance to link back up with her RDA teammates and friends, as they prepare for a full competitive season in the ECNL. Asked what she can impart to her teammates from her U.S. experience, Dellarose said she's always happy to share.
"I'll tell them whatever they like to know. They like to ask questions about it," Dellarose said. "I never like to feel like I'm bragging about it, but if they ask me, I love to share and talk about how the daily routine works, what training is like. I think that's really informative for them."