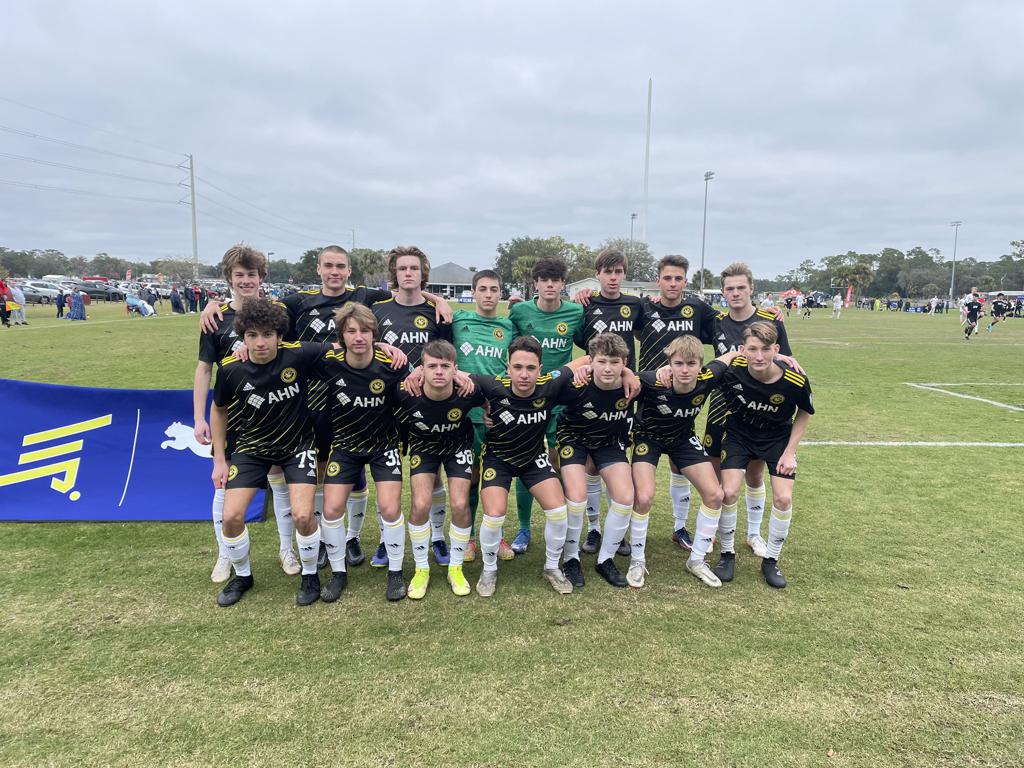 Two weeks after the girls had their turn, it was the Riverhounds Development Academy's boys teams who took their turn Jan. 22-24 at the ECNL Florida showcase in Sanford, Fla.
The 2005 and 2006 Boys teams were the two to make the trip, and the 05s made a particularly strong impression with an unbeaten weekend and having goal-scoring forward Alex Hauskrecht receive the individual honor of being selected for the ECNL Florida National Selection Game, the Saturday night all-star event.
As a team, the 05s got things off to a fast start with a 3-1 win over South Carolina Surf. Gabriel Gotz accounted for the first two goals while romping down the left side, scoring one and sending in a cross that led to an own goal for the second. Oliver Daboo's free kick made it 3-0, as the Hounds locked up the three points.
The next two games were even more challenging, and the Hounds came away with matching 1-1 draws against Miramar United Elite FC (Fla.) and KC Scott Gallagher (Mo.). Daboo scored his second of the weekend against Miramar, and Colin Lazzara scored against KC as part of a solid individual match. On the back end of the squad, center backs Nick Allan and Collin Westerberg had a very good weekend as a pairing, while Josh Jashinski earned praise for his work to control the middle of the field.
The 06 Boys had a tougher go of it in Florida, as a slow start got punished in their opener, a 4-0 loss to Farmington SA (Conn.). The errors of that match were cleaned up before the second, but the Hounds lost a heartbreaker to Manhattan SC (N.Y.), 1-0, on the final kick of the game. Goal scoring was a problem on the weekend, and the trip ended with a 4-0 loss to another N.Y. side, SUSA Albertson, but the Hounds will come home with some good experience from playing against top national opponents.
Recaps of each match from both the boys and girls weekends at ECNL Florida can still be found at the Results page at www.riverhounds.com, where scores will be posted regularly as the RDA marches toward the Spring 2022 season.