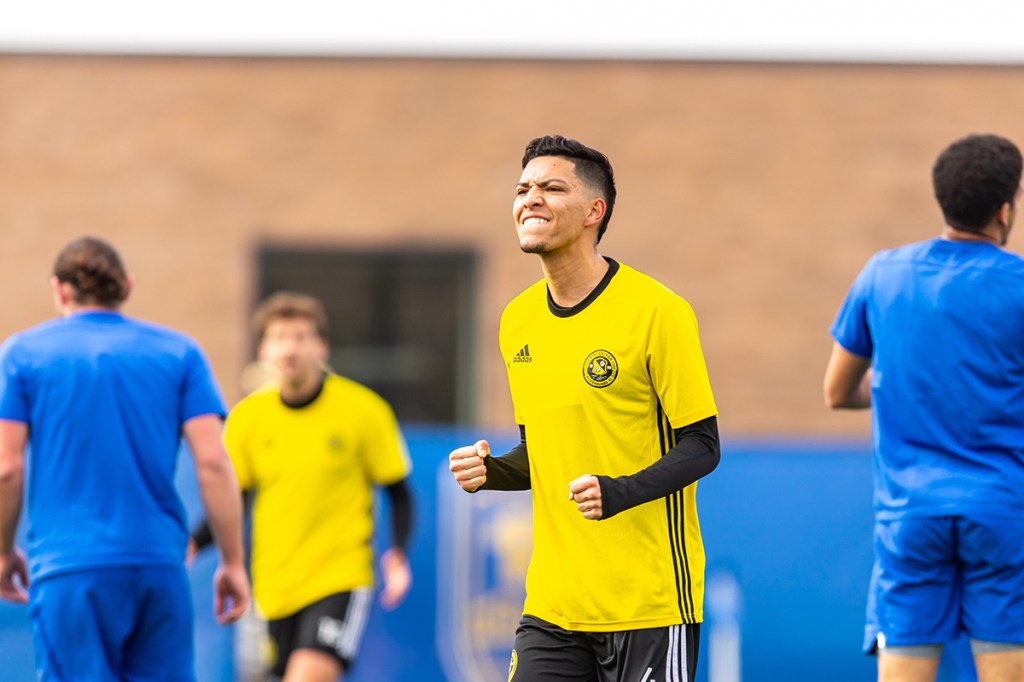 PITTSBURGH (March 1, 2022) — Midfielder Dani Rovira scored twice, and Pittsburgh Riverhounds SC were keen on finding the net in a 7-1 preseason victory over the University of Pittsburgh this morning at Pitt's Ambrose Urbanic Field.
Rovira was joined on the scoresheet by Jelani Peters, Dane Kelly, Robby Dambrot, trialist Luis Argudo and William Eyang also had goals for the Hounds (4-0-1). For the Panthers, who are kicking off their Spring season, Michael Sullivan got the goal on an assist from Valentin Noel.
The Hounds were able to take advantage of their size early, as Peters — the tallest field player for either team at 6-foot-5 — rose to head in a Kenardo Forbes corner kick in the 13th minute. In the 24th minute, Rovira got the first of his two goals by receiving a pass dropped back by Russell Cicerone and striking a hard shot on his first touch from the top of the box.
A point-blank save by Pitt goalkeeper Joe van der Sar on another Peters header kept the score 2-0 at the break, as the Hounds did not allow a shot on goal in the first half.
After halftime, Rovira switched from playing midfield to right wing back, but he still got himself into a great position to finish with a shot into the top left corner after receiving a pass from Dane Kelly in the 56th minute.
Kelly nearly got a goal of his own a minute later when he hit the crossbar, but the Panthers swept the other direction and got themselves on the board when Noel dropped a cross from the right side onto Sullivan's foot at the back post.
Substitutions for both teams picked up after the hour mark, and Kelly got his third goal of the preseason with a header on the end of a Dambrot cross in the 72nd minute. Dambrot, a former Pitt player, got the Hounds' fifth goal in the 75th minute after a give-and-go worked inside the box with Angelo Kelly.
The Hounds added two more goals in the final three minutes. Argudo pounced on a Panthers turnover to convert his first goal since joining the Hounds in camp as an invited player on trial, and Eyang netted his second of the preseason with a well-placed finish into the bottom right corner of the net.
The Hounds have one preseason game remaining, as they will host a second straight 2021 NCAA quarterfinalist, West Virginia University, at 6 p.m. Saturday at Highmark Stadium.
The USL Championship season begins Saturday, March 12, when the Hounds will travel to face Memphis 901 FC at 7 p.m.