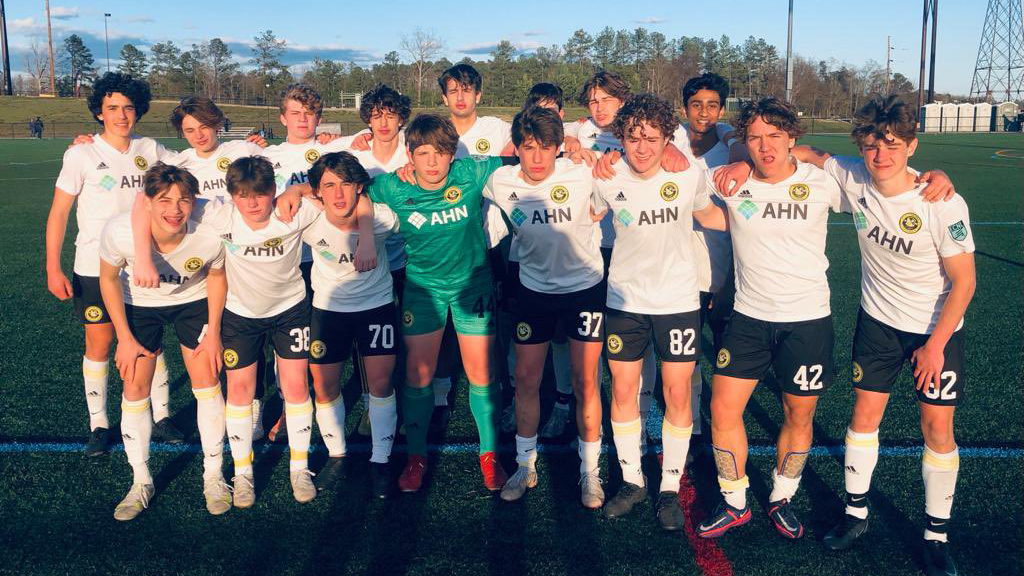 Boys showcase weekend at the Jefferson Cup saw Riverhounds Development Academy eyes on Richmond, Va. again, but even with no ECNL matches on the slate, the first weekend of April was still loaded with Great Lakes Alliance action across the Academy.
The 2006 Boys got off to a strong Friday start with a 3-0 win over SC Del Sol (Ariz.) on goals by Pablo Linzoain, Jackson Suski and Luke Brady. After Bennett Haas got the lone Hounds goal in a 1-1 draw with Sporting Delaware, the team had a shot to finish at or near the top of a balanced division in which no team won every game, but they were edged out in their final match, 2-1, by a counter-attacking Mount Olive SC (N.J.) team.
In the older groups, the 05 Boys managed two draws against teams in the top 11 of the national rankings at that age group — 2-2 with Southern Chester County (Pa.) and 0-0 with Ronkonkoma (N.Y.) — but they were tripped up in a 2-0 loss Sunday to Loudoun SC (Va.). The 03/04 Boys were narrowly beaten in their first two matches against the Richmond Strikers and North Carolina FC, but they closed out well with a convincing 4-0 win over East Meadow SC (N.Y.) as Johnny Dragisich, DD Flowers, Ethan Gregory and Matty Lucas spread out the scoring.
Back near home in GLA action, some of the youngest shone brightest as the 11 East Girls took seven points of a possible nine, starting with a 2-2 draw against an Erie Admirals team that had beaten them by three goals in their first meeting. Kennadee Richardson and Leah Bash scored in that match, and the momentum continued as they beat the Western NY Flash, 3-0, with goals by Zoe Bell, Ella Plundo and Richardson, and Cuyahoga Valley SA, 1-0, on a goal by Bell and excellent goalkeeping by Sophia Franco and Madeline Peifer.
Among the other winners on the weekend were the 08 and 09 East Boys with lopsided Sunday results, as well as the 07 East Girls on Sunday and the 06 East Girls on Saturday. To see all of those wins and the rest of the RDA outcomes from the weekend, be sure to visit the Results Page on Riverhounds.com.