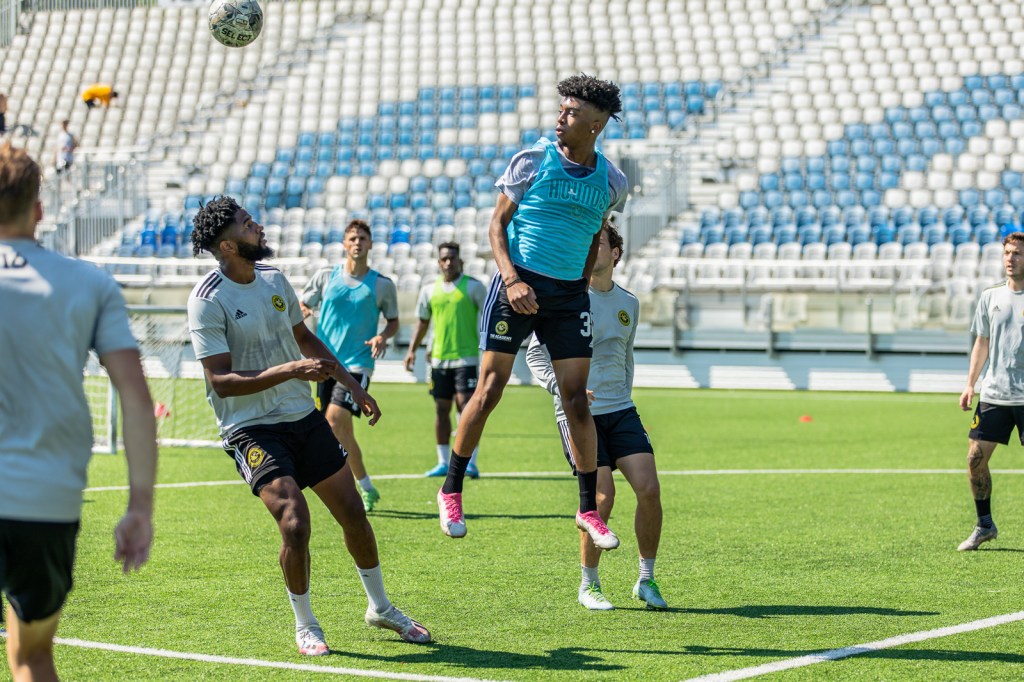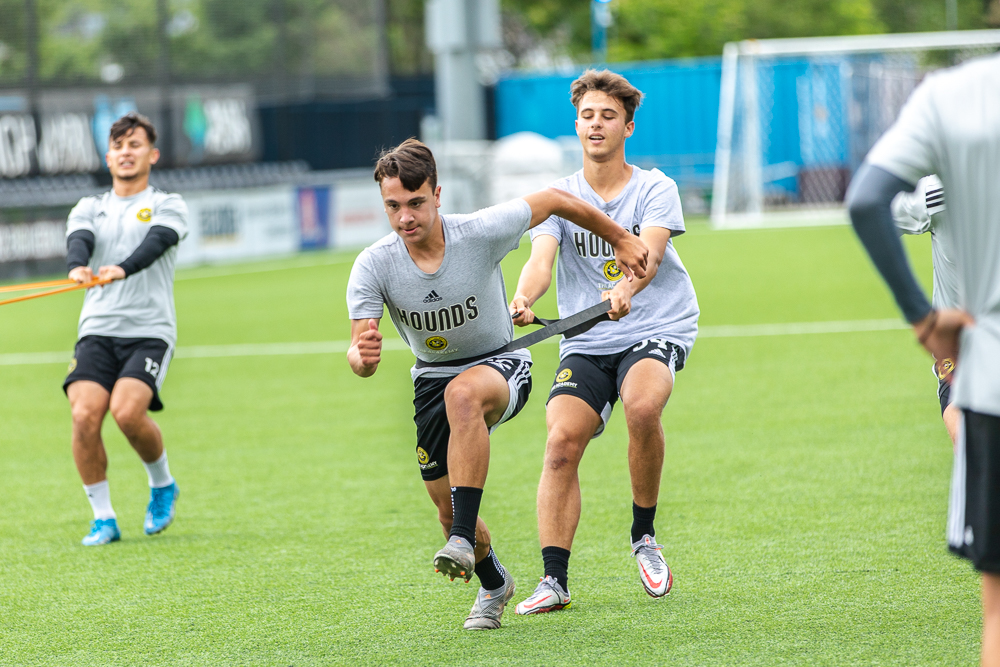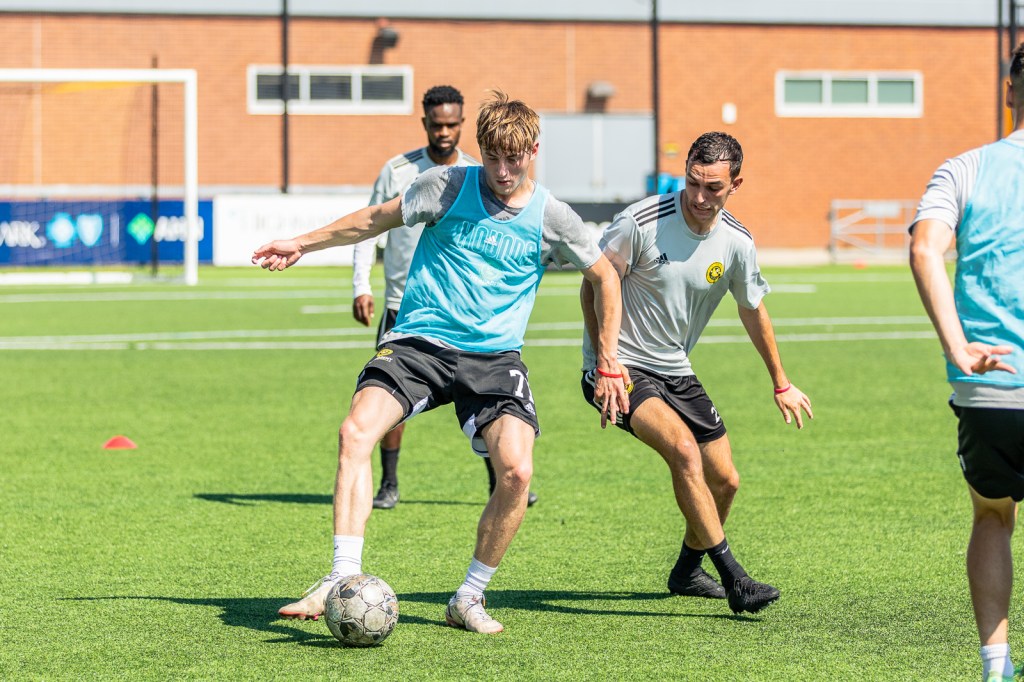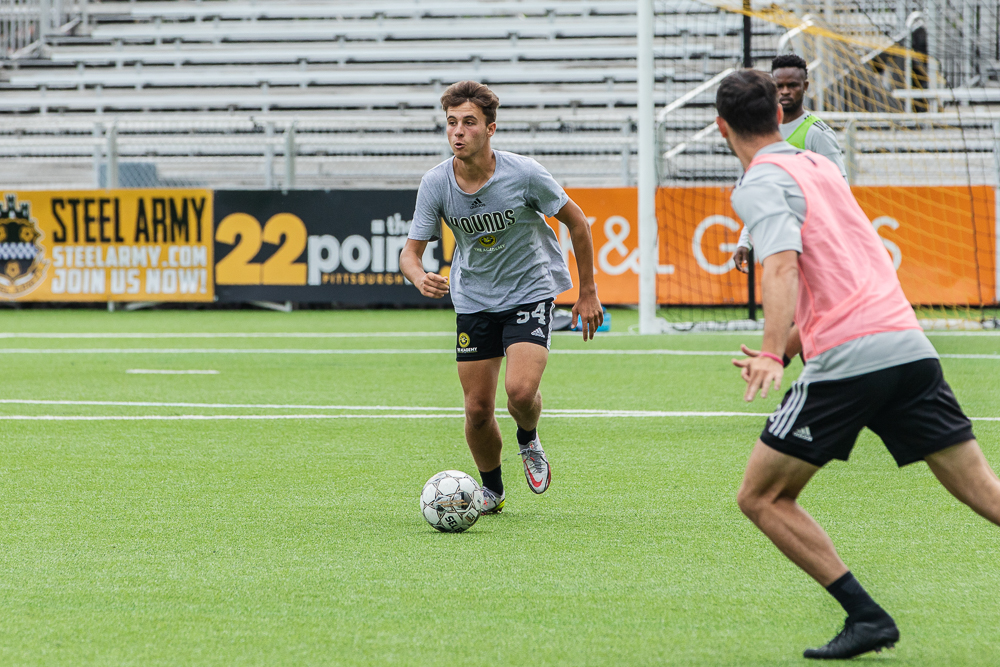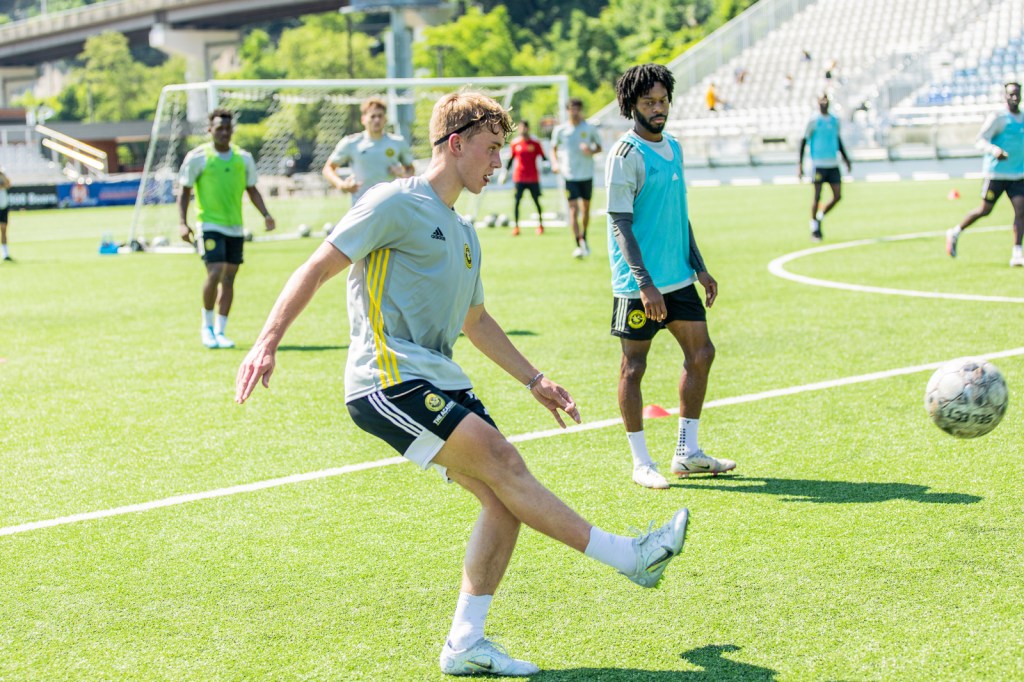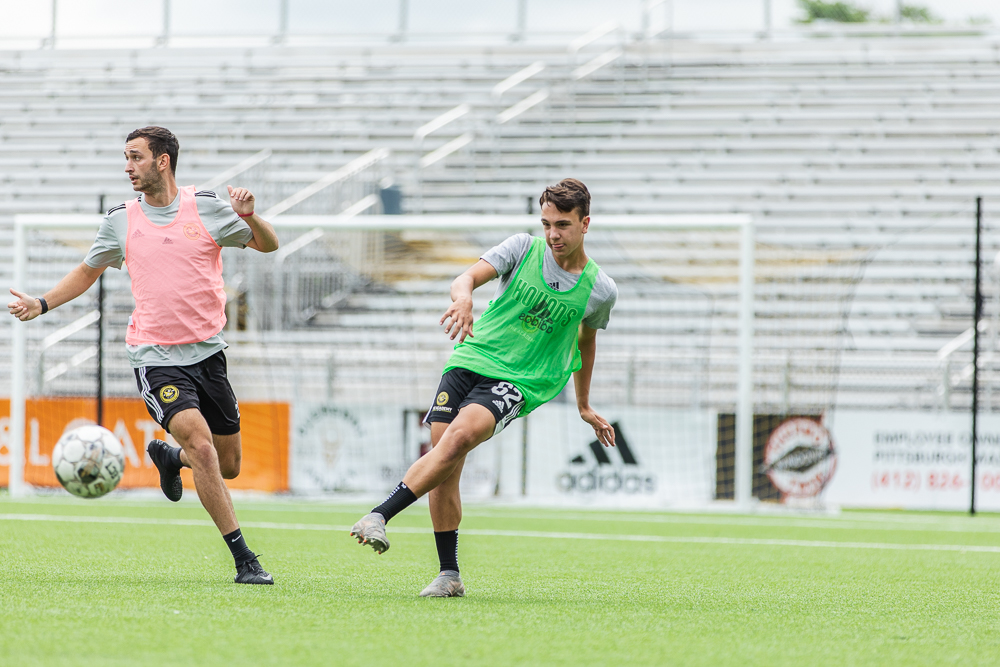 Academy players getting the chance to train with the pros might sound like a fun opportunity. But now that the Riverhounds Pathway Program is back and running, the players taking part have found out quickly that there's a lot of hard work involved, too.
So far this year, seven academy players have been selected to take part in training with the Hounds' pro team, and another four players are scheduled to get their chance in late July. For each of them, it is a chance to see everything that it takes to compete at that level and see what is necessary to reach their dream of making it on a professional roster. 
The most recent set of players who trained with the team in June, Oliver Daboo, Alex Hauskrecht, Josh Jashinski and Nathan Katari, share the common thread of having at least another full year of high school, putting them in the ideal age range for players who could be signed to a USL Academy contract. And while it has been hard work, the player have been enjoying their time working with the pro team.
"It's been pretty surreal, honestly. Growing up a Riverhounds fan and having been in the academy my whole life, and now to be actually here with the guys and playing with them, it feels special," Daboo said. 
"It's been awesome. I've been at the Riverhounds for a really long time. To see the players and what they can do on the field, and then to be able to do it with them in training, it's just awesome they get to live this life." said Hauskrecht, a teammate of Daboo's on the 2005 Boys academy team. 
The boys have been challenged day-in and day-out in practice with the team. Not only have they contended with being 15- to 17-year-olds playing against grown men, but they have also been subjected to extremely hot conditions. And the demands of head coach Bob Lilley remain high on all his players in training, whether you're a high schooler or a veteran like Kenardo Forbes or Dane Kelly.
"That's been the toughest part. These guys are stronger and tougher than anyone we have ever played against. I think we are adapting well, but it's definitely a massive change in pace." Hauskrecht said. 
"The first day was rough," said Josh Jashinski, another member of the 05 Boys team. "You know the first day at it is just learning, but as the weeks go on, you can see as a group how we've been able to step up and try to keep up with them" 
"When I go back and train with my normal team, it feels much easier, you know exactly what you are doing and how to compete," said Katari, the youngest of the academy players to take part coming from the 2007 team.
But while he presses them in training, Lilley enjoys having the academy players in training and loves seeing the talent the academy has to offer in hopes of one day — perhaps soon — signing a homegrown player to his First Team.
"It's good to have them out. We get to see where they are at in their development," Lilley said. "The last couple years with Covid, it's been hard to see them and how they can do with our guys. It's a big jump, the speed of play, and that sometimes shows up, but they're quite capable."
Lilley knows how important it is to develop talent through an academy and how beneficial that is to an organization.
For example, look at fellow USL Championship club Orange County SC, which earlier this month reached a transfer deal with Stade de Reims for 18-year-old defender Kobi Henry. The deal, which ESPN reported as being for $700,000 with incentives and a sell-on clause that could push the total well over $1 million, was the largest in USL history.
"We want to help prepare them for this level down the road, potentially, and give them an idea of what they have to do to chase this particular dream. It also helps them to see the higher levels that will prepare them when they go off to college," Lilley said. "The first couple days, they were shaking in their boots a little bit. They relaxed, though. The (pro) guys know their names and definitely see improvement from Week 1 to Week 2. The longer time and more opportunity players get to play at higher levels helps. They've worked hard; our academy coaches do a good job with them."
And while the Pathway Program is a huge step in that direction, it is the year-round mission of the Riverhounds Development Academy to develop and groom its locally raised players, so they can ultimately be in positions to receive contracts with the First Team. 
"It's the connection for us. We know there will be players sooner rather than later that are ready to make the jump," Lilley said. "We need to be constantly looking and giving them opportunities, and hopefully in the not too distant future, we'll see a younger academy kid really start to turn the corner. We had (Chicago-area native) Wyatt Borso before, he's going to Notre Dame but was able to play (with the First Team) on an academy contract. We're making a lot of progress in that area."
Story written by Riverhounds staff intern Dante DeBaldo.