Coming into the summer with a goal of continuing forward progress, the Hounds did exactly that in their second USL Academy League season in 2022.
The Academy League team, which draws from the Riverhounds Development Academy's teams in the four oldest boys age groups, wrapped up its six-game schedule July 30 with an afternoon match against Indy Eleven before the pro team's contest later that night.
And though that final match against Indy — the 2021 USL Academy League national champions — went the opposition's way by a 5-0 score, the Hounds' Academy League side ends with a 3-3-0 record and showed marked improvement on the field over the team's 1-4-1 mark a year ago.
While the RDA's age-group teams still focus on their play in the Elite Clubs National League for most of the year, the USL Academy League provides a different sort of challenge by matching up the best players from academy programs from the USL Championship, League One and League Two — all clubs with first teams who hope to be able to populate their senior roster with players making the final steps on the path to the professional game.
In some instances, that means squaring off against players already under amateur contracts with the First Team, which was the case against Indy and when the Hounds visited Louisville City FC earlier in the summer. But the Hounds' players know facing the best youth players from other clubs is the best way to measure how close they are, individually and as a squad, to reaching the next level.
"Louisville had some guys on their pro team playing against us, and you just have to go out and play, no matter who you're up against," defender Johnny Dragisich said. "I think last year, we just weren't there yet. We were always just one pass, one step too slow. I think this year, we took a big step, especially in those three games we won. We really showed what we can do on the field, and hopefully the younger generation can keep it going."
"It's definitely a noticeable improvement this year, and it's no shame to lose to them (Louisville and Indy)," defender Severin Dengel said. "It's heading in the right direction."
The nature of the Academy League also works hand-in-hand with the Hounds' recently restarted Pathway Program as a way to integrate some of the older academy boys with First Team-level competition.
While the RDA didn't have a player with the pros on an Academy contract this summer as they did last year with Wyatt Borso, nearly a dozen RDA players — nearly all of whom featured in at least some of the Academy League matches — have had the opportunity to train with the pro team and face the faster speed of competition firsthand in practice.
"It really helped us because you got to see how high the level was. Those guys from Louisville and Indy play at that level, so we weren't new to it," midfielder DD Flowers said. "We got a chance to experience it before we had those tough games, and it helped playing against USL Academy teams who are used to playing with the First Team."
While players like Flowers, Dengel and Dragisich have been part of the year-over-year progress, they are on the way out as graduating seniors. But for others with years left in the RDA, this summer's performance will hopefully be a stepping stone to winning records in the summers to come, and perhaps it will be one of those returning players who will be next to land a spot with the First Team on a regular basis.
"To be honest, from last year, the first time in (the league), to this year, it's been 10 times better," said forward John Krug, who plays on the RDA's 2006 Boys team. "I think throughout the (next) years, with the boys coming up, we're only going to get better and better. I hope having been through it, I can be a good mentor for the boys as I'm getting older, just like how the older guys have taught me and helped me out. I hope to keep that going."
---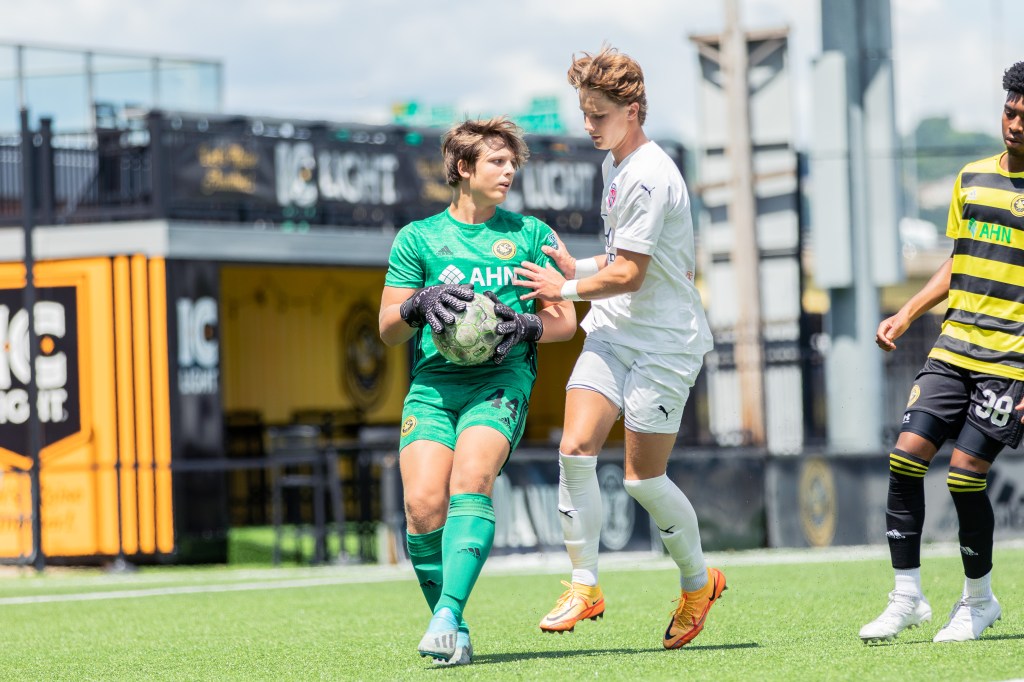 Match recap: Indy Eleven 5, Riverhounds 0
The visitors and defending league champs showed their class, but Hounds goalkeeper Nick Cherry certainly turned in a first-half effort worthy of note.
Cherry made a series of good stops to keep the match scoreless through the first half-hour, none better than his penalty kick save in the 22nd minute on which he dove low and to his left to make the stop and leave no rebound.
"I came in feeling ready for a lot of shots today because we know they're a very good team," Cherry said. "At first (on the penalty), I just watched to see where his hips were facing. His hips showed right to that side, and I just trusted myself to get down there. … I love saving penalties. It's always fun to hear the reaction when you save one."
Indy finally got on the board with two goals in a five-minute stretch before halftime, both in quick transition moments on a big diagonal pass and a through ball. Indy made it 3-0 in the 68th minute and added two goals in the last four minutes to make the score a bit unflattering.
The Hounds had their opportunities, and the Indy goalkeeper needed to make a big early save resulting from a Ben Feinstein free kick. An early second-half corner kick led to a scramble in the box, and JJ Simms poked the ball toward goal and off the crossbar for the Hounds' best chance after halftime.
"It was a fun way to end it. Disappointing result, but great conditions, a great venue. … I had a lot of friends and family here today, and I'm grateful for the opportunity to finish playing here," Dengel said.
Scoring summary
IND — Rudesill 33'
IND — Elmquist 38'
IND — Amaya 68'
IND — Chavarria 86'
IND — Paz 88'
Discipline summary
PIT — Johnny Dragisich 43' (caution)
PIT — Ben Feinstein 76' (caution)
IND — Chavarria 81' (caution)