For the fifth straight season, the Hounds are going to the playoffs — a club record and the second-longest active streak in the USL Championship.
But with two weeks to go in a logjammed Eastern Conference, it's anyone's guess who the Hounds' opponent will be or if the game is home or away.
Anywhere from third place to seventh place is still a possibility for the Hounds, so let's look at how it all could play out. For starters, here is the Eastern Conference standings as of Monday, Oct. 3.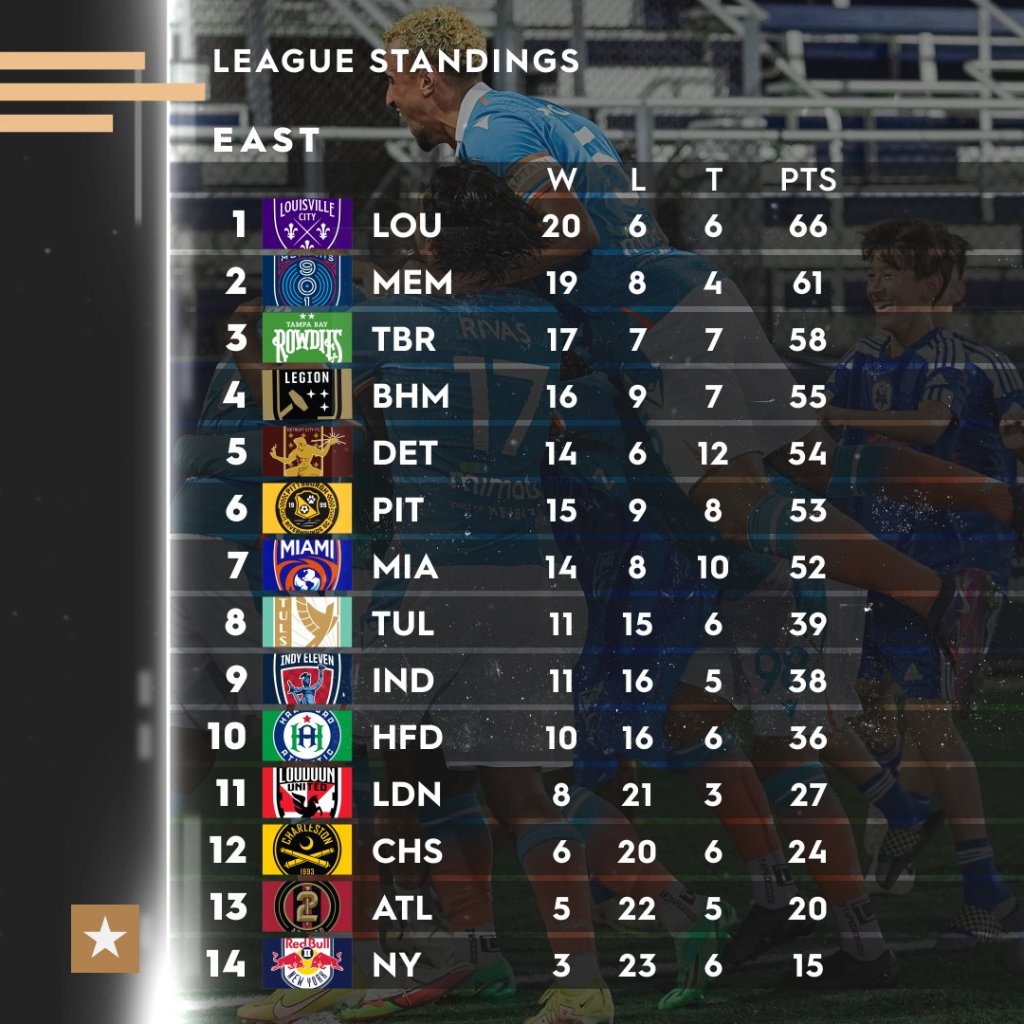 For starters, the assumption is that Louisville and Memphis will finish 1-2 in some order, though Tampa Bay could feasibly move into the second spot after a comeback win Sunday at Monterey Bay. The Rowdies, then, will be where we start our breakdown as the leading team the Hounds still could catch.
3. Tampa Bay Rowdies — 17-7-7, 58 pts., Remaining Games: vs. LDN (10/8), vs. ELP (10/12), vs. NY (10/15)
The Rowdies have two big things going for them: a game in hand and three straight home games to end the season. Add in that two of the games are against teams out of the playoff hunt and that a single point puts them out of reach for the Hounds, and it's safe to say third is the least likely finishing spot for the Hounds.
4. Birmingham Legion — 16-9-7, 55 pts., Remaining Games: vs. SA (10/9), vs. IND (10/12)
The Legion also have the advantage of closing with two straight at home, but the picture gets murkier beyond that. First, the Legion play league-leading San Antonio, which just beat the Hounds 1-0 on Saturday, and then they have a 72-hour turnaround before hosting an Indy Eleven side that has won five of its last eight matches, inclduing a 4-3 win over Birmingham.
Should the Hounds and Legion finish tied in the standings, and because the teams played to a 2-2 aggregate score splitting two head-to-head meetings, the Hounds would get the edge based on conference record. Pittsburgh has 48 points against Eastern Conference teams, while Birmingham has 42 with one conference game left against Indy.
5. Detroit City — 14-6-12, 54 pts., Remaining Games: at LOU (10/5), vs. MIA (10/15)
Detroit's impressive USL Championship debut will see the team enter the playoffs, but to get a home game, they will have to navigate a road trip to Louisville, which is trying to hammer down a first-round bye, and a finale vs. Miami that could be critical for both sides' seeding.
As with Birmingham, the Hounds have the tiebreaker on conference record. Pittsburgh and Detroit drew in both meetings, and if the teams finish tied on 57 points — the highest number upon which they could be level — the in-conference totals would be Pittsburgh 48, Detroit 47.
6. Pittsburgh Riverhounds — 15-9-8, 53 pts., Remaining Games: at SAC (10/9), vs. OAK (10/15)
The basic picture is simple. If the Hounds can win their last two — no small task against a team fighting for home field and another fighting for a playoff spot — they will snag a home playoff game unless Birmingham or Detroit win out.
Working in the Hounds' favor are the tiebreakers — the team won the season series with Miami, as well — but without getting to at least 57 points, it's hard to see how that will settle more than seeding matchups for fifth, sixth and/or seventh.
7. Miami FC — 14-8-10, 52 pts., Remaining Games: at LV (10/8), at DET (10/15)
A leap from seventh to fourth isn't beyond Miami's capability, especially with their finale at Detroit. Though they would need the Hounds to drop a point and the Legion to lose once (or draw twice), the Floridians have every reason to think they can move up — if not to get a home game, then possibly to set up a juicy in-state quarterfinal with Tampa Bay.
So should Hounds fans begin booking flights for the weekend of Oct. 21-23? That's not advisable before this weekend's match at Sacramento.
Detroit is an underdog in their match at Louisville, and Birmingham hosting San Antonio is a match that could go either way, meaning the Hounds could be back in fourth as early as Sunday if they can grab a win from the Republic and old pal Danny Vitiello in the Sacramento goal.
Should Birmingham or Detroit manage to hold off the Hounds, they, as well as likely third-place Tampa Bay, seem to be the obvious destinations. Memphis or even Louisville — should Detroit pull off a shock result Wednesday and Memphis climbs to first — remain possible but less likely.
For their part, the number crunchers at 538.com put the Hounds most likely finish as their current position; they are given a 40 percent likelihood of finishing sixth, and a road trip to Tampa Bay is their most likely first-round playoff game. But though they give Hounds just a 13 percent chance to finish fourth at this moment, that number could balloon to being more likely than not with a win this weekend, underlining just how tight the seeding race is for the final two weeks.