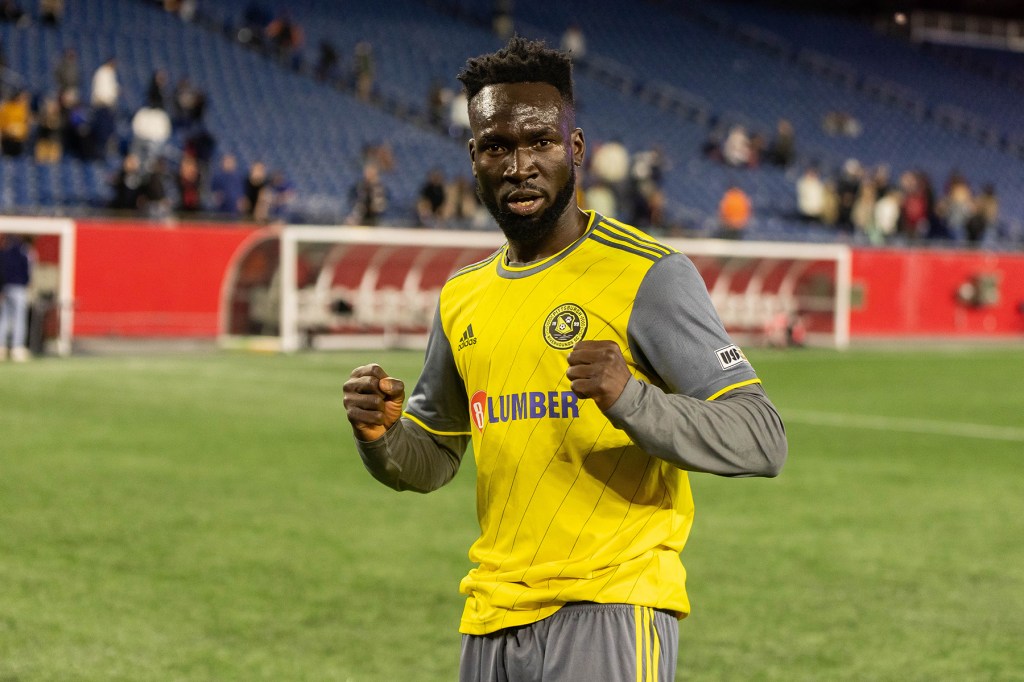 Death. Taxes. The oncoming train in the climactic fight scene of "The Matrix."
The way the 2023 season has started, it almost feels as though Albert Dikwa scoring goals should be added to the list of things that are inevitable.
Even after a career season in 2022, it would've been hard to predict the blistering strike rate the 25-year-old forward has posted this spring. Dikwa leads the USL Championship with nine goals through his first 10 games of the season, and the pace is picking up with four goals already in just two league matches in May.
Before looking at the "how" part of Dikwa's goal binge, let's look at how historic a start it has been.
---
Best in the City… and nearly everywhere else, too
Dikwa's 10-game burst to open the year — keeping in mind these numbers exclude U.S. Open Cup matches — established a new best in Riverhounds history to start a season, eclipsing the mark of eight set by Thiago Martins in his club-record-setting 2003 season and matched by Rob Vincent in the 2015 season.
And while the start isn't a USL Championship record over a 10-game stretch, it's rare to see a player flirting with double-digits before Memorial Day. According to the league, only one player — Orlando's Dom Dwyer in 2013 — has ever hit 10 goals before reaching May 15 on the calendar. With Dikwa popping in Nos. 8 and 9 on May 13, he now occupies second place on that list, as well.
Most Hounds goals, first 10 league games
| | | |
| --- | --- | --- |
| Year | Player, goals after 10 games | Season total |
| 2023 | Albert Dikwa, 9 | ?? |
| 2003 | Thiago Martins, 8 | 22 |
| 2015 | Rob Vincent, 8 | 18 |
Most goals by May 15, USL Championship
| | | |
| --- | --- | --- |
| Year | Player, team, goals by May 15 | Season total |
| 2013 | Dom Dwyer, Orlando, 10 | 15 |
| 2023 | Albert Dikwa, Hounds, 9 | ?? |
| 2016 | Jack McBean, Los Angeles, 9 | 15 |
| 2018 | Kharlton Belmar, Kansas City, 8 | 10 |
| 2019 | Tom Barlow, New York, 8 | 8 |
Dikwa is unique among the list of early goal scorers in that, presumably, he will play the full season with the Hounds and have a chance to build on his rapid start for a full season. In contrast, Dwyer was recalled from his loan spell with Orlando by Sporting Kansas City midway through 2013, while McBean, Belmar and Barlow all played for MLS reserve sides and yo-yoed between the reserves and parent club.
---
Model of efficiency
If there was a knock on Dikwa's play early in his career, it was never his work rate or his physical ability, but rather a lack of clinical finishing in front of goal. Early returns this season show that he might be turning a corner in that regard.
Dikwa shooting stats with Riverhounds
| | | | | | |
| --- | --- | --- | --- | --- | --- |
| Year | Goals | Total shots | Shots on goal | On-target percentage | Goals/SOG |
| 2023 | 9 | 25 | 12 | 48.0% | .750 |
| 2022 | 11 | 52 | 30 | 57.7% | .367 |
| 2021 | 2 | 23 | 13 | 56.5% | .154 |
| 2020 | 3 | 15 | 7 | 46.7% | .429 |
As the numbers show, Dikwa has been consistently around 50 percent through his Hounds tenure when it comes to putting shots on goal, but the rate at which shots on target are hitting the net has raised considerably. That increase could be attributed to a number of factors, but a big one is the patience being shown by Dikwa, who is showing the calmness of a seasoned striker when opportunities present themselves.
Take, for instance, two of his recent goals — at Indy and his first the following week at Monterey Bay. Both were breakaway/transition moments and excellent opportunities, but they were the sort of chances where an inexperienced forward might miss the target or, more likely, hit the ball straight at the goalkeeper.
Instead, Dikwa waited out Indy goalkeeper Yannik Oettl until the netminder stumbled to leave an opening (clip below at left), and instead of rushing to blast the ball with power at Monterey Bay, he allowed it to run across his body and took a simple touch to split the legs of onrushing keeper Antony Siaha.
The folks in the analytics world are liking what the see from Dikwa, as well.
John Morrissey, better known online as @USLTactics, recently talked about the importance of Dikwa to the Hounds' system. While goal scoring was an obvious highlight, he also underlined the striker's importance as a hold-up player and foul winner — facets of his game that were crucial in the Open Cup win over the New England Revolution and a big reason he has consistently held a place in Bob Lilley's lineup. All added together, there's a reason Dikwa rates in the 99th percentile this season above replacement, according to the data.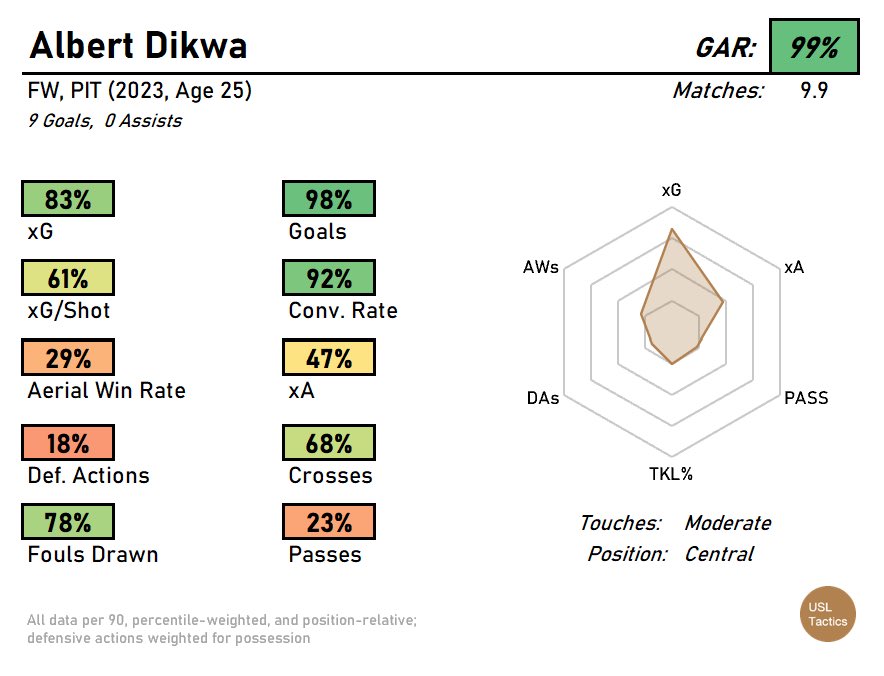 Certainly Dikwa is benefitting from becoming more of a focal point to the attack, a result of the offseason departure of a goal-scorer like Russell Cicerone and becoming the team's clear No. 1 leading the line.
But given the trajectory of his 2022 season and the start to this year, signs are pointing to Dikwa's scoring being sustainable, even if not quite at his current electric pace.