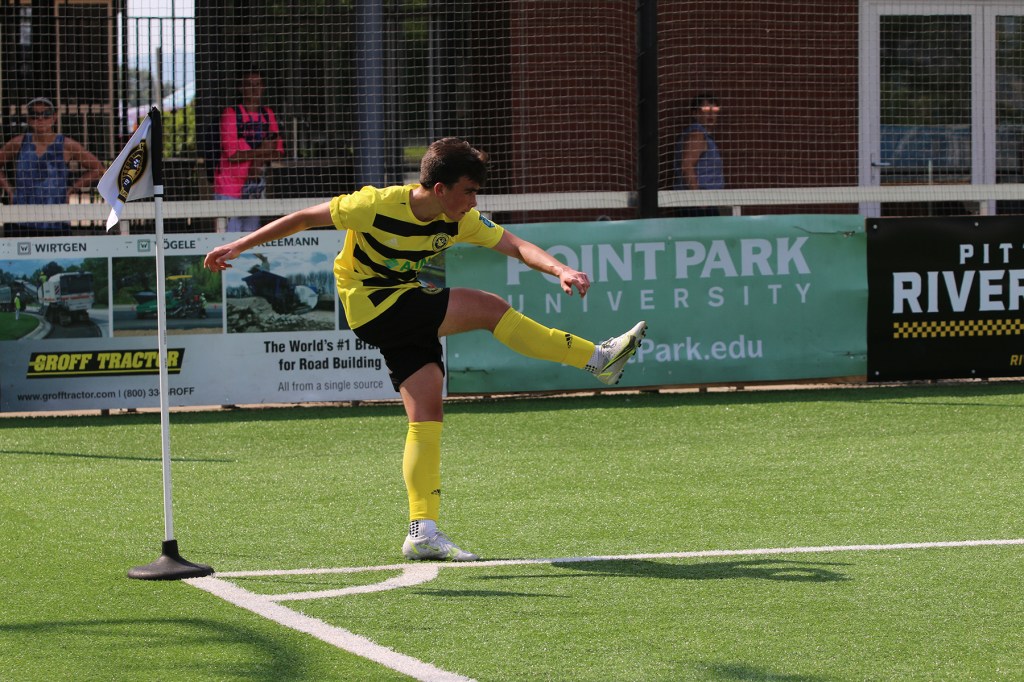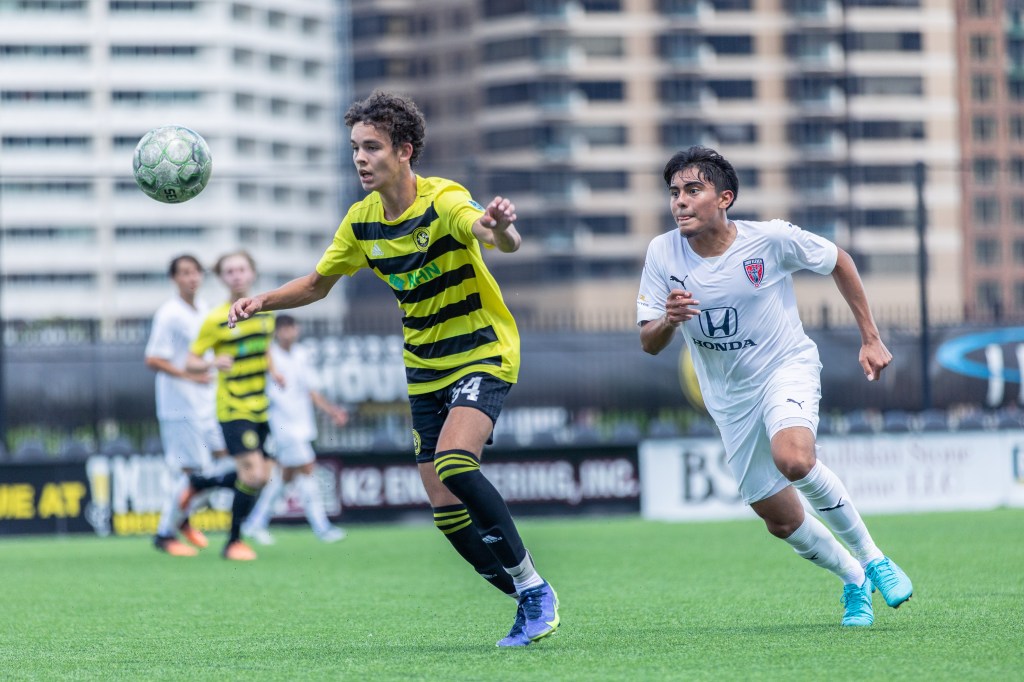 Riverhounds Development Academy players Ben Feinstein and Anders Bordoy are set to make a big leap next year playing in college for Michigan and Memphis.
But if they have any questions about the path ahead of them, they each have some reliable guides back home with the Hounds.
Feinstein and Bordoy — both of whom trained this summer with the Hounds pro team as part of the Pathway Program — made their college decisions just days apart from each other last month. And it just so happens that Feinstein's choice, Michigan, is the alma mater of current Hounds pros Robbie Mertz and Marc Ybarra, while Bordoy's destination in Memphis is where Hounds pro Luke Biasi called home for four years.
In Feinstein's case, Michigan was always the school at the top of the list, as he is following in his parents' footsteps by heading to Ann Arbor. But going simply to attend school and going to join a major Division I soccer program are two different things, which is where the tips from the pros came in.
"Growing up, I've been a huge Michigan fan. Michigan is my dream school. … But this summer I went to camp there and got in touch with the coach, Coach (Chaka) Daley," Feinstein said. "During the training period with the pro team, I did approach (Mertz and Ybarra), and I got to ask them questions about the soccer program and the business school. My parents went there, but it's a little different world with the resources available to athletes, the academic center, different meals. They were able to give me insight on that."
The Hounds' two Michigan men were more than happy to share their experiences with Feinstein, and both sent their congratulations when he committed.
"It was funny, the morning I got here (from Atlanta), I met Ben. But I actually got a call from Chaka Daley when I was in the parking lot saying to look out for this kid, take care of him and let me know what you think," Mertz said. "It's nice if I have had any influence, but these kids are out blazing their own trails, finding their own way the same as I did."
"(Feinstein) mentioned in the locker room that he had been emailing with Coach Daley, and he asked a few questions and reach out to me a couple times. I'm excited for him," Ybarra said. "It's a little bit of a connection, Michigan-to-Riverhounds, so it's pretty cool to see the path go back, Academy-to-Michigan."
Bordoy's recruitment was a little more open. Unlike Feinstein at Michigan, there was no prior connection to Memphis or its program, and the Tigers really weren't on the radar until last winter.
"We had an ECNL Showcase in December in South Carolina. I honestly didn't know about the University of Memphis at that point, but they saw me play — my first game, I got an assist and had a good game — and they reached out to my coach," Bordoy said.
Once contact was made, one of the next steps was visiting the campus, something Bordoy also did at Davidson and Robert Morris, two other schools with interest.
Bordoy said Memphis' athletic facilities, including both a top-of-the-line practice and game field, as well as the big but easy-to-navigate campus really appealed to him. But to learn more about the people in the program, he turned to his Memphis connection back with the Hounds.
"I was asking (Biasi) about the coaches and how they were, and he gave me the ins and outs of their coaching style, how they present themselves at practice and what they really enjoy seeing from their players," Bordoy said. "I asked him simple stuff about playing there, making sure I was prepared for my visit."
As it turned out, Bordoy wasn't the only person connecting with Biasi about his recruitment.
"My assistant coach over at Memphis, Tony McManus, reached out to me and told me to put in a good word because they were really interested in having Anders on the team," Biasi said. "I wasn't hyping it up too much, but I wanted to give him what he needed to know about the program and kind of set him up for the future. I know he was deciding between a couple teams, and I'm happy for him."
Both players still have a senior high school season to complete and their upcoming ECNL year with the RDA before they will head off to their new teams. They also could spend more time in training with the pros in 2023 as part of the Pathway Program, and the door remains open for the Hounds to add one or more of their top youth players to the First Team next year under USL Academy contracts.
The final goal, for both the club and players, remains to have the next generation of pros come from the academy. At some point soon, a player might be ready to make that jump directly, but until then, players like Feinstein and Bordoy will be able to continue their development toward the pro ranks by moving from the Hounds Academy to top Division I college teams.
"I definitely feel like playing with the Riverhounds put me in such a good position," Bordoy said. "Playing with the pro team in the summer, I know what that level will be and how fast it will be, and it gives me a better sense of the physicality and when to play one- or two-touch."
"The RDA and Hounds have exposed me to top competition, and I'm confident in myself at the next level," Feinstein said. "But there's still attention to detail I need in some spots. You don't have to focus on some things in high school or your academy team, like runs, your movement off the ball, because you can get away with it. But to get the insight from Coach (Bob) Lilley and the pro players about how to think ahead on the field helps make you a much better player."