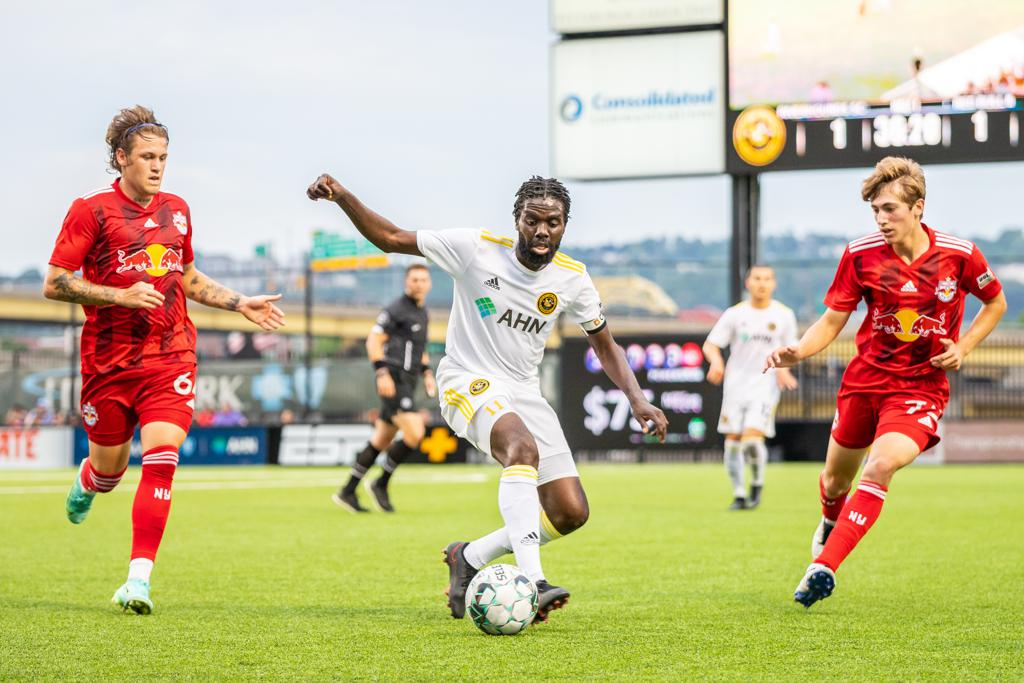 This article is part of a series this week recapping the biggest moments — on and off the field — for Riverhounds SC in 2021. A new moment will be revealed each day until we hit No. 1 on New Year's Eve. Scroll to the bottom for links to previous installments in the series.
Teammates, fans and even other players around the USL know Kenardo Forbes by his nickname, "King Kenny."
But midway through the 2021 season, the title became more than just a nickname, as Forbes officially became the Riverhounds' assists king.
Forbes already held the USL Championship's all-time assist mark combining his total between Rochester and Pittsburgh, but he entered this past season with 25 since joining the Hounds in 2018, just two behind the club record of 27 held by Kevin Kerr. And though it seemed inevitable that Forbes would claim the team mark, it took a little longer than expected.
The Jamaican midfield veteran went more than a month before getting his first assist of the year, but the first couldn't have come at a better time, as he set up Russell Cicerone for the decisive goal in a 2-1 win June 19 at the Tampa Bay Rowdies. There wasn't much waiting for the next one after that, and the home crowd at Highmark Stadium got to celebrate the moment with him.
Forbes showed his vision and incredible patience to tie the record on June 25 against the New York Red Bulls II, as he tracked down a shot by Albert Dikwa that rolled toward the corner after striking the left post. He waited for what seemed like an eternity for attacking runs to be made, which freed up space at the top of the box for Todd Wharton, who received Forbes' pass and hammered home a shot for the opening goal in a 2-1 win.
The record would become Forbes' alone the next time the Hounds met the Red Bulls II, this time in New Jersey on July 23.
Not even 10 minutes into the game, Forbes hit a perfectly weighted ball — the kind he has struck so often throughout his decorated career —through to a full-speed Alex Dixon. 
Dixon did the rest, allowing the chasing defender to run past the play before finishing for the first goal in a 3-1 win and giving Forbes his record-setting assist.
That was assist number 28 for Forbes with the Hounds, who would add three more last season to bring his total — and the current record — to 31.
And with Forbes under contract for another year, expect that number to continue to grow as he aims to captain the Hounds to a fifth consecutive playoff berth, a feat no player has experienced with the club.
---
More of the Best of 2021 series:
No. 5: Youth Is Served — Borso makes Pro Team debut under Academy contract
No. 4: Hats off for Russell — Cicerone nets first career hat trick in win over Atlanta
No. 3: It's good to be King (Kenny) — Forbes takes over club's all-time assists record
No. 2: New home sweet home — Construction nears completion on new AHN Montour facility
No. 1: Hounds clinch on one Rowdy night — Victory over Tampa Bay solidifies playoff berth