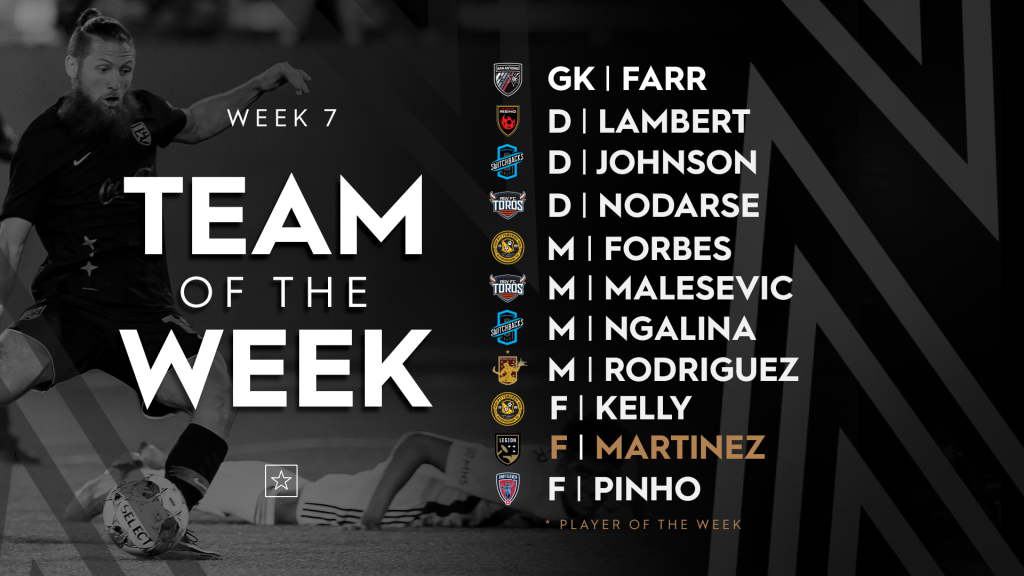 PITTSBURGH (April 26, 2022) — The Pittsburgh Riverhounds SC duo of Dane Kelly and Kenardo Forbes was honored this afternoon with both players taking spots on the USL Championship Team of the Week for Week 7.
For Kelly, it is already the third such honor in his first season with the Hounds, while it is the first of 2022 for Forbes, the Hounds' captain and longest-tenured player. The Jamaican pair were joined in the weekly honors by Hounds' midfielder Luis Argudo, who was named to the Team of the Week's bench after scoring his first goal with the club in the Hounds' 4-0 win Saturday over Atlanta United 2.
Kelly scored two goals in the victory, which pushed him into a tie atop the Championship's goal scoring list with six this season. It was his second multi-goal game of the season, and the tallies give him 105 goals in his decorated USL career. He also completed 9 of 11 passes while playing 62 minutes i the win.
Forbes added two more assists to his record totals in USL (49) and with the Hounds (35), as he set up Kelly's second goal and Russell Cicerone's strike that ended the scoring with a pair of well-weighted passes through the Atlanta defense. He was a constant offensive threat Saturday, recording three other chances created and putting three shots on goal. Forbes is tied for the league lead in assists this season with four.
The complete USL Championship Team of the Week can be found at uslchampionship.com.
The Hounds are next in action at 7:30 p.m. this Saturday, when they face Louisville City FC in a battle for first place in the Eastern Conference. The game at Lynn Family Stadium in Louisville, Ky., will be aired on 22 The Point (WPNT) and streamed on ESPN+.