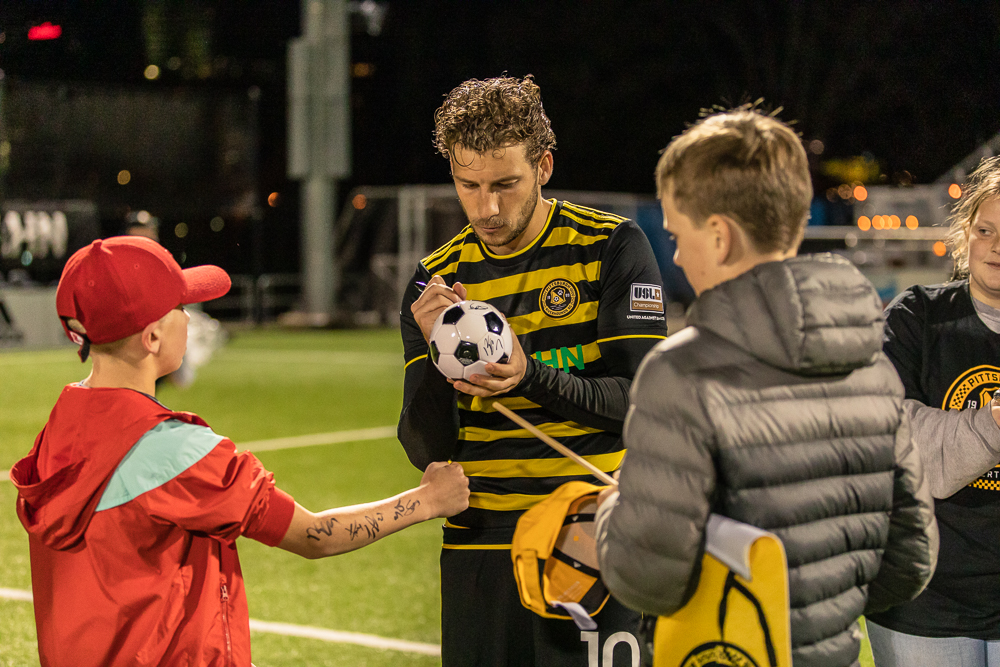 PITTSBURGH (June 3, 2022) — Pittsburgh Riverhounds SC is excited to announce a new partnership with King Orthodontics, who will be the presenting partner of the team's postgame autograph sessions at Highmark Stadium.
For more than 30 years, King Orthodontics has helped children and adults to achieve confident smiles through their experienced staff, top technology, financing options available, and ease of online scheduling at their convenient locations in Wexford and Bridgeville.
Founded by Dr. Earle King in the 1980s and expanding under the direction of his son, Dr. Bryan King, King Orthodontics is a leading provider of Invisalign in Western Pennsylvania with more than 6,000 patients of all ages treated with Invisalign.
"King Orthodontics is proud to partner with the Pittsburgh Riverhounds. Both organizations have a longstanding tradition that is focused on family. It is a natural fit for us," said Anita King, Practice Director at King Orthodontics. "Being able to sponsor the autograph and photo session was a great way for us to work together. We love seeing our patients show off their confident smiles while doing what they love. It's even better when they are on the field with players from the team!"
In addition to the postgame autograph sessions — on the field after every Hounds home match, weather permitting — King Orthodontics will have a noticeable presence around the Hounds.
Fans will see King Orthodontics advertising around Highmark Stadium, and they also will be present at the Riverhounds Development Academy's tournaments throughout the year, with venues including Highmark Stadium and the AHN Montour Health + Sports Medicine Center in Coraopolis.
"Pittsburgh Riverhounds SC is incredibly excited to partner with King Orthodontics. Given the opportunity to engage with the community through game days at Highmark Stadium, as well as year-round programming at the soon-to-be-completed AHN Montour facility, we mutually felt that there was a perfect fit to partner with each other," said Greg Pai, Riverhounds Director of Corporate Partnership.
The Hounds will be back in action at Highmark Stadium at 7 p.m. this Saturday, when they host Detroit City FC, and the match will be followed by the King Orthodontics autograph session on the field. Tickets are available for purchase through Ticketmaster and at the Highmark Stadium Box Office.