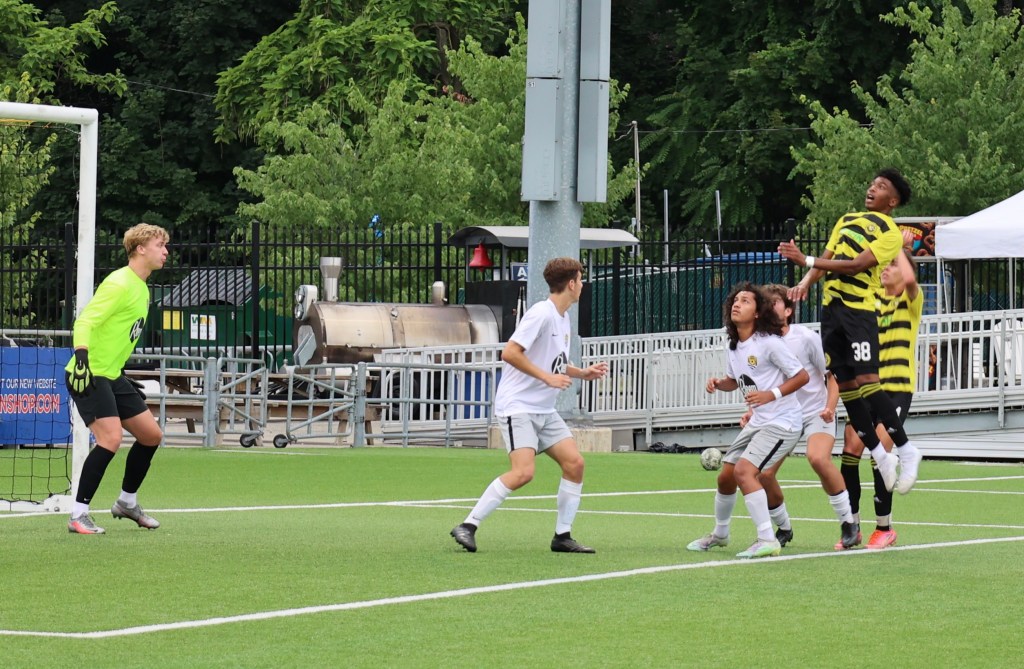 PITTSBURGH (July 8, 2022) — The Hounds Academy team completed a two-game homestand with their undefeated record intact in USL Academy League play, as they came out on top 2-1 over the Cleveland Force on Friday night at Highmark Stadium. 
Alex Hauskrecht put the Hounds (3-0-0) ahead, and Anders Bordoy scored the game-winning goal in the second half after the Force (4-2-0) tied things up from the penalty spot before halftime.
---
First half
The Hounds and the Force were battling back and forth all half until John Dragisich set up Hauskrecht for the breakthrough in the 41st minute, putting the Hounds ahead. The go-ahead goal came after Hauskrecht had an earlier chance cleared off the line, and DD Flowers had a header strike the crossbar.
The Force took no time to respond and were awarded a penalty kick for a tackle in the box on Angel Murillo. Murillo was able to convert and knot the match up 1-1 on the final play of the half.
Second half
The second half stayed competitive, however, and in the 50th minute, the Hounds were able to secure the lead with a goal Bordoy on an assist from Pablo Linzoain.
"It felt amazing, getting the winner is always a dream come true. You visualize that before the game, you want that to happen" Bordoy said.
The Hounds were able to lock up and defend the lead for the final 40 minutes to earn a second one-goal victory over a talented Force team. Though possession was fairly even, the Hounds outshot the Force 18-7, which included nine shots on goal.
"Last year we didn't start off too hot (in the USL Academy League); we had one win out of the six," defender Ryan Edwards said after what will be his final game for the Hounds before leaving to play in college at Florida Gulf Coast. "Right now, we have three, so I don't think we can ask for anything else. This year, we have really taken it to the next level, just working together Tuesdays and Thursday mornings, going hard and being committed." 
What's next?
The Hounds will be back on the road for the first game of a two-game road trip starting in Kentucky, where they will take on Louisville City FC on Friday, July 15 at 7 p.m.
Hounds Academy lineup (4-2-3-1) – Dylan Janoski; Ryan Edwards, Johnathan Dragisich, Arnav Patel, Oliver Daboo; Josh Jashinski, James Ivanov; DD Flowers, Pablo Linzoain, Anders Bordoy; Alex Hauskrecht; Bench: Zach Nash, John Krug, Nick Cherry, Jason Simms, Carson Krushansky, Davi Jansson, Milo Larson 
Scoring Summary
PIT — Alex Hauskrecht 41′ (John Dragisich)
CLE — Angel Murillo 45+2′ (pen.)
PIT — Anders Bordoy 50' (Pablo Linzoain)