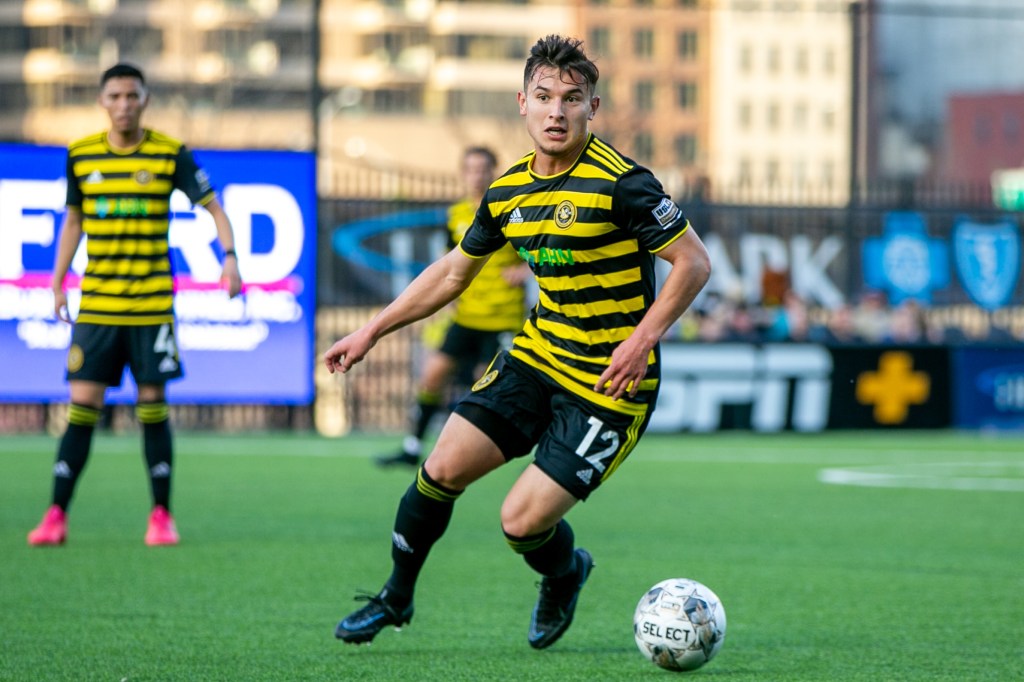 PITTSBURGH (May 3, 2023) — Pittsburgh Riverhounds SC has reached an agreement to bring Danny Griffin back to Pittsburgh, adding a mainstay of the team's midfield from 2020-22 and a fan favorite back to the fold this season.
Griffin, 24, arrives via a transfer from Huntsville City FC, Nashville SC's affiliate in MLS NEXT Pro, and the Hounds hold his rights through the 2025 season. Terms of the transfer were not disclosed.
"Danny shows up every day in every way. He brings energy to the group, quality on the pitch and is certainly one of the most complete and versatile players I have coached," Hounds head coach Bob Lilley said. "As an organization, we are delighted to have Danny back in Pittsburgh helping us chase a championship."
In three seasons with the Hounds, Griffin put together a streak of reliability unmatched in club history. He played in all 85 USL Championship matches (regular-season and postseason) during his time with the Hounds, and his streak of 82 consecutive regular-season games is a club record.
Last season, Griffin led the Hounds in tackles (52) and passes intercepted (75), and he also became the first Hounds player to eclipse 3,000 minutes in a regular season with 3,055 minutes — all but 5 minutes of the 34-match season.
"I'm absolutely buzzing right now. To say I'm excited isn't enough to describe the feeling. Pittsburgh became a home to me after I made the move from Connecticut to Pittsburgh, and I know the coaches, Bob and Viss (assistant coach Dan Visser), and the owner, Tuffy (Shallenberger), have always been supportive of me and my career," Griffin said. "I'm ecstatic to be back in Pittsburgh. I've been following the team while I was gone, and I'm happy to say that I'm coming back home."
In addition to his durability and skill as a ball-winner in midfield, Griffin showed his offensive talents by recording five goals and three assists during his first stint with the Hounds. This season with Huntsville, Griffin scored one goal in five matches.
Pending approval by USL registration, Griffin would be eligible for selection beginning with the Hounds' next match, this Friday, May 5 when the team visits Monterey Bay FC for a 10 p.m. Eastern Time kickoff.