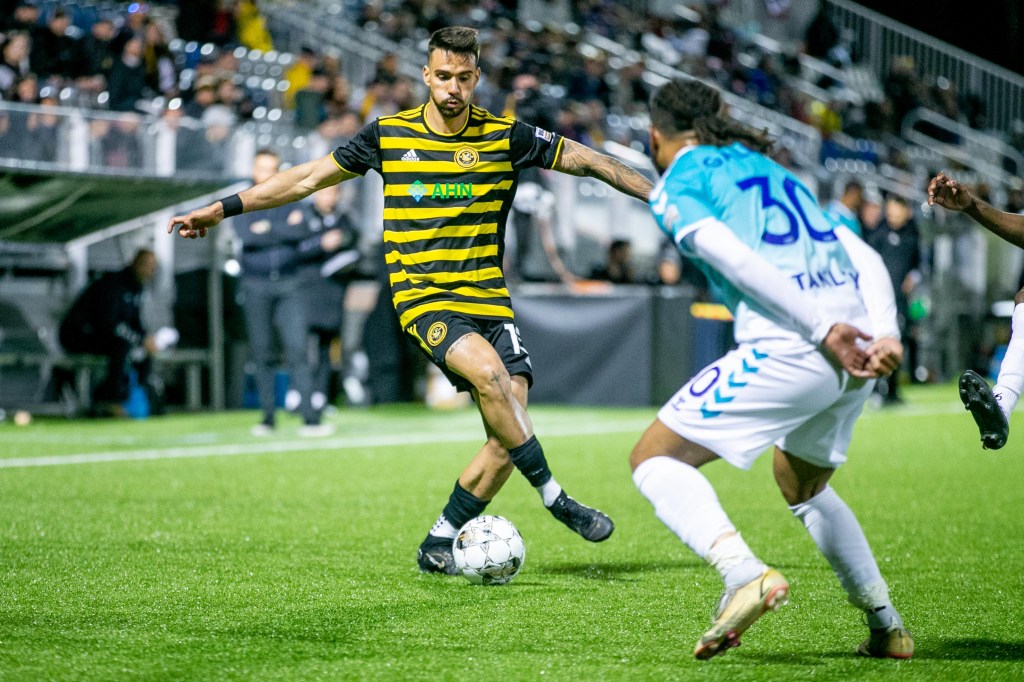 Match info
Riverhounds (10-6-4) vs. Hartford Athletic (4-11-4)
Date: Saturday, July 23
Time: 7 p.m.
Location: Trinity Health Stadium, Hartford, Conn.
Odds: Hounds +100 / Draw +260 / Hartford +210 (FanDuel)
TV: 22 The Point
Streaming: ESPN+
Live statistics: USL Championship Match Center
Live updates: @RiverhoundsSC on Twitter
Match hashtags: #HFDvPIT and #HOUNDTAHN
HARTFORD, Conn. (July 23, 2022) — Looking to keep up the strong momentum of four matches without a loss after a 1-1 draw last Saturday at New Mexico, the Hounds will remain on the road to face Hartford Athletic tonight at 7 p.m. at Trinity Health Stadium.
This will be the second time these teams face this season. The last match in Pittsburgh was the Hounds' home opener, and it ended with a tense 2-1 Hounds win.
The two teams sit in very different spots in the USL Championship Eastern Conference with the Hounds having 34 points, placing them in fourth place and eyeing a home playoff game. Hartford, meanwhile, has just 16 points, placing them in 10th and in need of wins to get back in the race.
The Hounds look to continue their success playing at the field formerly called Dillon Stadium, where they are 3-0-1 all time. Russell Cicerone has been leading the way for the Hounds. Over his last 11 games, he has six goals and three assists, including the game-tying assist last week.
Recent roster additions for the Hounds, Robbie Mertz and Edward Kizza, traveled with the team to Connecticut. Mertz was acquired from Atlanta United II this week, while Kizza is eligible to suit up after arriving on loan from the New England Revolution of MLS. The trip to Hartford is also a special one for midfielder Danny Griffin, who will play his 70th consecutive game for the Hounds in his home state.
Hartford recently turned the coaching reins over to Ray Reid, who is now the interim head coach in addition to being the club's technical director. A national championship-winning coach with more than 300 wins at UConn, Reid has gone 1-2-1 leading Hartford.
The Hounds will see a familiar face facing Hartford striker Corey Hertzog. Hertzog is sixth in club history with 27 goals in his two seasons in Pittsburgh (2016-17), but he has just one goal this year for Hartford. Joel Johnson leads the hosts with four goals.
Tonight's match can be seen on 22 The Point and streamed on ESPN+.