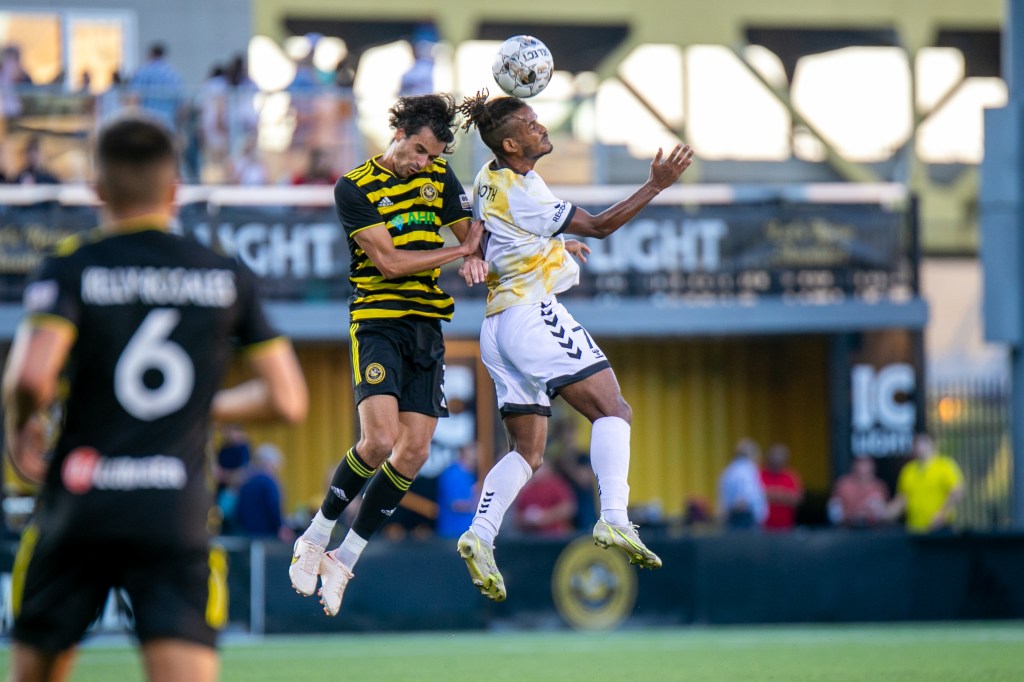 PITTSBURGH (Aug. 31, 2022) — Pittsburgh Riverhounds SC was held to their first scoreless draw of the season, as the visiting Charleston Battery held on for a 0-0 final Wednesday night at Highmark Stadium.
Hounds goalkeeper Jahmali Waite needed to make just one save to post his sixth shutout of the year, while Daniel Kuzemka made three saves for Charleston (4-17-6).
The draw leaves the Hounds (14-7-6) two points behind Birmingham for fourth place in the Eastern Conference, and both teams now have seven games to play, including a head-to-head meeting Sept. 14 in Alabama.
---
First half
The Battery had more of the ball in the match with 58.6 percent of possession, but the Hounds kept most of the action in the Charleston end, outshooting their opponents 16-3.
Angelo Kelly nearly scored against his former team in just the fourth minute, as the Hounds midfielder pounced on a deflected cross but couldn't tuck his shot from an angle inside the near post. Toby Sims put the game's first shot on goal in the 19th minute, forcing a diving save and a rebound that was barely too far for a lunging Kelly to turn back on goal.
The Battery had their best chance of the game late in the half after a collision between Waite and defender Luke Biasi left the Hounds' goal open, but Arturo Ordóñez hustled back to the goal line to head the ball over the bar and avert the danger.
Second half
The Hounds began the half with Dane Kelly winning a pair of free kicks in good shooting positions, but a curling effort by Alex Dixon rose over the bar, and a shot by Kenardo Forbes went straight to the gut of Kuzemka.
In the 83rd minute, Albert Dikwa forced a turnover from the Battery back line and sent the team in a 3-on-3 transition, but Charleston recovered well and forced Dixon to shoot from distance.
Waite's lone save came at the 90-minute mark, as he backpedaled to tip a glancing header by Battery leading scorer Augustine Williams over the crossbar.
---
Hounds Man of the Match 
Danny Griffin, as often is the case in midfield battles, was the man all over the field for the Hounds. He led the team with 56 touches, completed 28 of 36 passes (including 8 of 9 in the final third), intercepted seven passes and won all three of his tackles.
What's next?
The Hounds head back on the road to begin the new month, as they face Loudoun United FC at 7:30 p.m. on Sunday, Sept. 4 at Segra Field in Leesburg, Va. The Hounds won 2-0 in the first meeting this year with Loudoun (7-16-3), but the hosts come in on a high note after knocking off second-place Memphis, 1-0, on the road tonight.
---
Riverhounds SC lineup (5-4-1) — Jahmali Waite; Luke Biasi (Kenardo Forbes 46'), Jelani Peters, Arturo Ordóñez, Shane Wiedt, Toby Sims (Robbie Mertz 65'); Danny Griffin, Marc Ybarra (Alex Dixon 46'), Angelo Kelly (Dani Rovira 80'), Russell Cicerone; Dane Kelly (Albert Dikwa 60')
Charleston Battery lineup (3-4-3) — Daniel Kuzemka; AJ Paterson, Preston Kilwien, Leland Archer (Patrick Hogan 46'); Alexander Dexter (Avionne Flanagan 63'), Dominic Oduro (Robbie Crawford 63'), Enock Kwakwa (Geobel Pérez 85'), Matt Sheldon; Mauro Cichero, Andrew Booth (Romario Piggott 72'), Augustine Williams
Scoring summary
None
Discipline summary
PIT — Marc Ybarra 23' (caution – unsporting behavior)
PIT — Dane Kelly 33' (caution – unsporting behavior)
CHS — Dominic Oduro 34' (caution – unsporting behavior)
CHS — Preston Kilwien 75' (caution – unsporting behavior)
CHS — Romario Piggott 90+2' (caution – unsporting behavior)