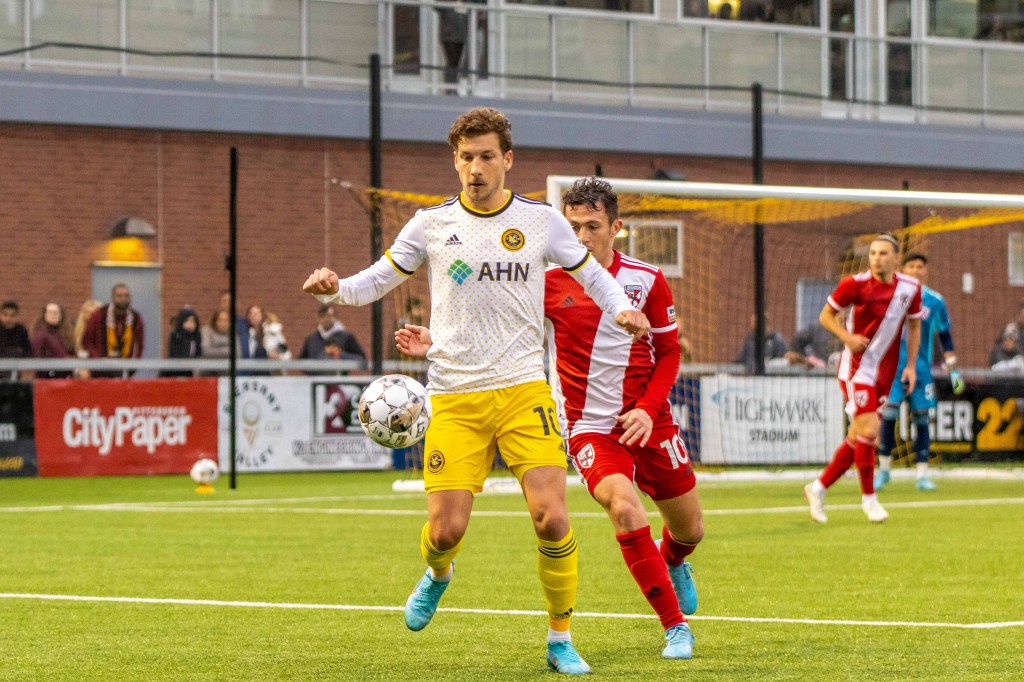 Match info
Riverhounds (13-7-6) vs. Loudoun United FC (7-16-3)
Date: Sunday, September 4
Time: 7:30 p.m.
Location: Segra Field, Leesburg, Va.
Odds: Hounds -195 / Draw +340 / Loudoun +400 (FanDuel)
TV: 22 The Point
Streaming: ESPN+
Live statistics: USL Championship Match Center
Live updates: @RiverhoundsSC on Twitter
Match hashtags: #LDNvPIT and #HOUNDTAHN
(Sept. 4, 2022) — The final full month of the regular season is upon the Hounds, and they will kick September off with the shortest road trip of the season to face Loudoun United FC tonight in Northern Virginia.
Though the Hounds were hoping to get more from their Wednesday match with Charleston that ended as a scoreless draw, the team has lost only once in the past two months — a string of 11 matches — and they have won their last three road matches. Coupling that with the team's 19-1-1 record in its past 21 games against MLS "2" sides, the Hounds enter this week's lone Sunday match in the USL Championship expecting to get a result.
Loudoun posed a stiff challenge to the Hounds in the teams' first meeting way back on April 2 in Pittsburgh, but Dane Kelly made the difference in that game by coming off the bench to score both goals in a 2-0 win. Kelly started on Wednesday against Charleston, so it's quite possible he again will be the striking option to come off the bench with Albert Dikwa being the forward who took the bench role five days ago.
Kenardo Forbes, Robbie Mertz, Mekeil Williams and Alex Dixon all logged substitute roles or did not play midweek for the Hounds, so all should be ready for a full shift Sunday if called upon. Nate Dossantos remains the only Hounds player ruled out, but both Dani Rovira and Luke Biasi have filled in capably at the left back spot in his stead.
The home side will be no pushover, especially on their home turf. Loudoun has won three of its past five matches to stay mathematically alive in the playoff race, and the two losses were both 2-1 defeats on the road against league-leading San Antonio and playoff-battling Tulsa. At Segra Field, Loudoun is 4-3-2 in its past nine matches, and only Tampa Bay was able to win at Loudoun by more than one goal in that period.
Loudoun, as is the norm, is a youthful side, and 19-year-old Tyler Freeman leads the team with six goals on the season. Jacob Greene, another 19-year-old and a homegrown signing of D.C. United, netted the winner in Loudoun's best result of the season on Wednesday, a 1-0 road win at Memphis. And one of Loudoun's most experienced players is former Hounds defender Jalen Robinson, who is back in the D.C. United system where he first broke into the pro ranks.
Sunday's match — one of the last road games of the year, as the Hounds play four of their final six at home — will be shown live on 22 The Point and streamed on ESPN+.