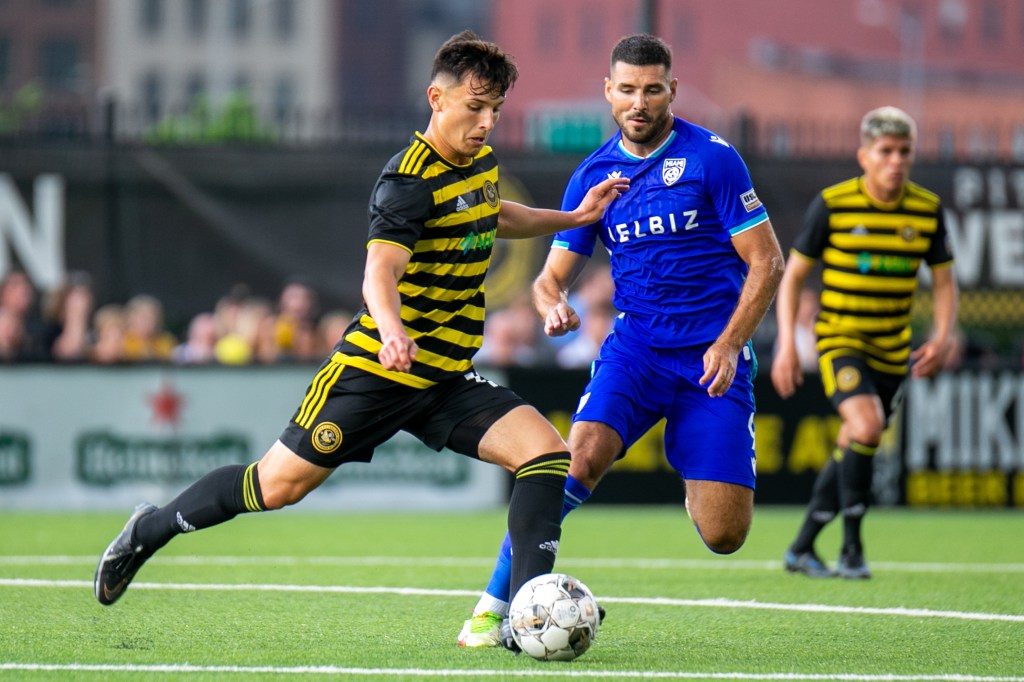 In his first match with the Hounds, Danny Griffin entered as a 66th-minute substitute in a 3-1 win at Louisville to open the 2020 season.
Griffin made his first start in the very next match against Philadelphia Union II, and since then, it's been hard to find too many other instances where he hasn't been on the field for the Hounds.
The third-year pro became the Hounds' standard-bearer for reliability Sunday in the team's 1-1 draw at Sacramento, as Griffin played another full 90 to run his minutes count to 2,965, the most in a league season by any player in the Hounds' 23-year history. Griffin broke the record of 2,909 set in 2018 by Thomas Vancaeyezeele, and he is poised to become the team's first 3,000-minute player Saturday in the regular-season finale against Oakland.
Primarily filling the holding midfielder role thoughout his time in Pittsburgh, Griffin's work rate and fitness have been a menace to opponents and helped the players around him be more comfortable in their roles.
"He's been an ironman since he got here," Hounds coach Bob Lilley said. "He brings quality to the field, and he's been an important part of the team even if he's not getting a ton of goals and assists. When Danny first came here, he had to fight to get into the 18 and into the starting lineup, and he's earned the respect of his teammates and his coaches. He's got an engine, and I think our guys will admit he's probably bailed out every one of his teammates at some point with how much ground he covers."
In addition to the minutes record, Griffin also has appeared a team-record 82 consecutive matches in USL play (regular season and playoffs) with only three of those in his rookie season being appearances off the bench. In three seasons, the only competitive match Griffin has not played for the Hounds was this year's U.S. Open Cup second-round match against the third-division Maryland Bobcats.
"Every day, seeing my name in the lineup, it means a lot to me. It's an honor for me, and I just do everything I can for my teammates and the coaching staff," Griffin said. "The teammates around me do a good job to push me and push my position, so I'm just grateful for the opportunity to do what I do every day."
Griffin is certainly no place-holder, as his 133 tackles are by far the most by a Hounds player in that stretch, and he is consistently among the team leaders each game for passes, touches on the ball and winning possession. Good fortune also comes into play, as Griffin has avoided both injury and suspension during his tenure, which is no small feat for a player of his style.
And while Griffin does have the benefit of a 34-game schedule — longer than many seasons of the Hounds' early years — he is only five minutes shy of playing every minute of the entire league season in 2022. The last two Hounds to accomplish that feat were Vancaeyezeele in the pandemic-shortened 2020 season (16 games) and Andrew Marshall in a "full" 2013 season (26 games).
---
Most minutes played, single season (league matches only)
Danny Griffin, 2022 (in progress) — 2,965
Thomas Vancaeyezeele, 2018 — 2,909
Danny Griffin, 2021— 2,868
Tobi Adewole, 2019 — 2,847
Ryan James, 2019 — 2,831