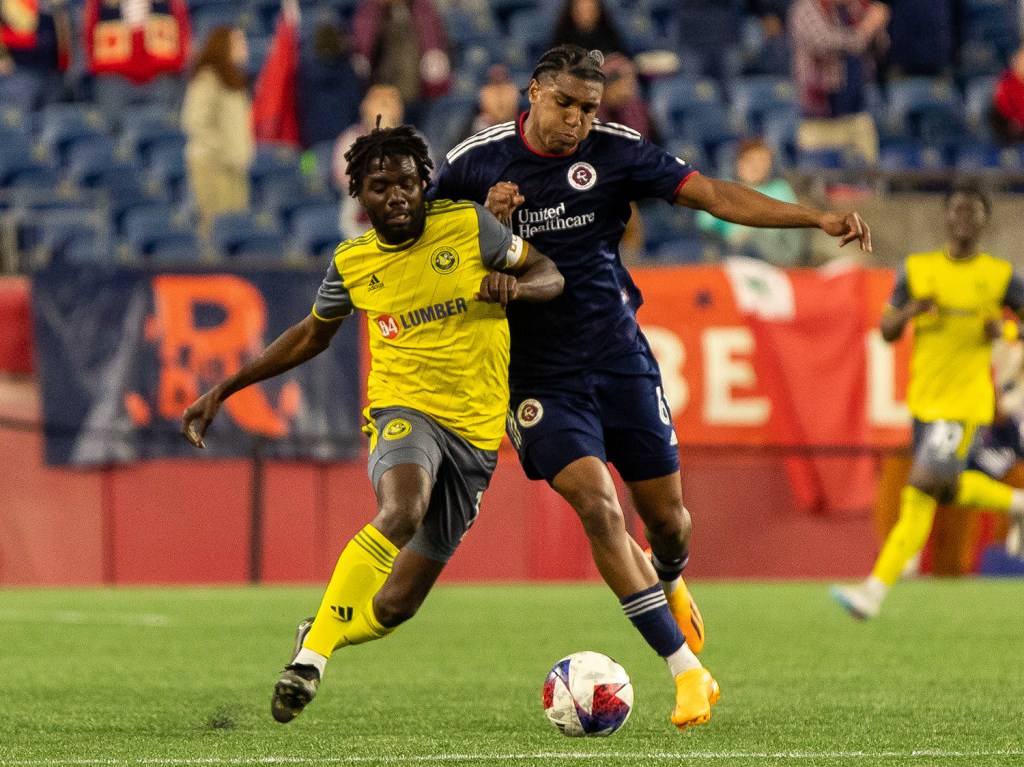 The Riverhounds made waves throughout the Lamar Hunt U.S. Open Cup tournament with their 1-0 upset of New England Revolution at Gillette Stadium on May 9.
They have a chance to make an even bigger splash Wednesday in their next Open Cup match, and their meeting in the Round of 16 with the Columbus Crew at Highmark Stadium is garnering much attention.
The upcoming match against the Crew will be the first time since 2015 that the Hounds will host an MLS team, and only the second time ever at Highmark Stadium. In that game, the Hounds lost a 3-1 extra-time thriller to D.C. United in front of a standing-room-only crowd in the then-4,000-seat stadium.
This year, a crowd pushing near the stadium record — 6,073 against Louisville in the 2019 playoffs — is expected for the match against the Crew, but that wouldn't have happened without the team's big win against the Revolution.
"It was an amazing win, to go against an MLS side at their place at Gillette," said Danny Griffin, the Hounds' goal scorer against the Revs. "It means a lot to the club now having a game at home in front of our fans at Highmark against another good MLS side. It's exciting. There's a lot of buzz around town, there's a lot of buzz around the club, and that's what we want for the organization and the fans is to have big games and win big games for them."
Being a Connecticut native made scoring the winning goal that much sweeter for Griffin.
"It was a great feeling I had some family and friends at the game because it's close to where I grew up, so it was amazing to get that goal for the team," he said.
Even Kenardo Forbes, who has been with the Hounds since 2018, has yet to experience a home game against an MLS opponent, and until two weeks ago, he hadn't been a part of a win against a team from the other pro league.
"It was a big moment because it's been 22 years since Pittsburgh beat an MLS team. So it's a big moment for the team, for the organization, and for us as players," Forbes said. "It's my first time in nine years beating an MLS team, so it gave us confidence that we have a good team and can play with anyone."
The win was special in another way for Edward Kizza, who was drafted by the Revolution in 2021. But his focus was what it meant for the Hounds going forward, not on his former club. 
"It was a big win for us and the program. It means we're heading in the right direction, because most of the games have been unlucky, but getting a big win against a strong team is good for the club moving forward," Kizza said.
Now all eyes are on the Crew, and the Hounds players are expecting a sight Highmark Stadium hasn't seen since that 2019 playoff run.
"It's been a while since an MLS team has come to town, so to have a packed house — I know the fans are going to bring the energy," Griffin said. "We're going to do everything we can to get a win at home and keep making Highmark a fortress."
"That's what we wanted — to have a game against an MLS team to really test us and see what we can do at home," Forbes said. "I'm sure it's going to be a sellout crowd, so I think it that will be good for us and give the guys a lot of confidence. A nice home game against an MLS team is great for the organization."
So what do the Hounds have to do to turn a big event at Highmark into another big win for the team? The players believe keeping preparation the same, whether they're facing the Revs, the Crew or another USL team, is the key to producing another winning effort.
Forbes noted that certain MLS teams have a higher speed of play, and that coach Bob Lilley has been emphasizing speed of play in training. But little else has changed ahead of Wednesday's game.
"I think the preparation stays the same," Kizza said. "We prepare according to a normal game. We're just going to do the same things we've been doing. I don't think the coach is going to change much, you're going to stay true to who you are, no matter who you play."
Staying true to themselves will likely include some lineup changes from Saturday's win over Las Vegas, a match where Lilley rested some starters and got others, such as Griffin and Forbes, off the field early with the win locked up.
"There's so much competition in the group. Guys are always pushing to get in and making it hard for the coaches to pick who's going to be starting," Griffin said. "It's a great competitive group, and we're all pushing each other everyday in training."
Whatever the outcome, expect Wednesday to be an exciting night at Highmark Stadium for one of the biggest matches in the team's history.
Story written by Riverhounds staff intern Mitchell McIntosh.