Father's Day is an extra-special day on the calendar this year for Hounds veteran Alex Dixon.
Dixon is celebrating six days of parenthood this Father's Day, after he and his wife, Eda, welcomed their first baby boy, Oliver, on June 13 at 1:54 a.m.
"I actually didn't know that Father's Day was coming up so soon after he was born," Dixon said. "My wife told me about that when he was born, and I like to joke that I get the first holiday without really having to do much for the last 10 months besides putting furniture together."
Since his arrival, spending time and caring for Oliver has been a surreal experience for the new father. Taking time away from the soccer field has been well worth it to finally be able to hold Oliver in his arms, and he's enjoying every moment of it.
"You kind of plan for nine months until the baby's arrival, but when he comes, it's just such a different feeling," Dixon said. "It's like an overwhelming sense of joy. It's been a little hard getting used to being on the baby's schedule, as opposed to your own schedule. I'm so happy that he was delivered healthy and whole, and it's been fun."
Kenardo Forbes, who is the father of two children himself, could feel his longtime teammate's excitement leading up to the birth of Dixon's newborn son. As someone who has experienced the ups and downs of parenthood, he was ready to give his teammate some parenting advice.
Forbes also made sure to give Dixon a heads up of what to expect in the early stages with a focus on the struggle of not getting much sleep.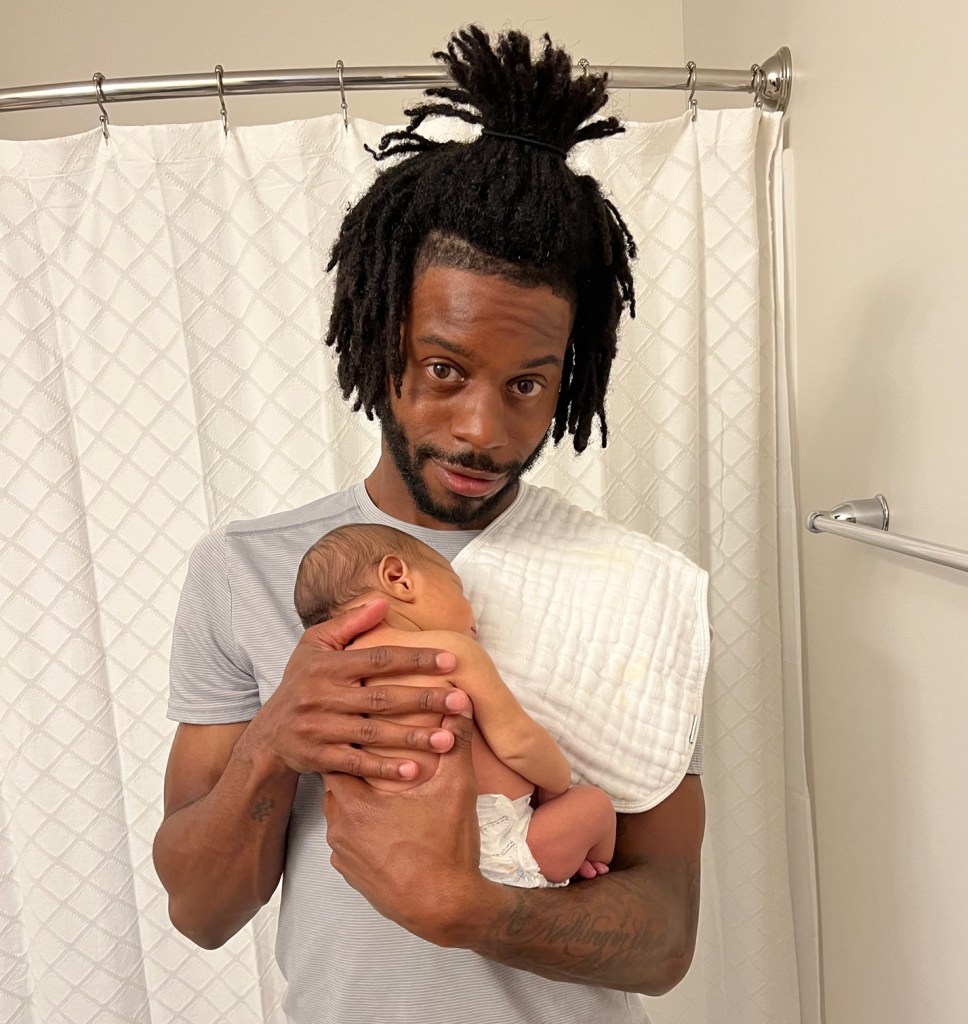 "It changes because it's not about you anymore," Forbes said. "As a good dad, great that I think I am, I think it's about changing. I do everything just for them, and I try to make them as happy as possible. It's not about me anymore. I'm a grown man."
Balancing life as a professional soccer player and a father is something Forbes had to adjust to. A part of the sport is travelling to road games, so being away from his family for three or four days at a time isn't always easy for him.
"It's tough, especially with a little one who sticks to me a little more than his mom," Forbes said. "So as soon as I leave, he starts to cry, and as soon as he hears the door, he just comes crawling to the door to see me. So, I miss him when I go on the road."
Travelling with the team while also being a new father is something Dixon had to adjust to quickly. Thursday was his first day back to practice after Oliver's birth, and two days later, he came off the bench to play 45 minutes in the Hounds' loss Saturday at Rio Grande Valley.
While Dixon eases back into soccer, he's trying to help out his wife as much as he can without being overly tired in the morning for training.
"It's all about him now. It's all about managing, helping out, and just being there. But as far as the sleep, It's kind of his schedule now. So, when he wakes up, we all have to wake up, and we're just hoping for a good sleeper in the future," Dixon said.
He continued: "It's a great deal in being a father, and it's a totally new aspect of your life. I'm just so blessed and thankful to be able to have a son now and to share this with my wife. So, a huge Father's Day shout-out to all the fathers out there."
Visit @RiverhoundsSC on Instagram to see a special Father's Day post honoring all the dads on our team.
---
Story written by Riverhounds staff intern Grace Heidinger.