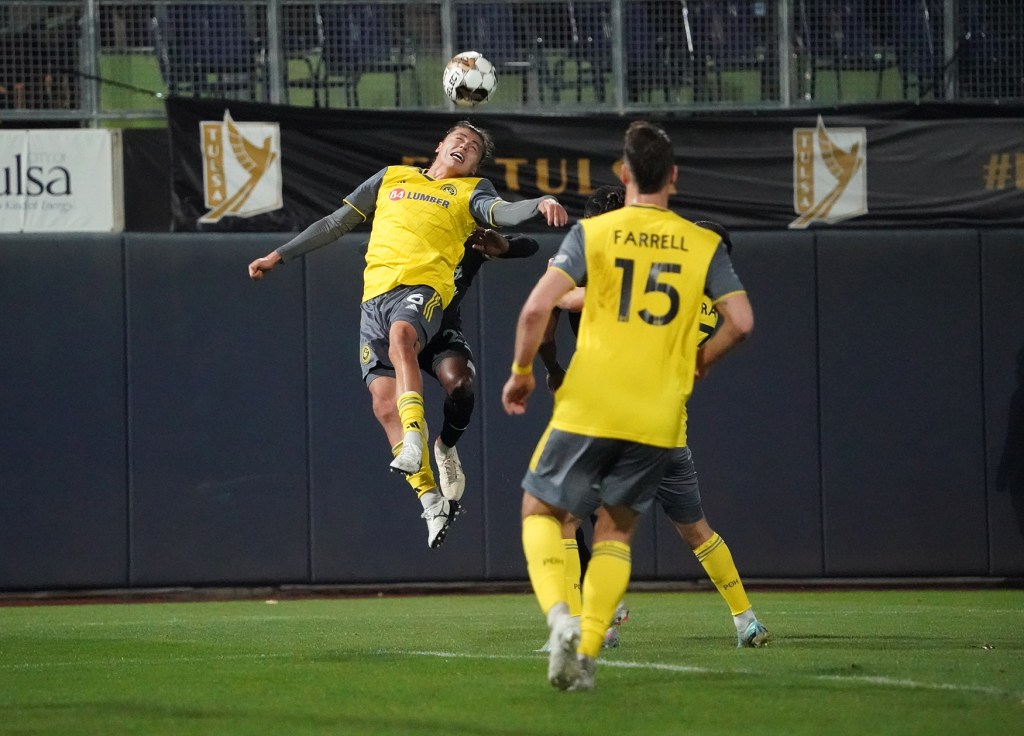 Match info
Riverhounds (1-0-3) vs. Colorado Springs Switchbacks FC (2-1-1)
Date: Saturday, April 8
Time: 8 p.m.
Location: Weidner Field, Colorado Springs, Colo.
Odds: Hounds +220 / Draw +215 / Colorado Springs +116 (Bet Rivers)
TV: Pittsburgh's CW
Streaming: ESPN+ (national), Pittsburgh's CW (local)
Live statistics: USL Championship Match Center
Live updates: @RiverhoundsSC on Twitter
Match hashtags: #COSvPIT and #HOUNDTAHN
(April 7, 2023) — The Hounds continue racking up the frequent flyer miles with their fourth away match in the first five weeks, as the club will face off for the first time ever with the Colorado Springs Switchbacks on Saturday night at Weidner Field.
The road hasn't been too unkind to the Hounds with a win and two draws yielding five points out of a possible nine, including last week's 0-0 affair at FC Tulsa. Only a harshly disallowed goal off the head of leading scorer Albert Dikwa prevented the Hounds from taking all three points, and the Hounds still hold joint possession of second place in the Eastern Conference after remaining unbeaten.
The one big negative out of the Tulsa match was the late-game injury to midfielder Junior Etou, who suffered a fractured arm and will be ruled out until he is cleared to resume training in the weeks to come. Trevor Zwetsloot, who replaced Etou in Tulsa, and newly signed Illal Osumanu both are capable of playing the No. 6 role, while Kenardo Forbes and Marc Ybarra also are adept at dropping into a holding position as play dictates.
A positive for the Hounds is that they are the USL Championship's most well-rested team this weekend, having won their U.S. Open Cup match by way of a forfeit while the other 23 teams played this week, including the Switchbacks going 120 minutes in an extra-time defeat. That time off could be valuable, as the Hounds must adapt to Weidner Field's elevation of 6,035 feet — 1.14 miles — which will make this the highest altitude for a Hounds match in the team's 24-year history.
Colorado Springs, meanwhile, enters the game with a similarly strong defense to the Hounds. The Switchbacks have allowed just three goals in four matches — equal to the Hounds' total — and their last league match was a 1-0 win in their own cross-country trip to face Loudoun United FC.
While the Hounds have never faced the Switchbacks, they certainly are familiar with many of their players from previous matches. Robert Morris University product and former Louisville and Miami midfielder Speedy Williams is a key part of the Colorado Springs midfield, and a fellow Jamaican, former Charleston striker Romario Williams, will be one of the men likely to lead the attack.
Saturday's match will be televised live on Pittsburgh's CW and streamed locally on the CW website. Nationally, the match can be streamed on ESPN+.
Fans hoping to link up and connect with other Pittsburgh sports fans to take in the game can head down to Mike's Beer Bar on the North Shore, where the official watch party of the Riverhounds will be taking place starting at 7:30 p.m.
Downloadable Game Notes