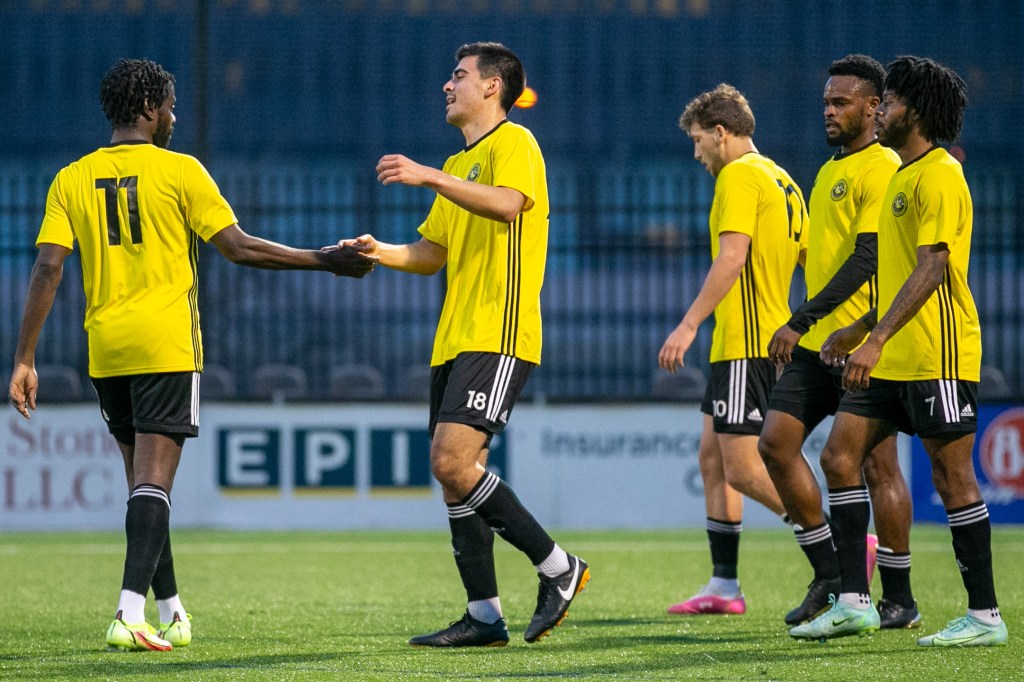 PITTSBURGH (March 5, 2022) — Pittsburgh Riverhounds SC completed an undefeated 2022 preseason with a 4-0 victory over West Virginia University this evening at Highmark Stadium.
Marc Ybarra, Dane Kelly, Russell Cicerone and Albert Dikwa scored for the Hounds (5-0-1), who will play their USL Championship season opener on the road at Memphis 901 FC at 7 p.m. next Saturday, March 12.
The preseason record of five wins and a draw came against a strong exhibition schedule that featured three Division I NCAA Tournament qualifiers, including the Mountaineers, and three USL Championship teams who they will face during the regular season.
Both the Hounds and Mountaineers struggled to get rolling in the first 10 minutes of the game, but the Hounds snapped into shape by finishing their first great chance of the game.
Alex Dixon got the ball on the right wing and hit a low, hard pass to Ybarra, who placed a side-footed shot into the top corner of the net. The 12th-minute goal was the first of preseason for Ybarra, a rookie who was last year's Big Ten Midfielder of the Year at Michigan.
Kelly doubled the lead in the 27th minute, as the USL Championship's all-time top scorer tapped in another cross from Dixon to end a good spell of possession. It was the fourth goal of preseason for Kelly, whose next league goal will be the 100th of his Championship career.
Kelly then helped set up the third goal in the 35th minute when he got behind the defense and pulled the goalkeeper off his line. Rather than force the shot from an angle, the Hounds worked the ball around the top of the box before Dixon put the ball on the feet of Cicerone to finish into the open net. It was Dixon's third assist of the game and Cicerone's third goal of the preseason.
The Hounds made six substitutions at halftime and more shortly after the break, but they were still able to add to the lead in the 81st minute when Dikwa scored his first of preseason in front of goal on a pass from first-year pro Toby Sims on the right wing — the same position Dixon was playing earlier in the match.
After the Hounds' season opener on the road next week in Memphis, they will return to Highmark Stadium for this year's home opener on Saturday, March 19, when they host Hartford Athletic at 7 p.m.
Scoring summary
PIT — Marc Ybarra (Alex Dixon) 12'
PIT — Dane Kelly (Alex Dixon) 27'
PIT — Russell Cicerone (Alex Dixon) 35'
PIT — Albert Dikwa (Toby Sims) 81'