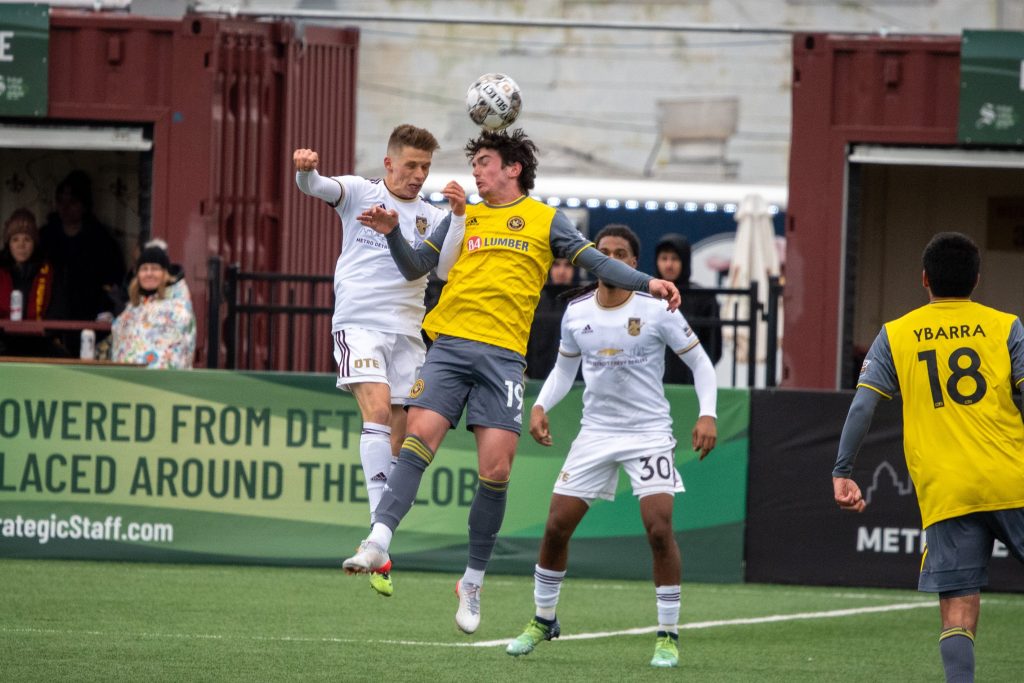 Hitting your 18th birthday is a big milestone, and there are plenty of ways to celebrate.
Not many spend their 18th like Wyatt Borso, however. He got to spend it going through a full Tuesday practice to get ready for his second season with a professional soccer team.
Borso, who became the Riverhounds' first player signed to a USL Academy contract last year, returned to the Hounds this season and has grown in his role with the First Team, training and playing with the pros as he gears up to begin his college career at Notre Dame in the fall.
Signed as a 17-year-old from Illinois last April, Borso turned 18 on March 8 — four days before the Hounds season opener in Memphis. Since then, he made his second start in the USL Championship last Saturday against Detroit City FC, and in year two with the Hounds, Borso looks every bit the part of a young pro, despite his amateur status.
Borso's growth over the past 11 months is evident, from his physique to the speed of his play on the field. Did he think he would be at the point he is a year ago? That's hard to say, but he realized very quickly after his arrival how steep the learning curve would be.
"When I initially got here, it was so fast. It was a total different pace than I was used to," Borso said. "Now that I'm coming back, there's a lot of new guys, so they're not used to the speed we play here and the tactics, which are different than a lot of other teams, so I feel like I'm a step ahead in that sense. I know what's being coached, even though I'm not even close to meeting the standard, but I'm trying to get there."
Meeting the standard set by an exacting manager like Bob Lilley is a tough task even for veteran professionals. But the Hounds' head coach recognizes the great strides made by Borso, who has gone from being "miles away" last spring to battling for a spot on the lineup sheet each week this year.
"He was a good technical player when he got here, but he was still a kid. Now, he's playing with men. He's got a big frame and he's fast and he'll stick a shoulder in. He's not intimidated, and if he has a bad moment, he bounces back quicker," Lilley said.
"He's grown in a lot of areas," the coach continued. "He's more used to the physical contact. He's holding balls better, his decision-making under pressure is better, and he's more confident to take players on."
Borso's willingness to work has been crucial to his development since joining the Hounds. Last year, he made one start and four total appearances in the USL Championship, while he also was a factor in some competitions with the Riverhounds Development Academy's 2002/03 Boys team and the side that competed in the USL Academy League.
Even with those various opportunities, Borso played far fewer minutes in 2021 than the average 17-year-old would if they were playing for a high school team, regional cup team or exclusively as an academy player.
"I'm not going to lie, it can be difficult not playing," Borso said. "I feel like I'm receiving training here that's so much better than any academy could ever offer, so I think that upside outweighs the lack of minutes I would be getting at the academy level, for sure."
The training can lead to some busy days for Borso. He practices daily with the pro team, but some days he then turns around and works out individually with Speed and Strength Director Mike Whiteman, or he trains with the Hounds Academy team if he is slated to appear in games for them. And he has done all that while completing high school virtually in preparation to attend Notre Dame in the fall.
Because of his college plans, Borso likely will finish his stint with the Hounds in July, as he seems settled on making the move to the perennial top-10 NCAA program. But that plan — or what his plan will be after joining the Fighting Irish — is always one that he approaches with an open mind.
"I have always really valued education, but whether or not I go four years, I guess that's yet to be determined, because there's no way of knowing how stuff happens," Borso said. "But Notre Dame has always been my dream school. They're real excited to have me, and I'm real excited to go there."
He has examples among his teammates of the various paths he can take.
Danny Griffin and Russell Cicerone were both four-year college players before being drafted by MLS teams. Alex Dixon, on the other hand, left North Carolina a year early to sign with the Houston Dynamo. Still others turned pro as teenagers, though Borso seems to have ruled out that path for himself.
"I have talked to (teammates) about it, and it's just different for everyone. The timing of it, the information you get from your school, where you're projected to be drafted or signed. There's so many factors that go into it, but talking to them helps a lot," Borso said.
From the Hounds' perspective, Borso has been an important part of re-establishing the link between the RDA and the Pro Team, a link that got interrupted by pandemic "bubbles" over the previous two years.
"I think he's a benchmark. These younger players can see Wyatt, and they say, 'I want to do that. I want to sign a USL Academy contract,'" Hounds Academy Director Scott Gibson said.
"I've spoken to Bob, and once June, July hits, he's coming to me and the (academy) staff and saying, 'Hey, what four, five, six boys do you think can come in and train with the First Team?' Some of those guys played with Wyatt last year, so they know what level they need to be at through Wyatt and how he's developed. Our boys program is getting better, and I think there are players in that (age group) '05, '06, '07 with a little bit of time, who are capable of the opportunity. Then it's up to them to grasp it, but our goal is to start churning out — whether it's a player a year, I don't know — players who can sign contracts with the First Team."
Lilley shares that vision of having the Hounds begin to produce their own pro players from the youth ranks, whether it be in players who return after a college career or, one day, even producing players ready to go pro straight out of the academy.
"I expect (Borso) is the first (who will go pro), but I'm also confident we're starting to produce players at a better level each year, who are going on to Division I colleges. And I don't expect it will be too long before we see another player coming from the academy into the First Team," Lilley said.
"There already are players (in USL) that have chosen to go to Europe or go to MLS or forgo the college route. That is already happening, but I think they have to be ready. It's tough to forgo the college route if you're 18 and you're not already playing significant minutes with a First Team. That's the tricky part, but a lot of good players come out of the college route and build good careers in our league, or they've made it to Europe or the national team. I think it's another good avenue for players."
The college route appears to be Borso's path for the future. And he didn't hesitate when asked if his path to that point — coming to Pittsburgh and playing amongst the pros before turning 18 — was the right one for him.
"Definitely. I feel like through practicing here and under Bob's coaching, I've developed a lot, and I'm really grateful I got this opportunity," he said.