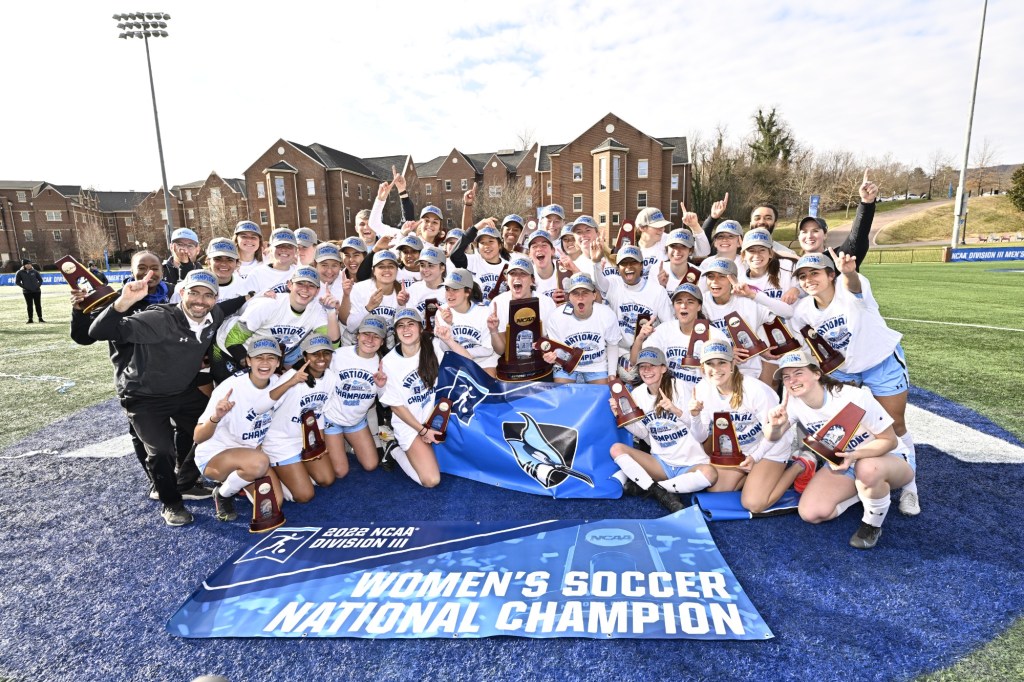 Salem, Va. is probably not the first place someone would pick to have a Riverhounds Academy reunion. But as the site of the NCAA Division III Soccer Championships last month, that's exactly where a handful of RDA alums crossed paths.
Four former Hounds — Lily Gaston of Johns Hopkins, Maggie Storti and Helina VanBibber of Case Western Reserve, and Ava Wert of Messiah — were battling on the final weekend of the college season, and while Gaston and the Blue Jays of Johns Hopkins who won their first NCAA Championship in 2022, all four players showed how they have progressed from their time with the Hounds to very successful college careers.
All four talked about their experiences — both in the tournament and their time in college so far — and had a lot to share about a memorable season and the Division III soccer lifestyle.
---
Meeting at the Final Four
Gaston started and played all 90 minutes of the national championship game, which Johns Hopkins won 2-1 on Dec. 4, capping off a freshman year in which she played every game for her new team in an undefeated, 23-0-2 season.
"We set some goals for our season, and one of those goals was to win a national championship, but of course, you take it one game at a time, so it was just: Can we keep winning games the whole way through?" Gaston said.
"The tournament was one of the craziest experiences, just the energy around it and the excitement going into every game. … My role on the team changed throughout the season, my position changed, and I ended up in the starting lineup later in the season, and that's not how I started, so there was a lot of change. But honestly, the tournament energy was something I've never felt before — the energy in every single game from every single player, and it was one of the craziest and best things ever."
(Watch Gaston's full interview below.)
In the way of Gaston's goal were her fellow former Hounds, first in a semifinal meeting with Messiah and Wert, another freshman who played on the same team with Gaston in the Hounds Academy.
The two friends were reunited as a result of their excellent first college seasons, and though Johns Hopkins came away with the 4-1 win — including an assist by Gaston — the first-year starting goalkeeper for Messiah was still happy to reconnect with an old friend.
"It was really cool to play against her," Wert said. "While we were still on the same team with the Hounds, we talked about that just messing around, but it actually happened twice last season. I saw her at the hotel (in Salem), and we gave each other a big hug. We're still good friends."
In the other semifinal, Case moved on and stayed unbeaten themselves with a 3-0 win over Virginia Wesleyan, as VanBibber scored a goal and Storti posted a four-save shutout to set up the championship match.
VanBibber, a senior, and Storti, a junior, both have more college experience to draw upon than the other two ex-Hounds, but their 2022 season was admittedly unique.
"So many times I look back and it still hasn't hit," Storti said. "Our program hit some adversity. Our coach left, and we didn't get a new coach until two weeks before the season. We had 15 incoming freshmen and two new graduate students, but there was something absolutely special about this team. Something clicked."
For that reason, even a setback in the final couldn't stop the players from viewing the year as a success.
"When you're in the moment, you have to take it in small parts, or it can be overwhelming. Now that I've had time to process it, it's surreal we went through all that and so amazing to be a part of a team to accomplish what we did," VanBibber said.
---
Choosing the D-III path
While most of the players who come into the RDA program have playing at a major Division I school on their mind, that's far from the only way to succeed at the next level. Even looking at the Hounds' First Team through recent years, there are examples of players such as Rob Vincent, Thomas Vancaeyezeele and, last season, Toby Sims, who all played below the Division I level in college but made it to the professional ranks.
In the case of the group playing at the D-III Women's Final Four last month, one common thread to all of their college choices stood out — academics.
"I love being able to compete at this high of a level but still remain super-focused on my academics and my studies and be engaged in lots of things on campus. I have had just the best first semester I think you can have anywhere," Gaston said.
"I'm probably one of the biggest advocates for D-III athletics," Storti said. "All the girls in that Final Four could've gone D-I. The talent is there, but in my case, I made a decision. I knew for the longest time I wanted to go to grad school and med school, and I needed to find the right fit for me. … It's extremely important going through the recruiting process to consider all options and make sure you pick a school where if soccer doesn't work out, you fit in with the academics, the campus and the people there."
In Wert's case, the right fit was a smaller school with a reputation as a soccer power, but she admitted Messiah wasn't even on her radar when she hit recruitment age.
"Before I started my recruiting process, I was only looking at D-I schools," Wert said. "But as I got older, I realized what I wanted to do — nursing — and some big schools won't even talk to you after you tell them that, because of how much time nursing school takes up. I couldn't have picked a better school for me, in the end. We have a good meshing team with girls I can call my best friends, and it makes playing soccer so much fun."
The right fit was also what VanBibber found at Case. And now, as a result of having an extra year of eligibility due to the Covid-19 pandemic, perhaps her career will have another chapter having just graduated.
"I had a D-I and a D-II offer, but I wasn't going to play soccer professionally, and I had to be realistic. There's a pressure to go D-I. It's what everyone strives for, but I think going D-III is a great option, and it was right for me," VanBibber said. "I can't give up the glory days. I have this gap year before I go to medical school, so I'm going to work next semester and come back to school in fall. I have the chance to play soccer again, and I want to play as long as I'm able to."
---
College-bound Hounds
The quartet of RDA players from this year's national semifinals also concurred that their background in the Hounds Academy and playing against high-level opponents ECNL made the transition to college soccer easier, and the proof lies in the fact both Gaston and Wert were able to claim starting roles as freshmen.
Van Bibber, the eldest of the group, said it was no surprise to see so many Hounds alums playing for a national championship — five total in national semifinals, if you add North Carolina's Tessa Dellarose in Division I to the four who played in Salem.
"It's not shocking at all to me, because of the training and the quality of coaching the Hounds have," VanBibber said. "I'm proud when people ask, 'What was your club?' and I say the Riverhounds, because people know the club, and they've built that reputation."
The transition isn't always a seamless one, however, and Wert warned that the work to stay on top of your game never ends.
"I feel like being with the Hounds and in ECNL was the best-case scenario, because it brought me as close to the college level as you can get without being there," Wert said. "But stepping into college for the first time definitely affects you. I think no matter how prepared you are, you still get that freshman feeling at some point where you're facing older girls and say, 'Oh crap, do I even know how to play soccer?'"
Thanks to the Hounds reunion in Salem, those RDA alums should be pretty confident they do know how to play — and how to play at a high level.