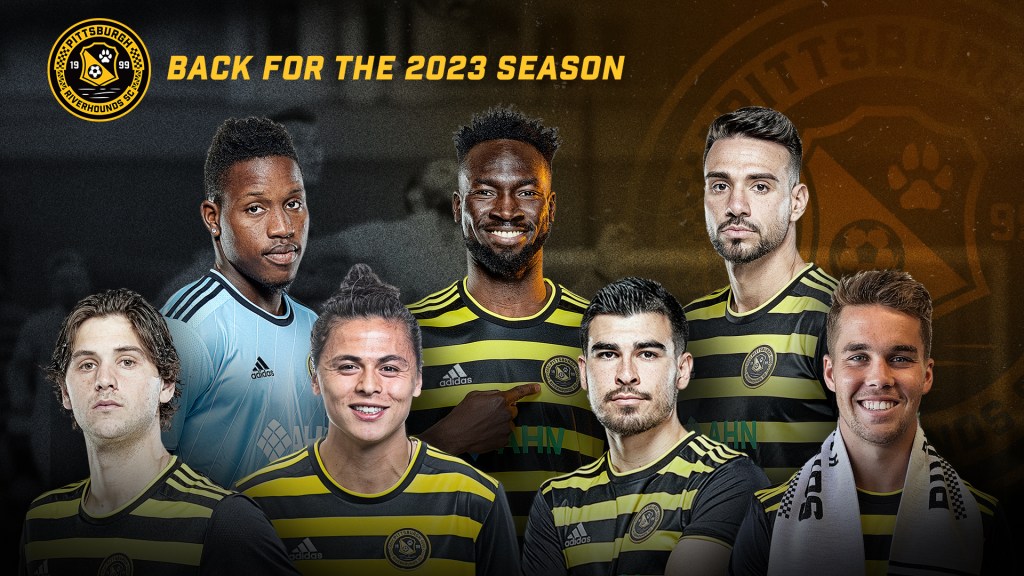 PITTSBURGH (Dec. 8, 2022) — Pittsburgh Riverhounds SC today announced their first roster moves for the 2023 USL Championship season with seven players confirmed to be returning to next season's squad.
Midfielder and Pittsburgh native Robbie Mertz was already under contract for next season, and he will be joined by six other players whose contract options for next year were picked up by the team. Those players are forward Albert Dikwa, midfielder Marc Ybarra, defenders Arturo Ordóñez, Nate Dossantos and Luke Biasi, and goalkeeper Jahmali Waite.
The group returns to the club after a 2022 season in which the team went 16-9-9 and reached the USL Championship Eastern Conference Semifinals before falling to eventual finalist Louisville in a shootout. The players rejoin coach Bob Lilley, who is entering his sixth season leading the Hounds, and the Hounds have qualified for the postseason all five years under his leadership, the longest such run in club history.
---
About the returning players
• Mertz, 26, began his pro career with the Hounds in 2019-20 and rejoined the team midway through last season on a transfer from Atlanta United 2. In two-and-a-half seasons in Pittsburgh, the graduate of nearby Upper St. Clair High School has 13 goals and 13 assists, and his nine assists last season (in Atlanta and Pittsburgh combined) tied him for fourth in the USL Championship.
• Dikwa, 24, will also be entering his fourth season with the Hounds and is coming off a career season with 11 goals and four assists. His breakout season made him one of the finalists for the USL Championship Comeback Player of the Year award, as the native of Cameroon also set career-high marks for games, starts and minutes played.
The other five returning players all will be entering their second professional season with the Hounds.
• Ordóñez, 25, was a mainstay in the Hounds lineup with 35 starts in 38 games across all competitions, as the Spanish center back out of the University of Pittsburgh led the Hounds with 124 clearances and scored his first professional goal on June 25 against Tampa Bay.
• Dossantos, 23, also became a regular in the lineup at left back until a knee injury ended his season. The rookie from Ontario by way of Marshall University started 16 USL matches and recorded three assists before his first year was cut short.
• Biasi, 23, a Georgia native who finished his college career at Syracuse University, appeared in 14 USL matches. He logged vital minutes playing both outside back positions, including a strong spot start in the team's U.S. Open Cup match at FC Cincinnati.
• Ybarra, 23, comes back after a first year as the Hounds most heavily used reserve in the midfield. Playing primarily a holding role, Ybarra appeared in 23 USL matches — 14 off the bench — after a decorated five-year career at the University of Michigan.
• Waite, 23, earned the Hounds' starting goalkeeper role last season in his first year out of the University of Connecticut. He finished with a 9-6-6 record in the regular season, allowing exactly 1.00 goals per game and logging seven shutouts. His play also earned him multiple calls into camp with the Jamaican National Team during 2022, and on Nov. 10, he made his senior international debut for Jamaica in a road match against Cameroon.
---
With those seven players returning, the Hounds declined options on the contracts of eight other players who played their first year with the club in 2022.
Nine players from last year's team were out of contract at the end of the season and became free agents. The club continues to have ongoing negotiations with players who were part of the 2022 team and free agents from outside the club, and additional new signings are expected to be announced in the near future.