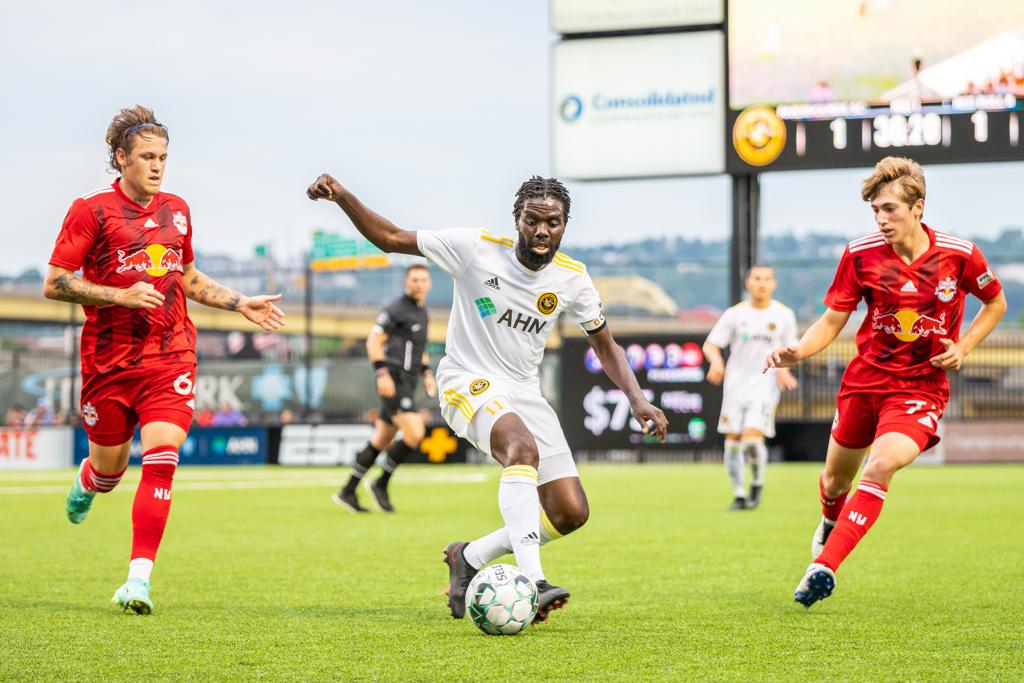 PITTSBURGH (Aug. 31, 2021) — Pittsburgh Riverhounds SC kicks off September with its final midweek match of the year, as the Hounds host the New York Red Bulls II at 6 p.m. Wednesday at Highmark Stadium. The match will be shown on ESPN+.
The Hounds (12-6-4) are meeting Red Bulls II (3-12-4) for the fourth and final time this season, making New York the first Atlantic Division opponent the Hounds will complete their season series against. With wins of 3-0 and 3-1 in New Jersey and a 2-1 win in Pittsburgh, the Hounds now have won five straight against the Baby Bulls dating back to last season.
New York will be no easy out, however, despite having lost its past six matches to slip from playoff contention. Red Bulls II has a high-pressing style that causes issues for the best of teams, and dangerous young attacking players, such as forward Omar Sowe (6 goals, 1 assist) and midfielder Jeremy Rafanello (4 goals, 5 assists).
How the teams deal with such familiarity will be seen. The Hounds have only faced the same opponent four times in the same regular season once since 2010, and they have never beaten an opponent all four times they have met.
Though Hounds coach Bob Lilley is expected to rotate his lineup somewhat with the team traveling to San Antonio for a Saturday match just 73 hours later, he is somewhat limited with the same four players — Jordan Dover, Albert Dikwa, Jalen Robinson and Josh Gatt — remaining out and leaving him with only 17 healthy field players.
Russell Cicerone (13 goals, 4 assists), who has five goals in his past two matches and has made the USL Championship Team of the Week twice in a row, is expected to lead the line again with Alex Dixon (7 goals, 7 assists) presenting danger down the flank.
For additional pregame reading, don't forget to check out the 3 Things feature that appears before every match.
The forecast in Pittsburgh calls for a continuation of the rain that began Tuesday afternoon as the remnants of Hurricane Ida push toward the northeast.
As a result of the expected downpour, the team will not be opening up the Tailgate Zone prior to the match. Gates will still open at 5 p.m., and the Hounds Night promotion — with $2 hot dogs, $3 soft drinks and $3 Hounds Session Copper beers — will still be in effect.
Also for the month of September, fans can use the promo code ROVIRA on Ticketmaster to receive $3 off tickets in the Midview, Edgeview and Supporters sections.
To get tickets for Wednesday's match, visit Ticketmaster or purchase them at the Highmark Stadium Box Office. To see the complete 2021 schedule, visit https://www.riverhounds.com/game-schedule. 
MATCH INFORMATION
Date: Wednesday, Sept. 1
Time: 6 p.m.
Location: Highmark Stadium
Tickets: Ticketmaster
Streaming: ESPN+
Live Statistics: USL Championship Match Center
Live Updates: Twitter at @RiverhoundsSC and #PITvNY