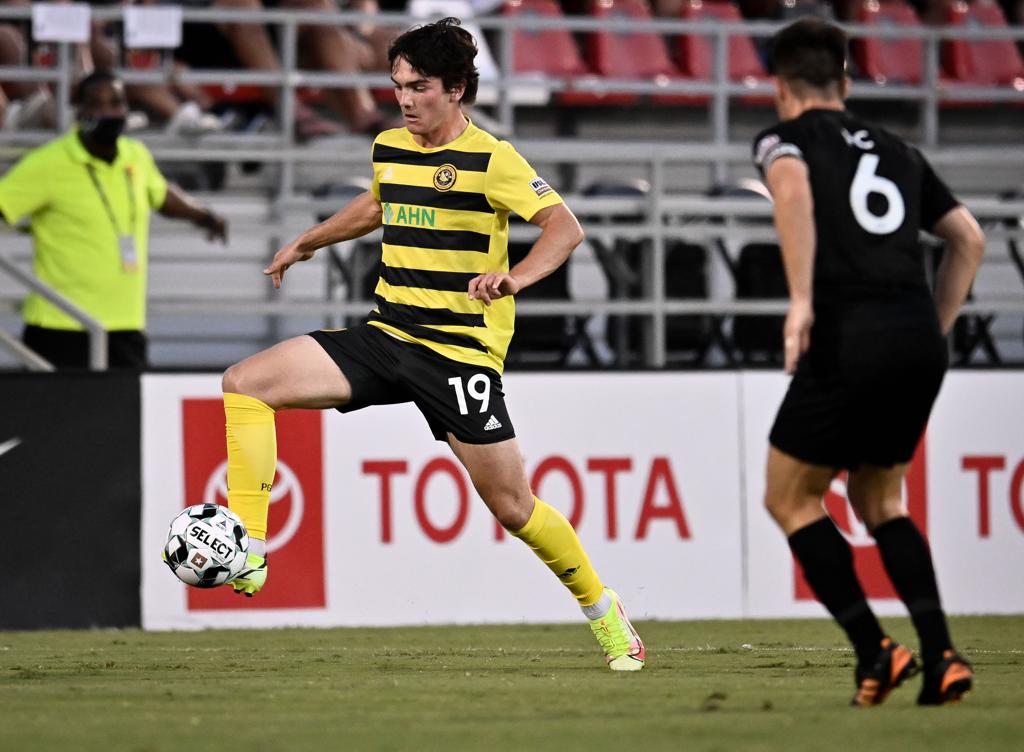 This article is the first in a series this week recapping the biggest moments — on and off the field — for Riverhounds SC in 2021. A new moment will be revealed each day until we hit No. 1 on New Year's Eve.
The first moment on our countdown to the end of 2021 might have gone a bit unnoticed by fans when it actually happened, considering the Hounds were late in a match and chasing a tying goal on Aug. 11 in a 3-2 loss against Miami FC. But with coach Bob Lilley chasing a result, he threw each and every attacking option on his bench into the fray, allowing some club history to be made.
In the 83rd minute, 17-year-old striker Wyatt Borso made his first-team debut when he entered the game in place of Anthony Velarde, and by doing so, made a fair bit of team history.
Borso became the first player to join the Hounds on a USL Academy amateur contract at the start of the season, and by taking the field in a match with the Pro Team, he became the first active Academy player to appear in a competitive match for the Hounds — not to mention the youngest-ever Hounds player at 17 years, 156 days, and the first Hounds player born in the 21st century.
The moment was a big step for the club as a whole, as it completed the pathway from the Riverhounds Development Academy to the Pro Team. But there was no guarantee it would happen, even after Borso arrived in Pittsburgh from the Chicago Fire Academy seeking a first-team opportunity.
The young player trained with the Pro Team throughout the year, but with a gap to close from the youth to pro level, Borso remained match fit during the spring and summer by excelling with the RDA's 2002/03 Boys team and first-year USL Academy League side.
A minor foot injury slowed his progress in the summer, but his hard work paid off as he made his way back into Lilley's 18. Borso would make three more Pro Team appearances in 2021, including a start Sept. 4 at San Antonio.
While the jump from the Academy to the Pro Team remains a big one, Lilley continues to monitor the development of the RDA's top players in conjunction with RDA Director Scott Gibson and his staff. At times, some of the RDA's best players and recent graduates are invited to join the Pro Team in training, as the RDA continues to develop players capable of making the jump to the next level, whether that be college or straight to a pro setting.
But Borso's debut marked the first time that final step from academy to first team was completed within the Hounds organization — rather than going from the RDA to another pro team or first playing in college. By making that jump, Borso achieved a special first in team history.
---
More of the Best of 2021 series:
No. 5: Youth Is Served — Borso makes Pro Team debut under Academy contract
No. 4: Hats off for Russell — Cicerone nets first career hat trick in win over Atlanta
No. 3: It's good to be King (Kenny) — Forbes claims club's all-time assists record
No. 2: New home sweet home — Construction nears completion on new AHN Montour facility
No. 1: Hounds clinch on one Rowdy night — Victory over Tampa Bay solidifies playoff berth