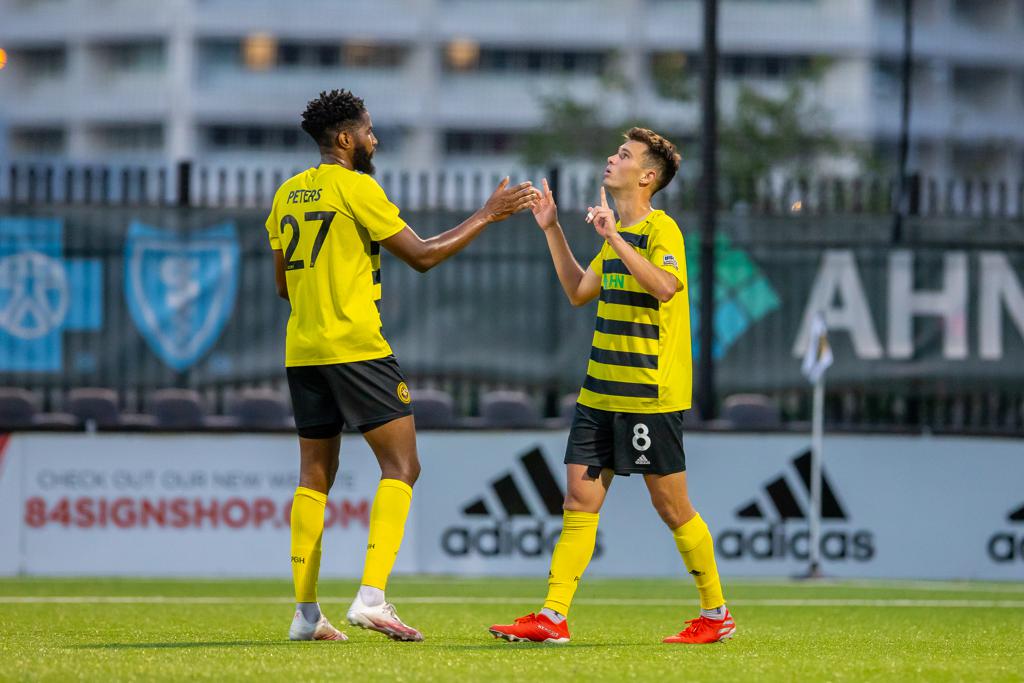 This article is the final part of a series recapping the biggest moments — on and off the field — for Riverhounds SC in 2021. Scroll to the bottom for links to the previous installments in the series.
In a season where the Hounds claimed 17 wins, nine of which came in the friendly confines of Highmark Stadium, one night stood above them all for the quality of the win with a major prize at stake.
With four games remaining in the season, the Hounds welcomed the Tampa Bay Rowdies on Sunday, Oct. 10 with a chance to keep pace in the race for a home playoff game and, more tangibly, clinch a spot in the USL Championship Playoffs for the fourth year in a row.
The three previous meetings between the teams played out to a 1-1-1 record for each side, the most recent match being a scoreless draw in Pittsburgh. And there was no question the Rowdies, who would go on to win the Atlantic Division and Eastern Conference, would again give the Hounds one of their stiffest tests of the season.
But the home side answered the bell in front of a raucous home crowd, as an opportunistic goal, a massive save and a clinching penalty gave the Hounds a 2-0 victory that highlighted the 2021 season.
Things nearly got off to a bad start when former Hounds striker Steevan Dos Santos headed a ball off the underside of the crossbar but didn't cross the line, keeping the game scoreless. But much of the first half — like the scoreless 90 minutes in the last meeting — was a cagey back-and-forth between evenly matched teams.
But three minutes before halftime, the Hounds gave the crowd plenty to be happy about during the interval. Preston Kilwien whipped in a cross form the left side that was misplayed by Tampa Bay's Jordan Scarlett, and Tommy Williamson was in the right spot to pounce for the game's opening goal.
The biggest moment of the match came in the 57th minute, however, as Tampa Bay won a penalty kick. But with the Rowdies poised to tie the match, Danny Vitiello make his third penalty save in his two seasons for the Hounds, which denied Leo Fernandes and reignited the Highmark crowd.
In the 72nd minute, the action moved to the other penalty spot, as Alex Dixon drew a foul at the top of the box, and Russell Cicerone converted the penalty kick to increase it to a two-goal Hounds advantage.
The win was one of the most electric nights of the season at Highmark, to be sure. But for the team also to solidify its spot in the playoff field for a fourth straight year — a streak only the Hounds, Louisville City FC and Phoenix Rising FC can currently claim in the Championship — was a fitting culmination to another season of strong play under the steady leadership of coach Bob Lilley and staff.
To relive that great night more fully, take a look back at the Match Recap or rewatch the highlights below:
---
More of the Best of 2021 series:
No. 5: Youth Is Served — Borso makes Pro Team debut under Academy contract
No. 4: Hats off for Russell — Cicerone nets first career hat trick in win over Atlanta
No. 3: It's good to be King (Kenny) — Forbes takes over club's all-time assists record
No. 2: New Home Sweet Home — Construction nears completion on new AHN Montour facility 
No. 1: Hounds clinch on one Rowdy night — Victory over Tampa Bay solidifies playoff berth