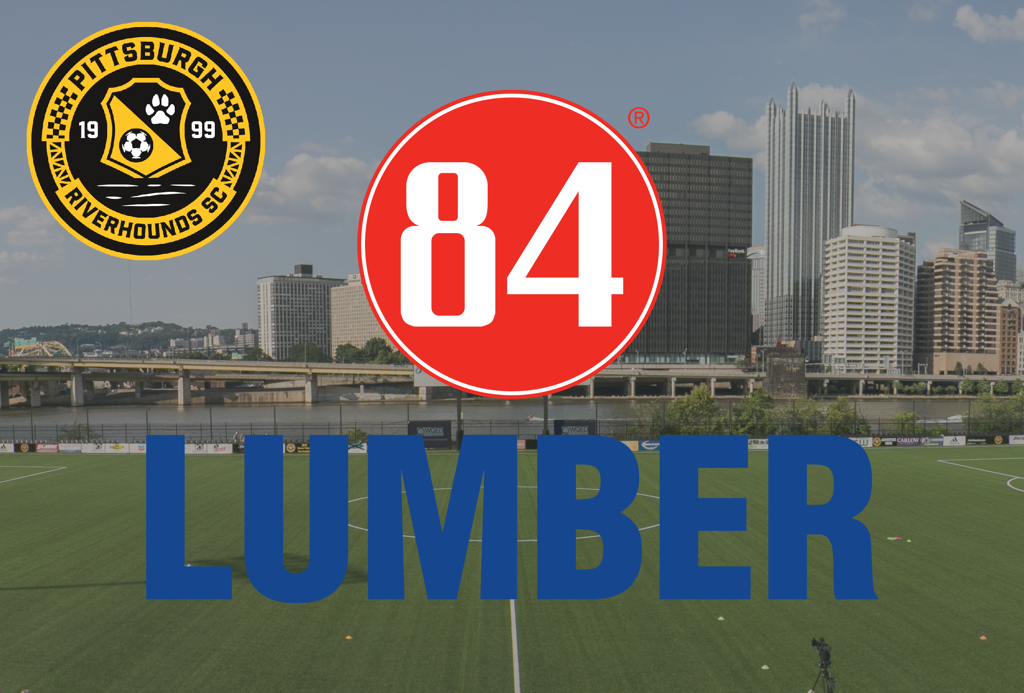 PITTSBURGH (January 18, 2022) — Pittsburgh Riverhounds SC has reached a multi-year partnership agreement with 84 Lumber, adding a national brand with Western Pennsylvania roots as one of the club's primary partners for seasons to come.
As part of the deal, the 84 Lumber logo will appear on the front of the Hounds' yet-to-be-unveiled second jersey, which will be introduced prior to the upcoming season. The well-known red "84 ball" logo of the building materials company also will adorn the back of the new black-and-yellow jerseys that were recently revealed for the 2022 season.
"This is very exciting for us to partner with a brand that comes from right here in Western Pennsylvania and is recognizable to folks across the United States," Hounds owner Tuffy Shallenberger said. "I've worked closely with the Hardy family for a long time in my construction business, and I'm happy we're able to have their support and the support of 84 Lumber while we keep growing the Riverhounds here in Pittsburgh."
"We are excited to launch our partnership with the Riverhounds," 84 Lumber Vice President of Marketing Amy Smiley said. "As a Western Pennsylvania-based company, we are already rooting for the Hounds. It will be a lot of fun to bring 84 customers and associates to games and see the team sporting our iconic logo."
In addition to the jersey placement, 84 Lumber will be prominently featured on the Riverhounds website and the team's forthcoming mobile app, slated for release later this year.
84 Lumber is renowned as the nation's leading privately held supplier of building materials, manufactured components and industry-leading services for single- and multi-family residences and commercial buildings. The company operates nearly 250 stores in more than 30 states, and, under the leadership of President Maggie Hardy Knox, is one of the largest woman-owned and -operated businesses in the U.S. with more than $7 billion in sales revenue during 2021.
The Riverhounds will begin their 23rd season of play on March 12 when they travel to face Memphis 901 FC, and they will begin the 10th season at Highmark Stadium on March 19, hosting Hartford Athletic.