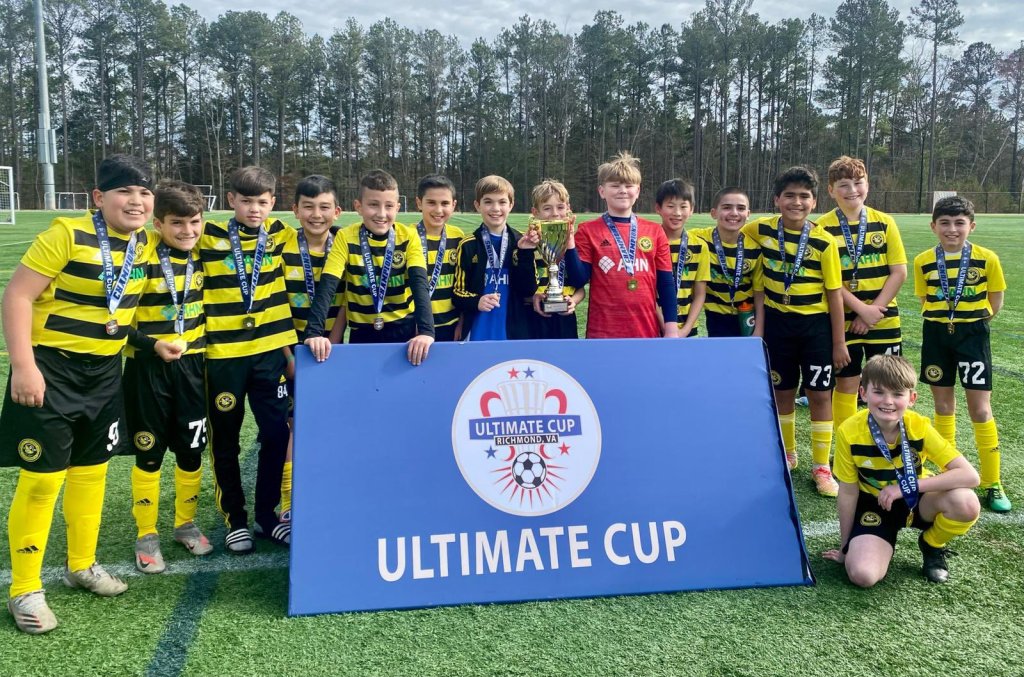 With teams representing the Riverhounds Development Academy in matches played in four states, the spring season got off to a flying start with a loaded schedule on the final weekend of February.
For starters, the eldest girls teams headed down to the Lone Star State for the ECNL Texas showcase, and the 2003/04 Girls put together an undefeated three-game set against Texas clubs in Houston, while both the 05 and 06 Girls finished the weekend 1-1-1.
The 03/04s got rolling with a 3-1 win over Sting Austin. Tessa Dellarose scored the opening two goals and assisted the last to Azalea Mihailovich for her first ECNL goal. Abby Weis scored a headed rebound, and Sydney Lindeman won a penalty kick and converted it as the team won its second game over Classic Elite, 2-0. Tired legs hurt the Hounds in possession in their final game, which ended as a 0-0 draw with Sting Dallas.
In the other games in Houston, the 05 Girls got a 2-1 win over Atlanta Fire on goals by Fiona Mahan and Ava Boyd, the same duo who would score in a 2-2 draw with FC Tulsa. The team couldn't rally in a 2-0 loss to the Portland Thorns, but Jordan Spozarski, Piper Coffield and Regan Casper dug in well on the back line after conceding early. The 06s fell in their opener to Atlanta Fire, 3-2, but bounced back with a 3-2 win over Sting Austin on a Jadyn Coy brace and an Ally Ruiz penalty. The 06s' weekend also ended with a 0-0 draw, this one against FC Portland.
While the ECNL was showcasing the girls in Houston, our boys ECNL team were back into league play hosting the Michigan Wolves on Sunday.
The youngest team in action, the 07 Boys, scored the biggest win, as Nathan Katari scored a pair along with goals by Leo Yu, Jacek Piekut and Roman Agostoni for a 5-0 final. The 05 Boys got a first-half goal from Joey Krug and a second-half penalty from Alex Hauskrecht to win 2-0 with a clean sheet shared by Dylan Janoski and Ryan Simonette. The 06s drew 0-0 with both teams having chances to win it late, and the 03/04s were unlucky to lose on a second-half own goal, 1-0.
In addition to the girls teams who traveled to Houston, seven other RDA sides drove out to the Ohio Elite College Showcase in Cincinnati.
There, the 03/04 Regional League Girls continued their masterful defensive play by winning all three matches without allowing a goal to three Ohio clubs. Jocelyn Gratchic and Sarah Powell scored braces in the opening win 4-0 over Kolping SC, Brooklyn Watts got on a Halle Marsalis through ball to win 1-0 over Crystal Lake, and Gratchic and Powell scored again — both assisted by Jurnee Durrett-Finney — in a 2-0 win over OPSC.
2007 was another strong age group in Cincy, as the 07 Girls went 3-0-0 and the 07 Regional League Girls went 2-0-1 for their weekend. The 07s romped to three 6-0 wins, topping Columbus' Barça Academy, Fairfield Optimist SC and CUSA. Molly Kubistek and Reese Soloman split the three clean sheets, while Isabella Costa scored five goals, Sierra Dupre had four and Maddie Barr had three, as eight different players scored on the weekend. The Regional League 07s had tighter matches, but they came out on top 2-0 over Liverpool (Mich.) with goals by Lilly Hillegas and Katherine Varghese and 1-0 over Mercury on Emilie Oslosky's goal set up by Mela Barnhart. Their weekend ended with Hillegas scoring in a 1-1 draw with Cincinnati United that put the Hounds atop their group.
The largest RDA contingent were the younger boys teams who traveled to Richmond, Va., for the annual Ultimate Cup, and the 2010 Boys brought home the hardware with a 2-0 win in the final over the Richmond Strikers South on goals by Chase Walters, Bobby Borisov and Owen Medved. The team powered through their group, topping the Richmond Kickers, 4-1, and the Richmond Strikers, 8-0, and their semifinal proved to be the tightest match, a 3-1 win over Charlottesville (Va.) SOCA.
Also in Richmond, the 11 Boys just missed the top spot of the round-robin top division, falling in a winner-take-all final match to VA Rush despite an Emi Vasquez hat trick, 4-3. The team finished second with a 2-1-1 record, as Beckett Leahy kept them in the running with a last-second equalizer in a 1-1 draw with the Richmond Kickers.