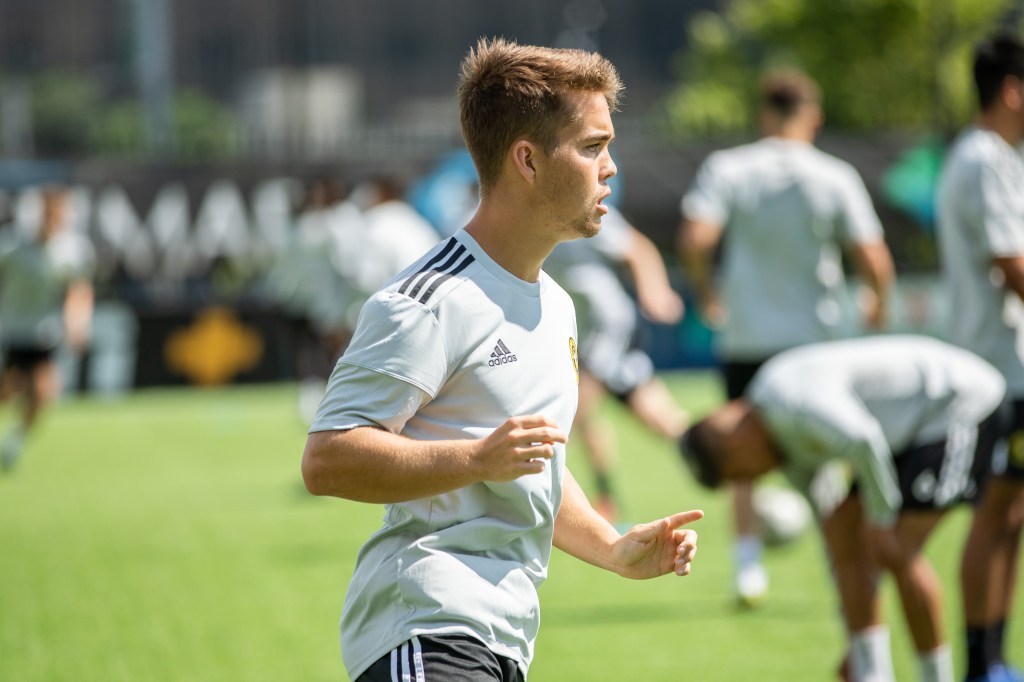 Robbie Mertz is a member of his hometown team for the second time in his career.
The Pittsburgh native signed his first professional contract with the Riverhounds in March 2019 and was a member of the club for two seasons before moving to play for Atlanta United 2. His time in Atlanta, where he hoped to join the MLS team, came to an end last week with a transfer deal that brought him back to Pittsburgh, so to be playing for his hometown team again began bittersweet for Mertz.
"(I'm) just all around really excited to be here," Mertz said. "Thankfully, it wasn't too long ago that I was here, so I still know a few guys on the team and a few guys I've known from around the league. I'm really happy to be back and, hopefully, just help this team push on and go for a championship."
Mertz is grateful for his time in Atlanta, and he described the MLS organization and their reserve team as one of the best clubs in the country. Being in an environment where the midfielder was surrounded by special players, training opportunities, and a staff that made sure all areas of his game were covered from nutrition to the more physical side of things, allowed him to grow on and off the field.
"It was an honor to play for them," Mertz said. "I made some big improvements, but I carried a lot with me from my first years with Bob (Lilley). There were a lot of things that I was trying to implement out there that I've learned from him, and hopefully it's more of the same to pick-up where we left off now that I'm back."
Mertz is back in a city with a special culture that shaped him into the player — and person — he is today. He started out as a member of the Upper St. Clair High School boys soccer team, a club player for Century United, and even got a taste of training with the Hounds at the beginning of the Riverhounds Academy, long before joining the Hounds organization as a professional.
"I met some people along the way, and they're still around in the soccer community, so I'll be seeing a lot of them in the near future," Mertz said. "They'll be able to watch the games here and see me back on the field, so that's all really exciting to me."
While he's excited to be reunited with the hills of Pittsburgh, Mertz is even more excited to have his family and friends cheer him on at home games. He's getting married at the end of the year, so to have his fiancée come to town and join his family in the stands will be extra special for him.
"I think there's a lot to be excited about in my life outside of soccer and coming back to Pittsburgh," Mertz said. "The tailgates before the game and all of that. It's really an exciting time. I'm happy to be back and ready to get going."
Since coming over from Atlanta, Mertz joined the Hounds for his first team practice on July 20. Walking into a locker room and onto the field where there are a lot of familiar faces created a welcoming environment for the "new" Hound.
"I've talked to Bob a lot over the last couple of years. Our relationship has remained strong, and it's good to be back on the field with him," Mertz said. "Kenardo (Forbes) is a guy that I've always enjoyed training with, playing with, and conversing with so it's really good to be back with him. It was great to see Danny Griffin, Dani Rovira, and Mark Ybarra, who I played with at Michigan."
While Mertz is unsure of how everything will play out following this season, his first week back couldn't have gone much better.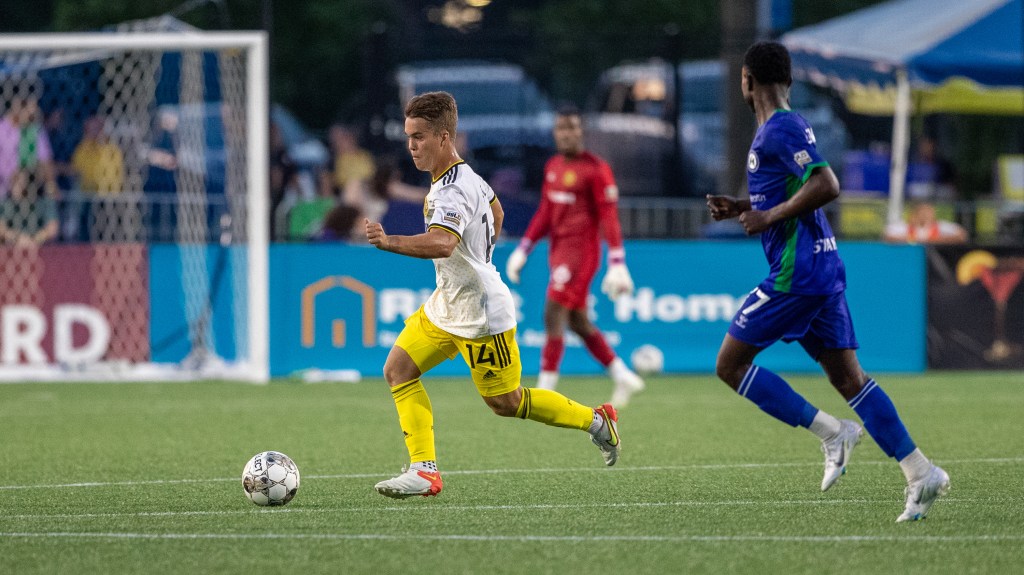 He traveled with the Hounds for their 2-1 win at Hartford Athletic last Saturday, and after halftime, he made his second "debut" with the team as a substitute. It took only 29 minutes on the field for Mertz to make a major contribution, chipping a cross from the goal line for Russell Cicerone to head in the game-tying goal. The assist was Mertz's seventh of the season, which puts him one behind USL Championship co-leader Forbes.
Next up for Mertz is his first home game back in black and yellow, when the Hounds host FC Tulsa at 7 p.m. at Highmark Stadium. He's excited to be back in the Pittsburgh soccer community and is focused on the goal that's in front of him, leading the Hounds to a championship.
"When it came down to it, I just said you're pursuing a championship in this league, in the USL, and there was no place I'd rather do it than in Pittsburgh, in my hometown and wearing the black and gold," Mertz said. "All of that means a lot to me, and I think sometimes there's not enough humanity in this in this game or in this business, so loyalty meant a lot to me."
Story written by Riverhounds staff intern Grace Heidinger.