There's going to be some left-coast living for the Riverhounds Development Academy over the next week.
The RDA's 2005 Girls team will be in the Pacific Northwest to kick off play in the ECNL's North American Cup on Wednesday, June 22, and the 2005 Boys will start play in the very first session of the ECNL Champions League in sunny Southern California beginning Saturday, June 25.
For both teams, who qualified for the national tournaments based on their season-long performance in ECNL league play and at ECNL national showcases, it's an opportunity to show off their talents in front of hundreds of college scouts in a new setting. It's also a chance to bring a major trophy home to Pittsburgh to close their Under-17 age group season.
"It's going to be an amazing experience going to San Diego and playing in front of all the college coaches there, hopefully getting recruited," 05 Boys defender Nick Allan said. "The teams we're going to be playing are the top teams in the country, and that's what we're here for. That's the competition we want to play against."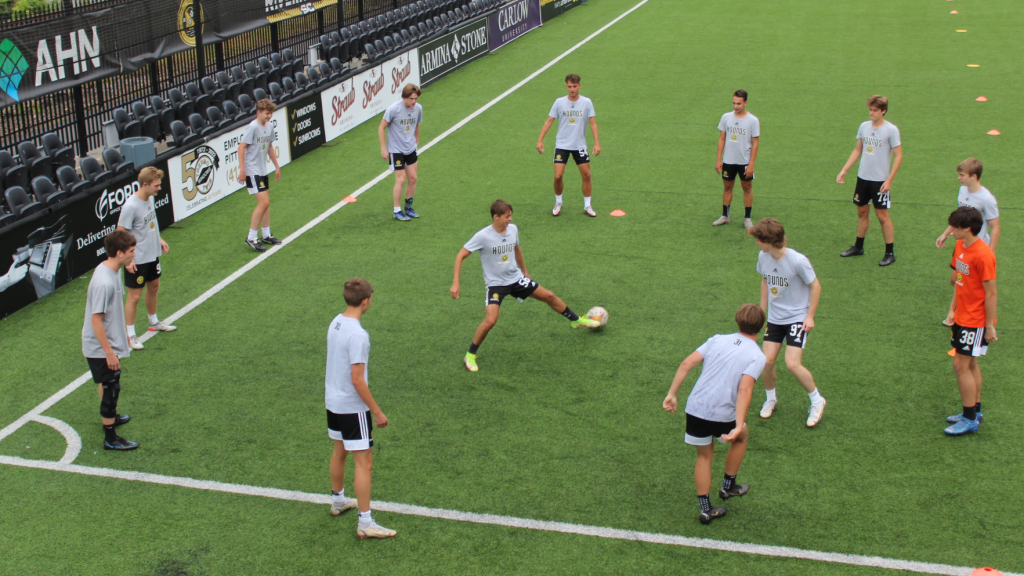 For the girls, there won't be much time right away to enjoy the scenery of Redmond, Wash., the Seattle suburb where they will play.
The team arrived in Washington on Tuesday and has to be ready to play in a Wednesday night contest against Maryland United. And while the team is guaranteed matches throughout the week, the North American Cup's championship bracket is a single-elimination format, meaning the pressure is on from the opening whistle.
"We've definitely talked about it. If you lose the first game, it's done. It's not like a group where you play a few games and then see if you made it in or not, so I think it makes each game feel that much more important to win and do our job," 05 Girls defender Bella Vozar said.
How the team performs will determine when they play through the weekend, with the goal being to stay undefeated and reach the Monday morning championship game.
Even if the team falls short of that goal, advancing to the ECNL national playoffs has been a commendable feat for the 05 Girls, who were plagued by injuries during the season and faced some matches with a very shorthanded squad.
"We're super-excited because we've had sort of a long year with a lot of injuries and ups-and-downs. At one point, we were down to 12 players on our team, and we had to grind through that," Vozar said. "But we've put in so much work from the fall up until now, so I think we're ready for this."
The boys, who will play in Del Mar, Calif., about 15 miles north of San Diego, face a more traditional tournament structure with pool play before reaching the knockout rounds.
The 05 Boys will face Missouri side KC Scott Gallagher to begin play at 8 a.m. local time (11 a.m. Eastern) on Saturday, before meeting Tulsa SC (Okla.) on Sunday and South Carolina United on Tuesday to wrap up group play. Only the group winners advance to the knockout rounds, which begin Thursday with the Round of 16.
Just like their counterparts heading to Washington, the 05 Boys haven't encountered all smooth sailing this year, either. But they were able to stack enough wins to qualify for the top tier at nationals, and now they have a shot to prove they're among the ECNL's best.
"We're really ramping up the practices and getting more fit for San Diego — really just working," Allan said of the team's preparation. "It's been a journey for our team. We've had some injuries, and we've kind of had to scratch and scrape through some games to pull it off and get to the playoffs. At the very end, we weren't even sure we had gotten in, so it took a lot to get there."
Family, friends and fans will be able to follow along with the two teams in the ECNL Playoffs through the Riverhounds Development Academy's social media channels: @HoundsAcademy on Twitter, Facebook and Instagram.